JC in France January 2019 | Day 15
The Loire Valley is an enormous appellation stretching from the village of Sancerre at the Eastern side to the Atlantic Ocean on the Western side. Which means of course more time in the car and less winery visits. This is our last day of tastings before a couple of nights in Paris prior to our flight home. The sun is back this morning and it is beautiful (cold of course!) out there. We said bye-bye to our little cottage and drove East (for over an hour) back to the appellation of Chinon. One of my focuses on this trip was definitely to explore a little bit more this red wine appellation. The search was for producers that will craft a style of wine that we are very happy with and excited to pass them on to you our customers. Throughout the year we listen, read and ask questions to discover these very special pearls. We then, twice a year, go to taste (and taste many times again) until we are happy with the producers and the quality of wine they produce.
Our first visit this morning is someone that we have had in mind for a while (it does sound a bit creepy no?!). The Domaine is Bernard Baudry and is based in the tiny village of Cravant-les-Coteaux. Matthieu, Bernard's son, has taken over since 2000 and let me tell you that the shoes were pretty big to fill - Bernard and his wines had huge reputation. I am very pleased to report that they are still stunningly beautiful. It was a great honour to be invited to visit and taste there. Matthieu, in his early 30s and soft-spoken, took us through the entire range (some out of the barrels, others out of the bottles) from the 2017, 2016 and even the 2015 vintage. The five different red cuvees (he does even produce a white Chinon! I had never tried one before - they are made with Chenin Blanc and represent less than 5% of the total Chinon's production) are all wonderfully made with heaps of precision, purity and showcase a juicy Cabernet Franc with a long finish. We were so impressed and left the place still buzzing after such a tasting. He might even have a bit of wine for NZ!
Our next tasting (we were very late and close to midday!) was down the road at a domaine called Fabrice Gasnier. We found out about this Domaine because Fabrice's son (Valentin) has been working at Clos Henri in Marlborough (oui oui, in Nouvelle Zelande! Please don't tell me that you have not tried these wonderful wines as of yet???) for the last year or so and we met them when they visited Valentin. Fabrice showed us around their wonderful place mixing the old and the modern. We tasted the full range of Cabernet Franc (they do also produce a white Chinon) in three different vintages. The wines are well made, clean and fruity. They all have a wonderful mouthfeel too. Very kindly, Fabrice offered us an assortment of terrines, pâtés and cheeses (3 different types of a local goat's cheese at different stages of maturity called 'Ste Maure de Touraine' - one of Di's favourites) with delicious bread to share for lunch.
The last tasting of the day was a two hour drive away (in the Jasnieres appellation) at the very special Domaine Belliviere. A lot of things have happened there since my last visit: a brand new 3 storey quirky winery (a Gaudi-esque design in the shape of a huge wooden barrel), a few more vines and a new generation (Clement) joining the older one. We just love the white wines they are producing here! The reds are also really good but a very different style to what we are accustomed to and we are still at this stage on hold to import them). They do produce six cuvees of whites and all from the Chenin Blanc grape but from different terroirs which give noticeably some variation in the styles. They do age extraordinarily well. My top wine was the Cuvee 'l'Effraie' 2017 with its dried fruit and honey characters. The texture was poised yet the finish shows terrific roundness and balance.
After the tasting we had to drive an hour to get to our hotel in Tours, right in the centre. We were able to walk to one of the abundant eateries close by where we shared the best 'moules marinières' (small black mussels, which are very different to our green-lipped variety). If you like mussels, you definitely want to try these sweet little morsels while in France.
Tomorrow morning, we are dropping off our rental car and taking the train to Paris.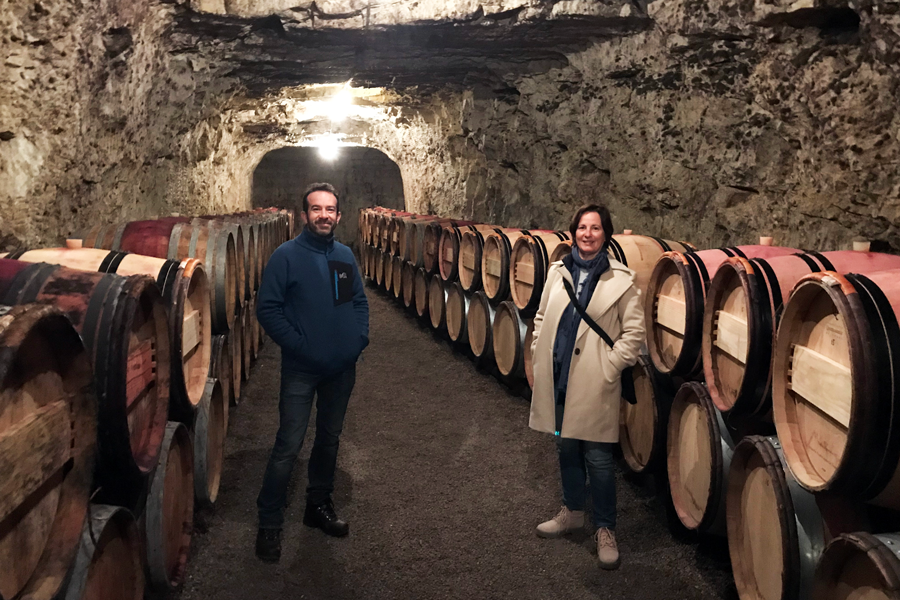 Cellars at Domaine Bernard Baudry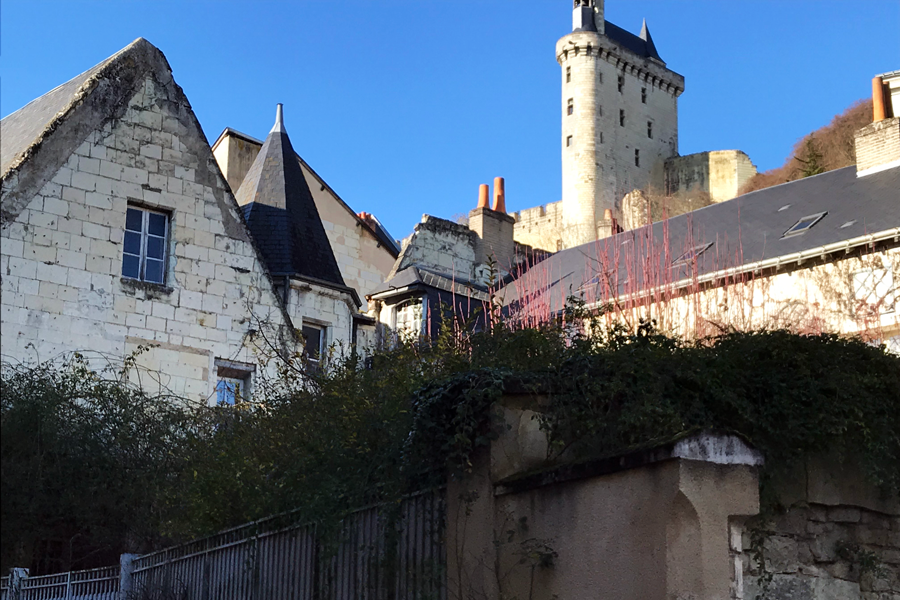 Chateau of Chinon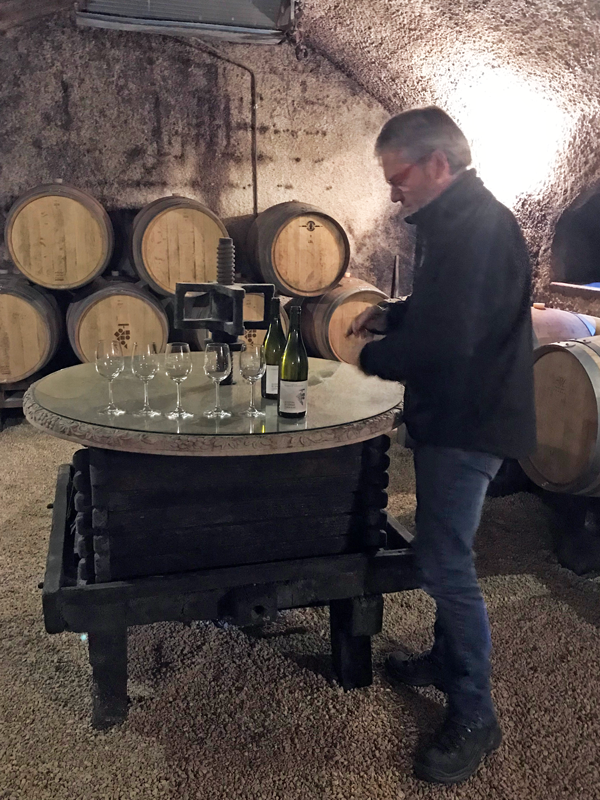 Fabrice Gasnier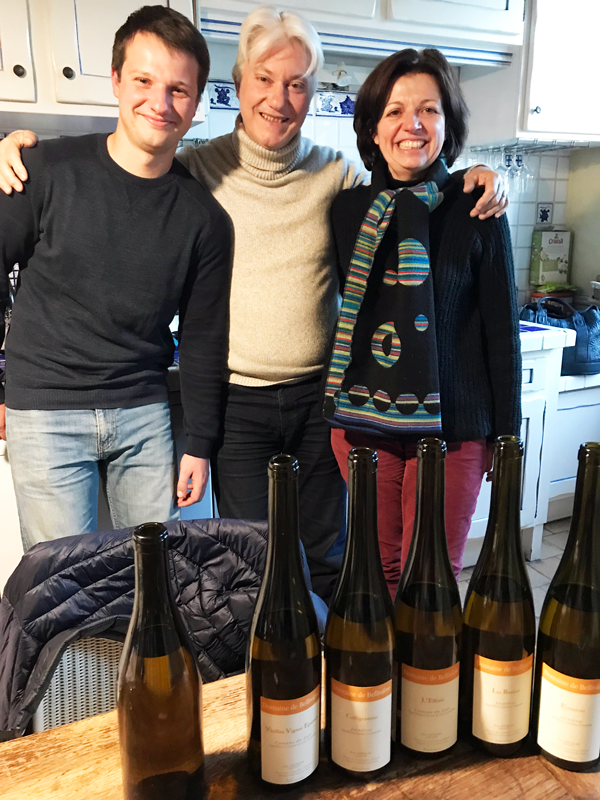 Domaine de Belliviere