Home

/

Burgundy's best visits NZ - Domaine De Montille
Burgundy's best visits NZ - Domaine De Montille
The first tasting of 2019 and one we won't forget, from one of Burgundy's most iconic producers, Domaine de Montille. With one night in Auckland and one night in Wellington we are honoured to have Étienne de Montille taste his benchmark wines.
Based in Volnay and Pommard, this iconic estate was put on the map by Étienne's father, Hubert de Montille, a prominent lawyer. He was a pioneer, who after inheriting 2.5ha (now more than 17ha) at the end of the 1940s was one of the first in Burgundy to Domaine bottle. At the time of his winemaking 90 percent of Burgundy's crop was sold to négociants, which put commercially styled wines into the market. Hubert took a stand against this and produced terroir-driven wines instead.
Even after handing most of the duties of running this estate to his son Étienne and daughter Alix (wife of the famed Jean-Marc Roulot), the presence of Hubert was always there even after his passing in 2014. Today Étienne has elevated the de Montille wines to an even higher level producing some of the purest expressions of Pinot Noir to be found in Burgundy today and earning their official organic certification in 2012.
The emphasis at de Montille is on concentration and purity of fruit, firm but very fine tannic structure and above all the ability to improve and become more complex with time. Scott and Jean-Christophe absolutely love them.
Étienne de Montille, the mastermind behind two properties, Domaine de Montille and Chateau de Puligny-Montrachet.
Taste their benchmark wines:
Ch de Puligny-Montrachet Clos du Château 2014
Domaine de Montille Bourgogne Pinot Noir 2014
Ch de Puligny-Montrachet Monthelie 2013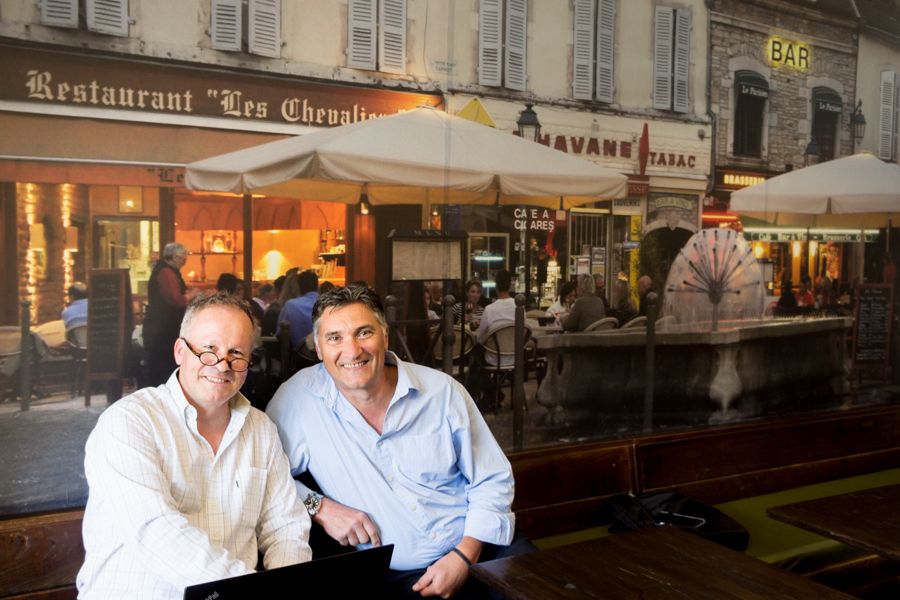 Two wine visionaries share a laugh at Maison Vauron, Étienne de Montille and JC. The Beaune backdrop they are sitting in front of is symbolic for many reasons, most importantly for being the home of this domaine since the 1940s.