Home

/

Scott in France June 2019 | Day 2
Scott in France June 2019 | Day 2
On the road early , because we have to cover a lot of miles today starting with Ch Negly at La Clape. This massive limestone outcrop was once an island off the coast of the Roman port Narbo (todays Narbonne). The windy one car roads to get to Ch Negly make you hopeful there isn't a truck around the next bend. Ch Negly is one of the Grand Crus of the Languedoc and the new vintages of la Cote and la falaise clearly showed that. My favourite though was a white Brise Marine.
The GPS did its thing and took us on a weird scenic route to Faugeres where we met the new proprietors of another of the Languedocs Grand Crus, Domaine Jean-Michel Alquier (now renamed Bardi-Alquier). Thibaud and Sophie Bardi de Fourtou took us up into the vineyards, followed by a tasting and then lunch at Faugeres one and only restaurant. On the the wine list was the Alquier Avant le Premier, and Thibault noted that there are only three places in the world you can get this- the restaurant we were in, Japan and New Zealand. The whole experience was just magic and reassured us that this Domaine is in safe hands.
We were now a little behind our schedule particularly as our driver missed the motorway turnoff at Montpellier meaning a detour through Lunel and an extra 50km to the limestone hills of the Pic St Loup region. We have been dealing with Ch Lascaux for nearly 20 years and it was great to see Jean-Benoit Cavalier again, I had not seen the new cellar here, seriously impressive, as were the wines which are really starting to show the benefits of the longtime organic and from the new vintage biodynamic regime.
We manged to avoid the rush hour traffic around Nimes but were still very late at our final stop in the Southern Costieres de Nimes, Ch Mourgues du Gres. Run by Anne and Francois Collard we have been importing their wines from our very first container 20 years ago. Ann e was very excited to show us a new discovery for them in the vineyard, the foundations of a Roman Mausoleum. Where they are situated is right on the old roman road the Via Domitia, so far around the mausoleum they have discovered more than a thousand coins. Anne cooked us a lovely dinner, her and Francois are so hospitable I cannot thank them enough. More on their wines tomorrow but its time for bed.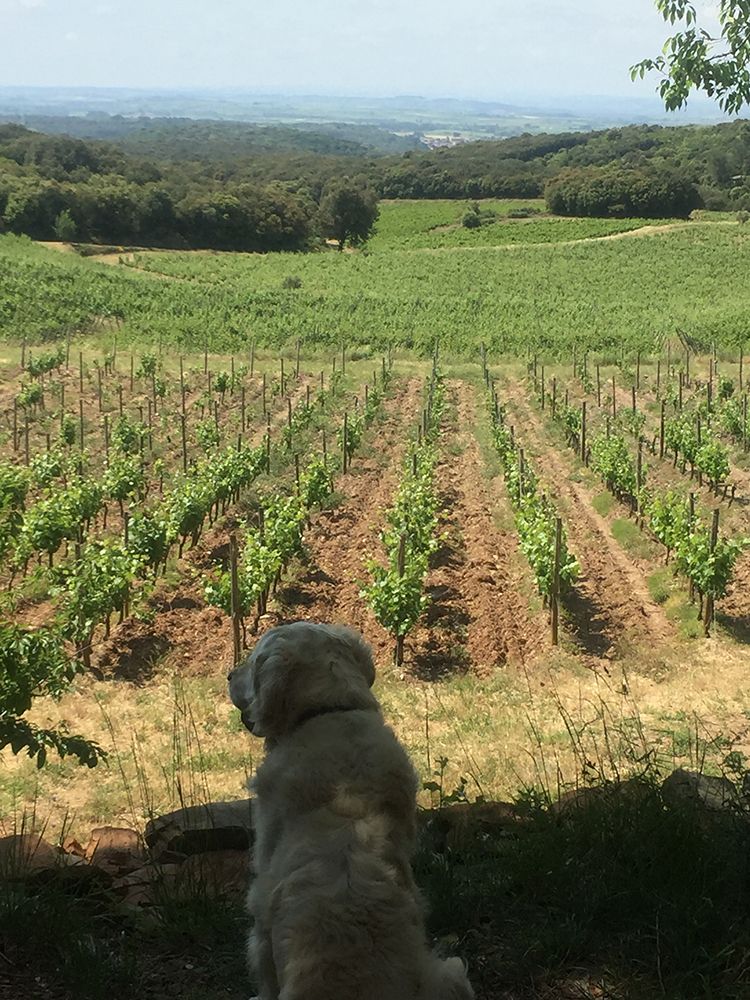 Alquier vineyards in the faugeres Lydia fell in love with the dog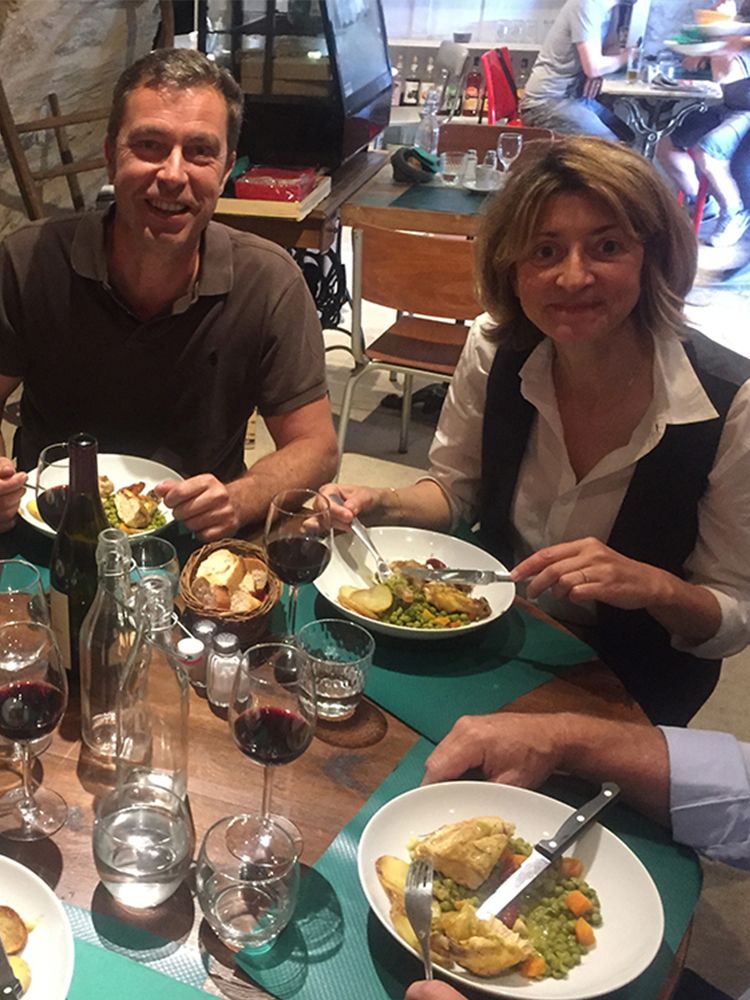 Lunch in Faugeres with Thibault and Sophie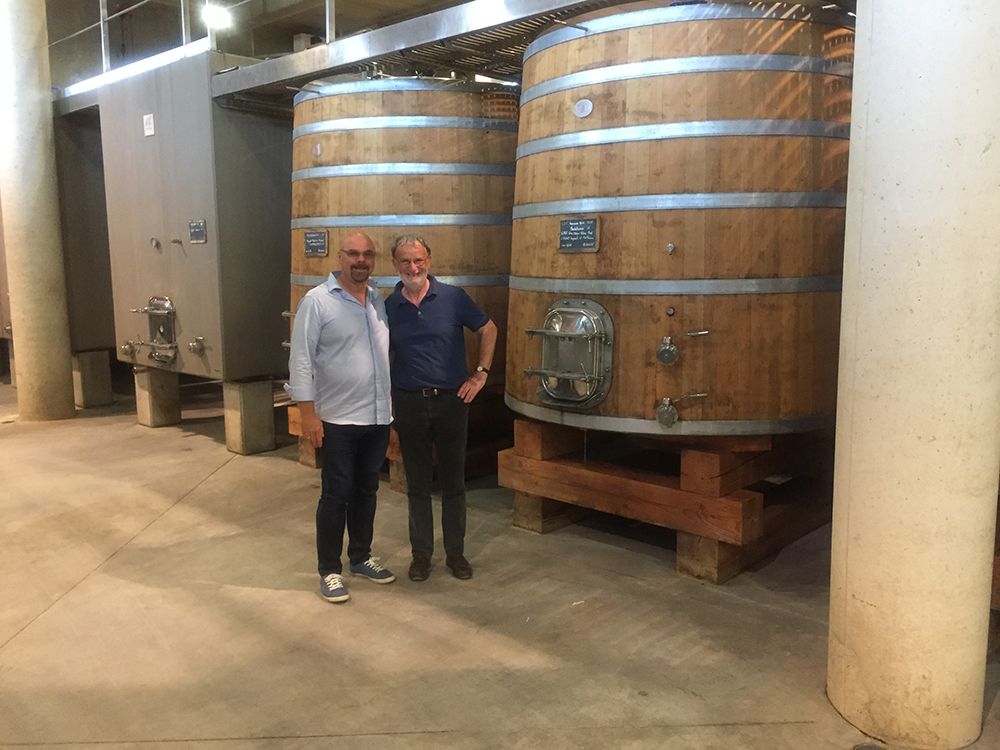 Jean-Benoit Cavalier in the new winery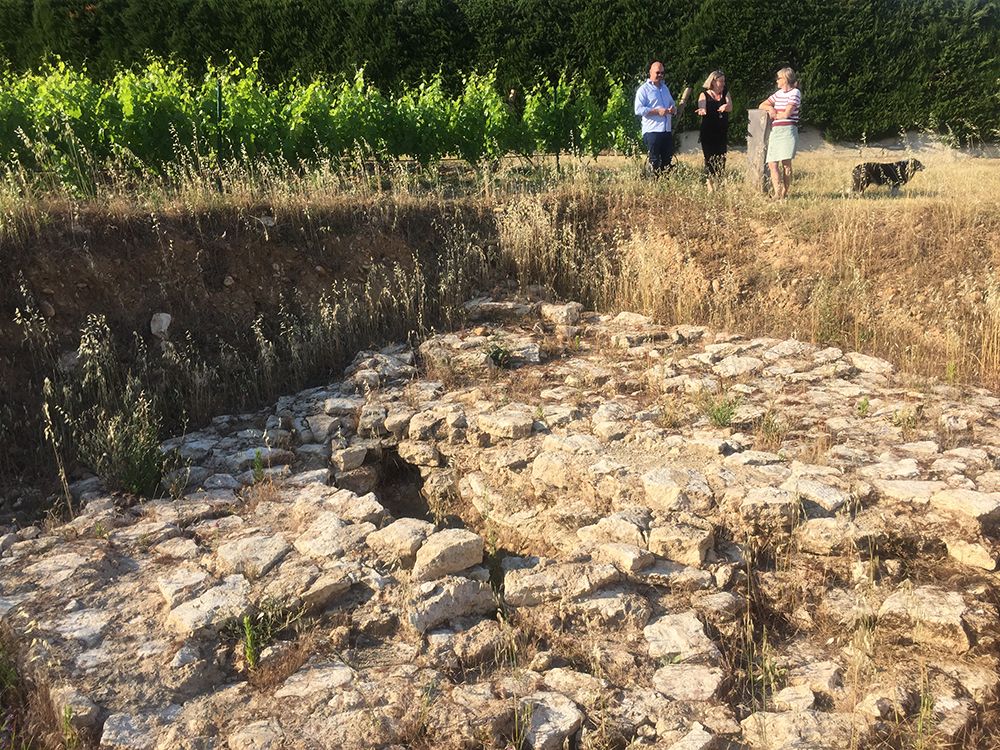 Anne showing Gavin and Lydia the Mausoleum