Scott in France June 2019 | Day 3
A beautiful Mediterranean morning, the sky couldn't be more blue, and a lovely breakfast with Anne and Francois, the fresh apricots and cherries are astounding. I don't see fruit like this in NZ.
Export Manager Oliver took us up into the vineyards, wow what an infectious and engaging young man. Full of passion and information. Something very interesting he told us about the Costieres de Nimes is that the whole area is now a biodiversity protected region. You cannot just plant monoculture, and standing in the vineyard the evidence was there, Surrounding the vines were swaths of broom in flower, everywhere fragrant wild herbs thyme, fennel etc as well as wild black berries and almond trees, birds and insects. The place felt alive. Back at the winery we tasted and it was very evident that there has been a progression in style. Combined with the organics and a move to minimal sulphur, there is an elegance, freshness and purity that is fantastic. The wines here have never tasted better!
Off to Chateauneuf before lunch, we are seeing Jean-Marc Diffonty at Chateau Sixtine/Cuvee de Vatican. One of the oldest family domaines in Chateauneuf, Jean-Marc has instituted a lot of changes and is now moving to much less oak and back towards concrete some very interesting things are happening with the egg fermenters. Unlike most producers in Chateauneuf he is a huge advocate for Syrah and with global warming he also sees grapes such as Vaccarese, Cinsault and Counoise coming into their own. The recently bottled Sixtine Chateauneuf 2017 and 100% Roussanne Chateauneuf Blanc 2018 were sensational.
A quick bite in Bedarrides, which lasted longer than expected – am I supposed to be having a glass of wine at lunch – followed by a catch up drive to Monmoiron in the Cotes du Ventoux for a meeting with Frederic Chauderie at Ch Pesquie. This really is one of the jewels of the southern Rhone, an amazing property (wouldn't look out of place in Bordeaux), and combined with the quality of the wines and hospitality of the people a real highlight. I was so impressed with the wines here in fact the top cuvees would embarrass many of the better Chateauneuf-du-Papes.
We were quite late leaving, it was 27c and blowing worse than a Canterbury norwester. Our last stop was at St Francois Xavier with Jean-Francois Gras, a real character. He took us out to the vineyards in his new Jaguar. I said to him it was an unusual car for a Frenchman, he responded " I needed a new tractor and then I had a health scare, so I thought tractor? Car? – Tractor? Car? The car won, and I couldn't buy French because they can't make cars anymore". Jean-Francois is also an ex speed skier (230 km/hr) and a motorbike fanatic. Gavin fell in love, an instant bromance and a great end to the day.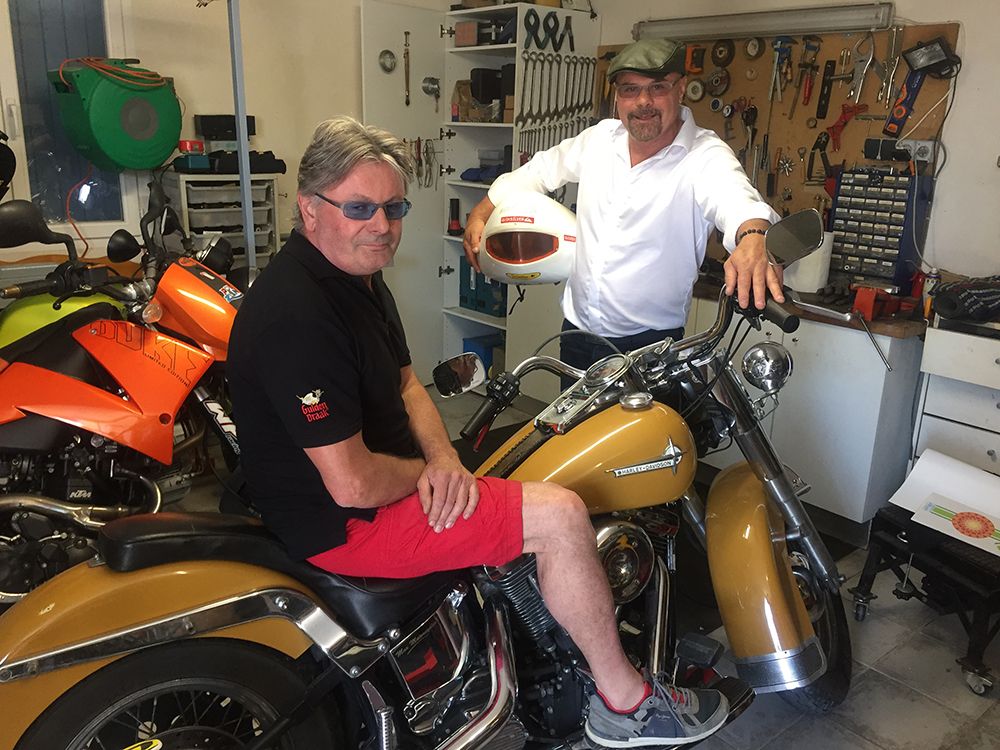 Jean-Francois Gras and Gavin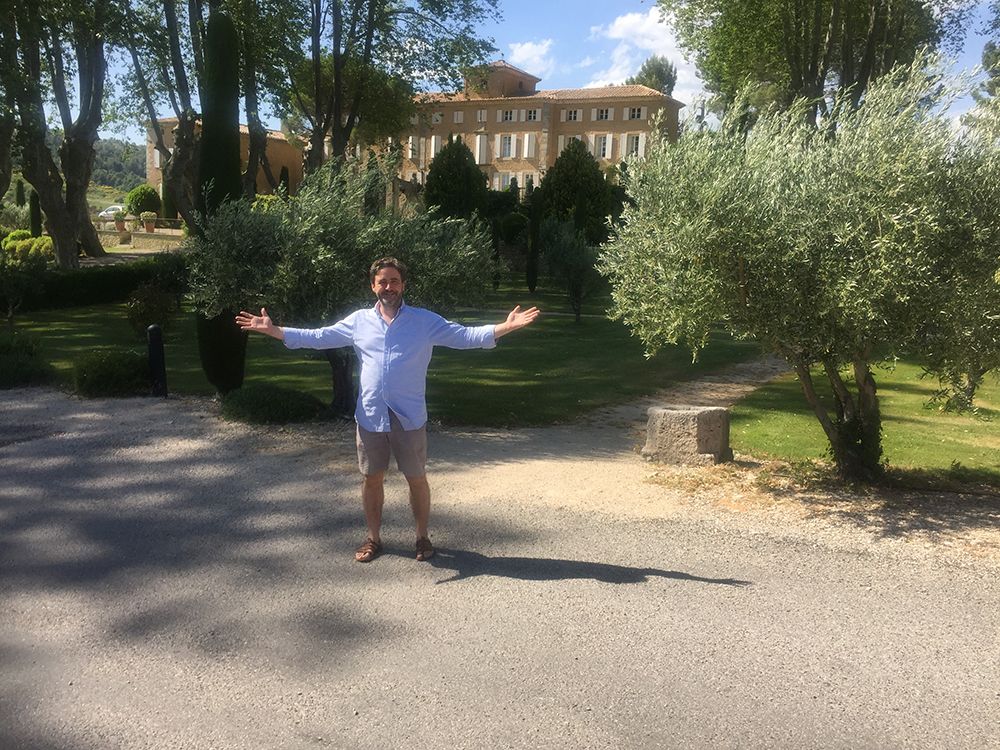 Frederic Chauderie – Ch Pesquie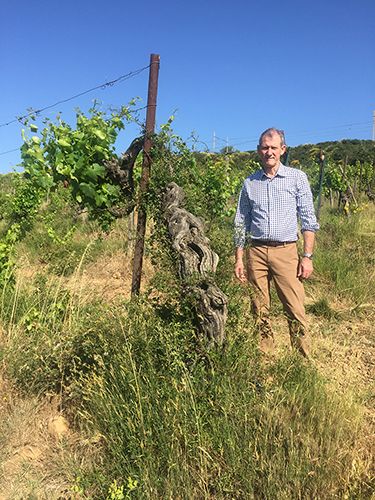 Scott with old vine Syrah, Mourgues du gres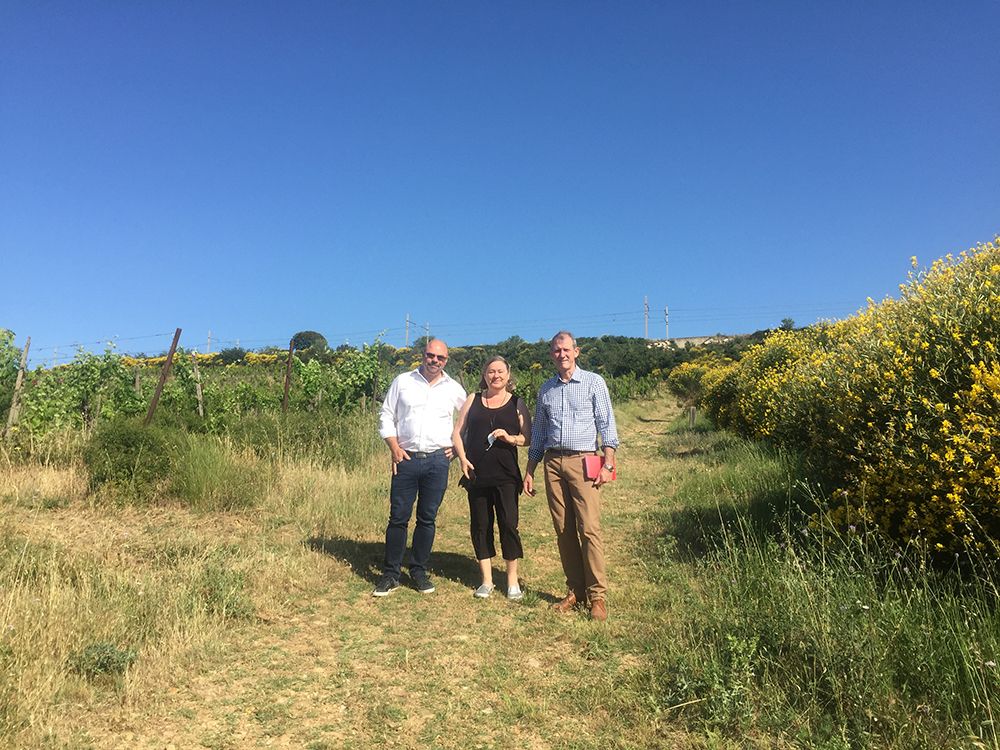 Biodiversity in the vineyard – no those aren't mushrooms in the middle