Scott in France June 2019 | Day 8
Overcast and chilly, Lydias "I told you to bring more warm clothes" is ringing in my ears. We're starting in Rully on the Côte Chalonnaise at the appellation's best, Domaine Jacqueson. They have an impressive chai at the back of the village behind the church where Marie Jacqueson greeted us warmly. She filled us in on the history of not only the domaine established by her grandfather just after WW2, but also some of the sad history of the town, which only had a few hundred people, but sent 60 men to the trenches in WW1. Only 3 returned. The wines here are scintillating values, the Rully blancs from 2017 have wonderful concentration and a nervous tension that is thrilling.
As we were leaving, Marie asked where we were going next, and after I told her, she commented "of course, the best in Chassagne."
At Bernard Moreau we were greeted by Alix Moreau's wife Martine. We talked about their son who is off to Australia for a student exchange very soon, and of course Alix's time working in NZ and Australia in 1997-99 (did you know he made a wine at Matua Valley called Cuvée Alix?). Then it was time to taste, and wow, what wines! For me, this is what white burgundy is all about, very mineral and dry, like sucking on stones, absolutely top notch Chassagne-Montrachet.
A couple of new domaines after lunch, more on these at a later date, and then we finished up in Beaune at around 6pm at the cellars of David Croix. It's hard to put in words what a nice guy David is, he just makes you feel good. And then we tried the wines and that feeling became euphoria. We tried a few 2018s out of the barrel and they just confirmed what everyone is calling a "great vintage" but then came the 2017s out of bottle. His signature is purity of fruit, balance, and silky fine tannins and these 2017s were absolutely singing, don't worry, you'll be able to buy what I don't.
Tomorrow the Côtes de Nuits.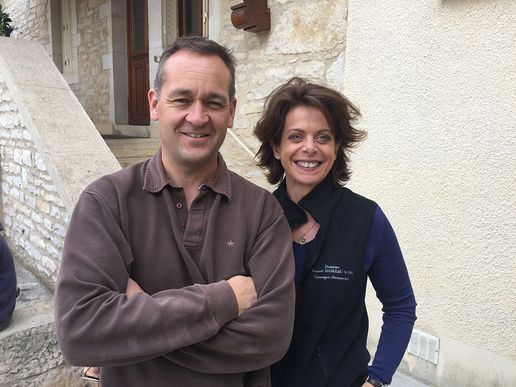 Alix and Martine Moreau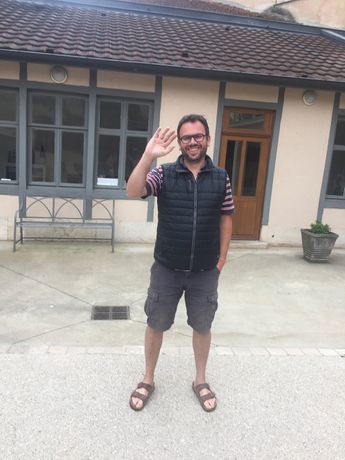 David Croix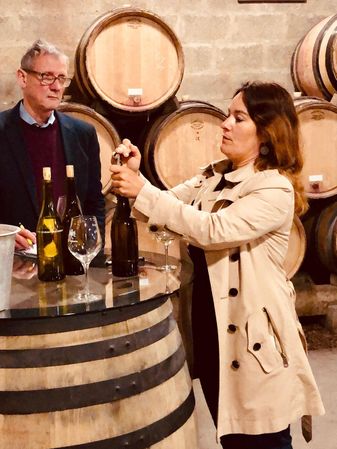 Marie Jacqueson