Scott in France June 2019 | Day 9
Really looking forward to today and not the least because we start at one of my favourites, and that's Jean-Marie Fourrier in Gevrey-Chambertin.
Jean-Marie was out of town, so it was his right hand man Francois Orise who took us through the tasting. Francois is one interesting guy, he worked as head sommelier for Joel Robuchon in Paris and Daniel Boulud in New York before opening his own restaurant in Beaune and then moving to work for Jean-Marie, and like Jean-Marie he is a perfectionist.
We started with the 2018s out of barrel, the fruit in these wines is impressive, this looks to be potentially a really great vintage, huge fruit but balanced by good freshness.Normally I prefer the Gevrey VV over the Gevrey Aux Echezeaux, but in 2018 the aux Echezeaux is amazing.
Then it was the 2017s out of bottle, for me an extraordinary set of wines, the 1er crus were really singing particularly Goulots and Combes aux Moines. But without doubt the highlight, probably of the whole trip were two wines which I never get to drink out of bottle as our tiny allocation is all presold, were the 1er Cru Clos St Jacques and Grand Cru Griottes Chambertin. Does Pinot get better than this? I doubt it.
Whoa what a start! Before and after lunch we were tasting in the most vaunted village of the Cote d'Or, for now I have to keep this under wraps. Very interesting.
To finish of the day with Gevrey and the tiny Domaine Marc Roy. The bubbly Alexandrine Roy has turned this estate into a cult star. How she manages two children under five with the detail and precision that goes into these wines beats me.
Alexandrine makes wines that have the most amazing balance and silky fine tannic structure, you could easily drink them straight from the barrel.
Back to Beaune and I think something simple for dinner, my wasteline is starting to blow out dangerously.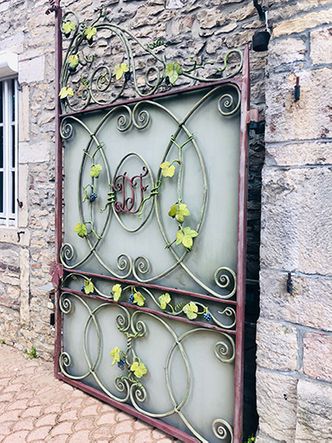 Gate at fourrier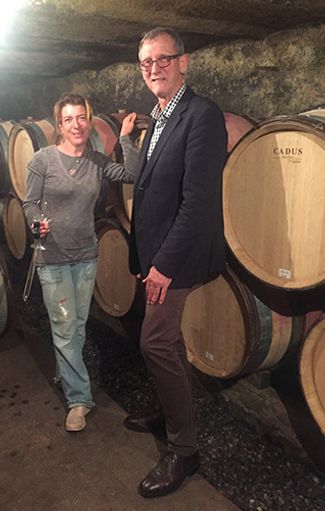 Alexandrine and Scott