Scott in France June 2019 | Day 12
The penultimate day, I'm starting to tire, luckily we only have a couple of appointments. Another one of those beautiful no cloud days which made for a glorious drive along the Cotes de Blanc to the village of Mesnil-sur-Oger. This is chardonnay country and before we tasted, Isabelle took us for a tour of the underground cellars at Champagne Pierre Moncuit. Moncuit is not a big producer, however they have more than a kilometre of underground tunnels holding more than a million bottles, talkabout a lot of money tied up. When you taste them you will soon realise why we think that Mesnil-sur-Oger is the best of the Grand crus on the Cote de Blancs. The highlight was tasting the two 2006 vintage cuvees, the Non Dosage and Brut, side by side. Mouthwateringly good.
You would think that this would be impossible to top, or you might think I'm prone to hyperbole and exaggeration. However what was to follow was a zen moment for me, something that would take me right out of my comfort zone, it was thrilling. After a glitch with the gps, it helps if you type in the correct address, I eventually made it to the next Domaine (which will remain nameless at this stage) on the Montagne de Reims. It is a Domaine where the boundaries are pushed to the limit, where biodynamics, organic, natural call it what you like are a way of life. The wines were otherworldly, in my mind I kept on saying, "is this the next Selosse?"
Only half a days work left and then Paris.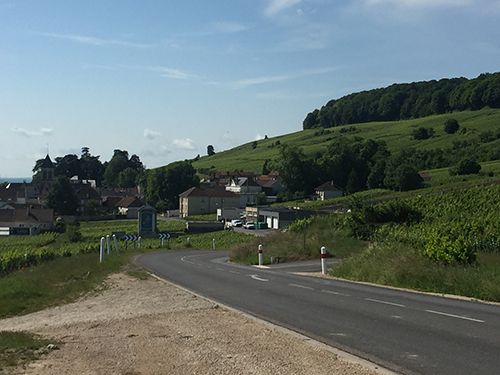 Grand Cru village of Avize on the Cotes de Blancs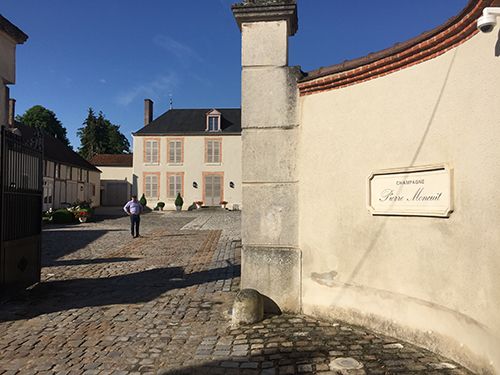 Gavin in ther courtyard at Moncuit
Lunch at La Table Kobus in Epernay- Mignon de porc, pomme rates forestiere