Home

/

JC in France May - June 2018 | Day 2
JC in France May - June 2018 | Day 2
I am spending the full day in the Appellation of St Emilion and Pomerol (30 mins drive from my hotel) with the team of the Moueix family (also owner of Chateau Petrus, Trotanoy etc…). My focus is to taste and assess the 2017 vintage that we are now just starting selling 'En Primeur' (find it on our website www.mvauron.co.nz).
My first visit was at Chateau Belair-Monange (St Emilion Grand cru classé) - A magnificent property (23.5 hectares) owned by the Moueix family since 2008 and situated at the highest point of Saint-Émilion's famed limestone plateau. The limestone from the central plateau parcels offers freshness, minerality, and delicate, lingering aromatics, while the dense, blue clay of the slopes provides intensity, length, and a unique elegance to the wine (90% Merlot + 10% Cabernet Franc). If you like Bordeaux wines with finesse and ageing potential this is for you. In 2107 they have hardly been touch by the frost of late April 2017 thanks to the top location of the vineyard.
Then a short drive to Chateau La Fleur Petrus (Pomerol). You have to know that these two famous Appellations of Bordeaux are touching each other (you can easily walk from one to another and yet they are producing totally different styles of wine). This in another property of the Moueix family – a truly amazing family who has done (and still doing) incredible things for the region – yes, they are seriously wealthy (which helps!) but whatever they do it is done with a lot of taste and consideration for the environment. The wine is composed predominantly of Merlot (91%), this grape does well on the gravel and deep clay, which lends silkiness and generosity to the wine, while a small percentage of Cabernet Franc (6%) + Petit Verdot which contributes rigour and complexity. Their 2017 might be the superstar of the Appellation with Chateau Certan.
I was already running late (time goes so fast when you are trapped in these beautiful 'chais')! My next stop was to meet the owner (Monsieur Garde) of Chateau Moulinet Lasserre (Pomerol), he is also the owner of Chateau Rene in the same Appellation. Moulinet Lasserre (only 5 ha) planted with 70% Merlot – 20% Cabernet Franc and 10% Malbec lies on the western part of the plateau of Pomerol. The light terroir of mainly gravelly soils allows for ideal ripening of the fruit, in dry as in wet vintages. I tried here a small vertical 2017, 2016, 2015 and 2014. These wines are good and classic Pomerols at a very reasonable cost.
I had quick lunch in the town of Libourne before meeting the famous Monsieur de Bailliencourt owner of this small, beautiful and exclusive Château Gazin. What an amazing time spent there! This 24 ha family estate is located on the north-eastern part of the Pomerol plateau and is neighbours with the famous Châteaux Petrus and Lafleur-Gazin. The wines (90% Merlot – 7% Cabernet Sauvignon – 3% Cabernet Franc) are rich and juicy but with finesse and minerality.
My next stop was at Château Bellegrave (Pomerol) another family property where the young son and his sister have taken over. They may not be as smart looking as the wines above but certainly wines with true regional character. Jean-Baptiste, who spent a vintage in Hawkes Bay for a couple of years, has great passion and dedication to make wines with organic and biodynamic methods - they have now the full certification. Unfortunately their vineyard has been completely frosted in 2017 and might decide not to bottle wine under their label.
The biggest surprise of the day was at my last visit of the day at Château Vieux Chevrol (Lalande Pomerol). A family domaine that we have been following for few years now, and a lot of you would have already tried it, is one of the most high-tech wineries for such a small Estate (24ha). They have invested heavily to give a superb working tool to their son Michel (28 years old) who is now taking over. The results are superb and offers a wine with plenty of character. This Domaine is also organic/biodynamic.
I had dinner with the family at the incredible restaurant on the roof top of Chateau la Dominique La Terrasse Rouge - Les restaurants de Nicolas Lascombes www.laterrasserouge.com Awesome location and great food. - JC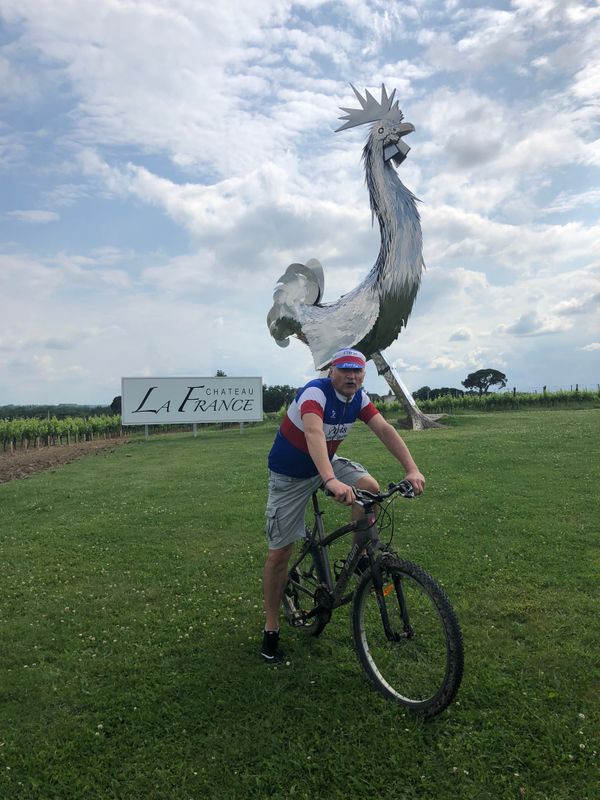 JC in Le Tour de France!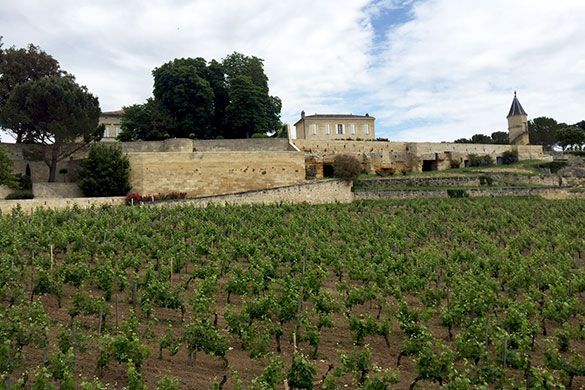 Chateau Belair-Monange