JC in France January 2020 | Day 4
Day four
Very depressing day on the weather front – Wet, cold and foggy! BUT on the work sheet some of my favourite Chablis producers and the very best of the Appellation!
Early tasting at Domaine Moreau-Naudet with Virginie, wife of the late Stephane (he passed away suddenly in 2016). The Domaine is in good hands! Virginie is doing a brilliant job of keeping what Stephane started some 25 years ago - The wines are very good and of classic Chablis style. Her 2018s are rich and textured but still with a fresh finish. I loved the 1er Cru Vaillons.
Next visit is at the exceptional Domaine Raveneau situated in one of the back road of the Chablis village. It is not an easy place to find (just a very small sign outside - Certainly to discourage the visitors to call in!) but this is one, if not, the best Chablis producers. Isabelle and her cousin Maxime are taking slowly over the control of this operation. They are young, enthusiastic, very very smart and with a huge passion. The lovely Isabelle showed us their 2018s. They have produced some wines with a perfect balance between fruit, texture, and freshness. I like them all!!! They have the wow factor and even Emilie with her limited experience in wine tasting was most impressed. She was also amazed by how young and dedicated Isabelle was to run such a famous Estate- A great inspiration!
After an easy and quick lunch at one of the village's bistro we had a meeting at the other big name of the Appellation – Domaine Vincent Dauvissat. Even harder to find than Raveneau – No sign! The thoughtful and 'maitre des lieux' Vincent Dauvissat was expecting us. I have been dealing with Vincent for more than 25 years and I will never stop enjoying my visits and tastings here! We are still tasting in the same old cellar, at the same place within, amongst the many barrels of 'tresors'. His 2018s are also just amazing, combining the richness of the vintage without losing the Chablis minerality. Terrible to say but I like them all too!
We could not be late to our meeting as I promised to Guillaume at Domaine Louis Michel to be in time. He double booked himself with us and his wife's Birthday present which was a trip to the mountains without the children! Here, we tried the 2018 Petit Chablis and Chablis as well as the 1er and Grands Crus 2017. The big particularity of this exceptional Domaine is that no wood is used in ANY of the wines made - Precision, focus and tension are the big words. Yet the wines have still some relief and huge finish – We drink a lot of those at home! We managed to finish the long tasting in time for Guillaume to take his lovely wife away for a couple of days.
The last but not the least tasting of the day was with the Seguinot's family. I should not really call it a tasting as it is more like a good laugh while cracking some good quality Chablis bottles. The Seguinots are one of the kind! The father (Daniel) and his two daughters (Emilie and Laurence) have personalities bigger than life and they are so kind! They have produced some amazing and well balanced wines in 2018. They invited us for dinner afterwards and took with them a bottle of their 1er Cru 'Fourchaume' 1999 (our Emilie's birth year) – It was still a great wine (after 20 years in the bottle) and an awesome evening!
Big long day and a good night sleep was in order.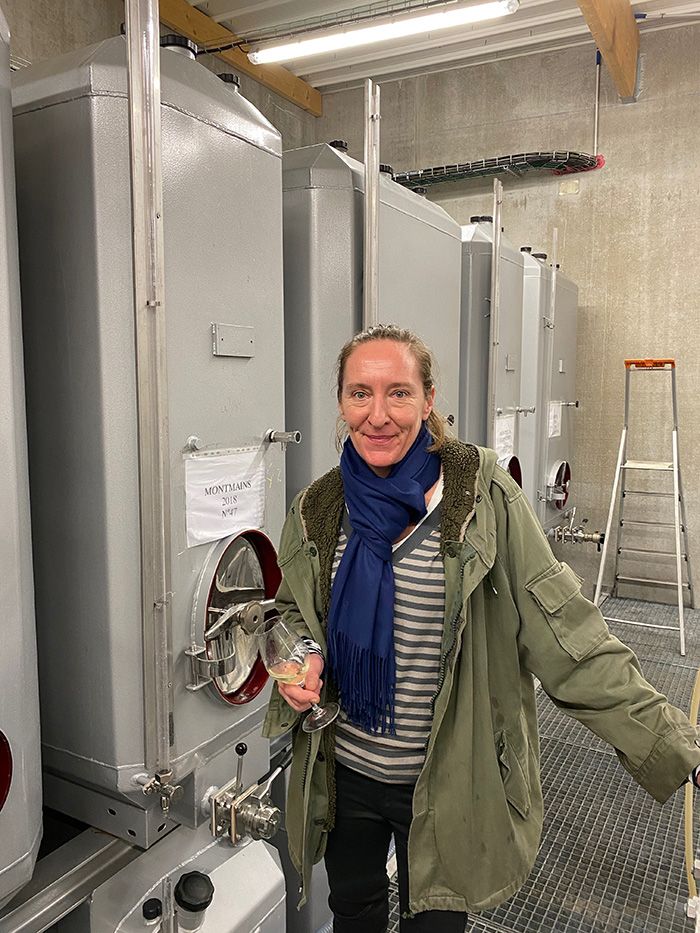 Virginie from Moreau-Nadet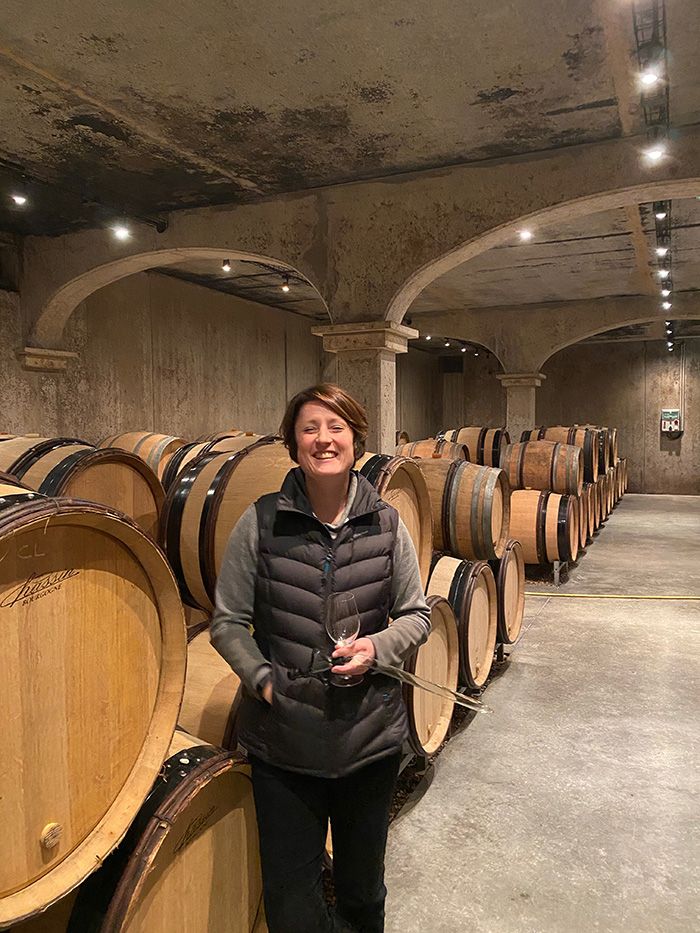 Isabelle in the Raveneau Cave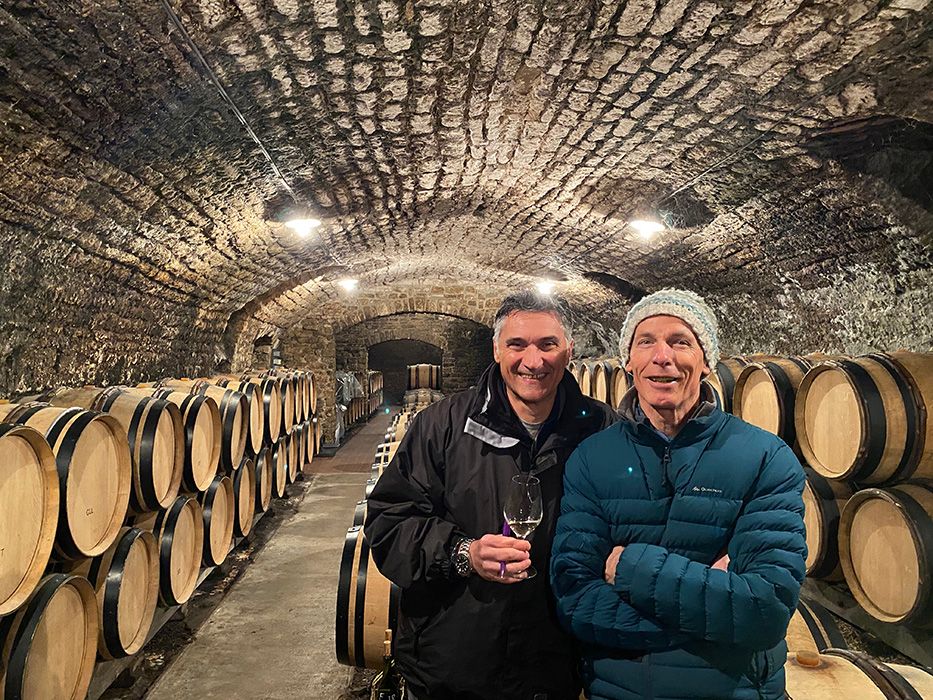 Vinvent and JC in the Vincent Dauvissat Cave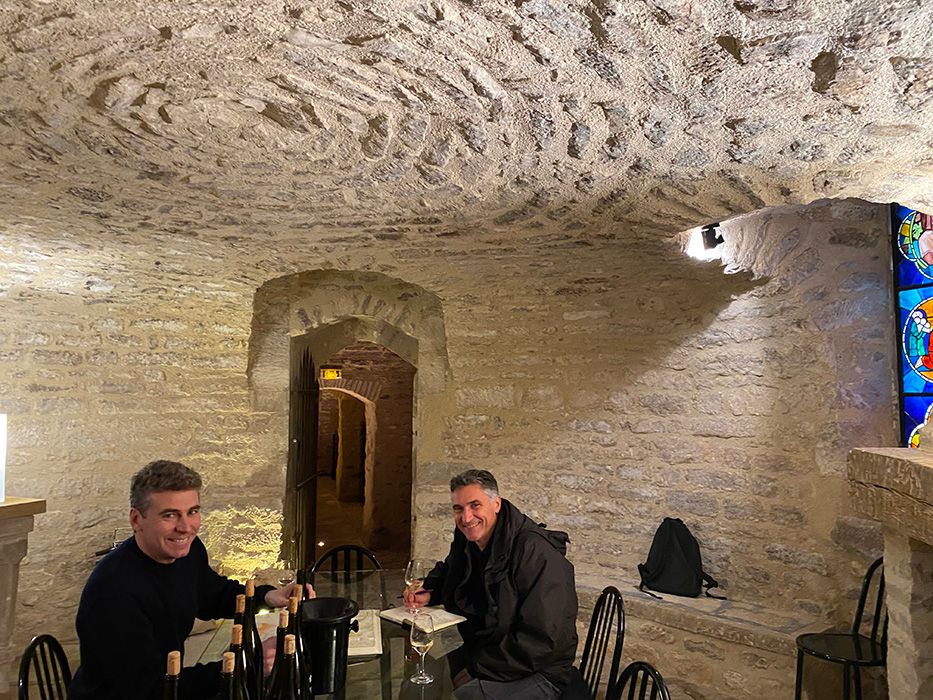 JC and Guillaume tasting in the Louis Michel cellar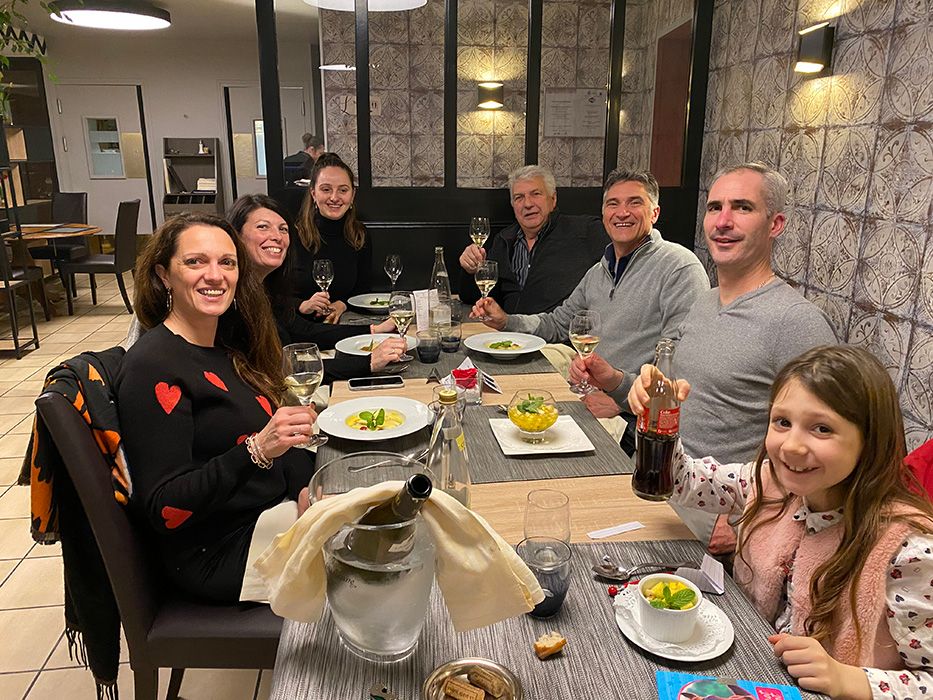 Dinner with the Seguinot family