JC in France January 2020 | Day 5
Day five
Still in Chablis this morning but checking out from our modest but very adequate Hotel Le Moulin de la Coudre. First time I stayed there but I will stay again. They are nice people too.
We had to drive to one of the highest point of the Chablis Appellation to meet with the Lavantureux family. They are based in the tiny and perched village of Lignorelles. The two young sons (David and Arnaud) are taking over and transforming the outlook of this already well-established property. Their drive to make even better wines is phenomenal and it is so exciting for us as an importeur. Their 2018s are just superb and very different to their 2017s – They simply have a better balance between texture and minerality. There are more 'Chablis-like' rather than 'Chardonnay-like'! If you know what I mean. Afterwards, David took us to the best restaurant in Chablis! If you have been following us for few years now you would know that this restaurant is called 'au fil du zinc'. It is right in the centre of the village, co-owned by chef Ryo Nagahama (from Japan) and sommelier extraordinaire Fabien Espana (the local boy!). In such a short time this restaurant has revolutionised the food scenery of the region. We had a stunning meal with the typical Japanese precision and French hospitality.
Sadly, after just 5 years they have decided to sell the restaurant and will be closing in March this year! Ryo had an amazing opportunity to open a restaurant in Osaka - The offer was too good to refuse. Fabien is already working on his new project and thank God still based in Chablis. I will report.
After our great lunch we drove to the village of Bailly (only few kilometres South of Chablis) - Bailly is the birthplace of the AOC Crémant de Bourgogne. Since 1972, in an underground quarry providing unique natural conditions they make sparkling wines. We had the most interesting visit and tasting afterwards. Watch the space here!
We then drove to the Jura wine region (approx. two hour drive) to meet some of our existing suppliers and one new one. Jura, sandwiched between Burgundy and Switzerland, is a small wine region responsible for some of France's most idiosyncratic wines.
We will be staying two nights in a little apartment in the town of Lons le Saunier. This is the town where I spend one month in 1982 to 'faire mes classes' (to do my military training) before being transferred to my 'regiment' based in the beautiful mountains above Lons le Saunier, a little village called 'Les Rousses'. I am planning to take Emilie up there tomorrow to have a look and some fresh air. It will be for me also a small pilgrimage!
Quiet dinner in our little apartment with some of our favourite French food!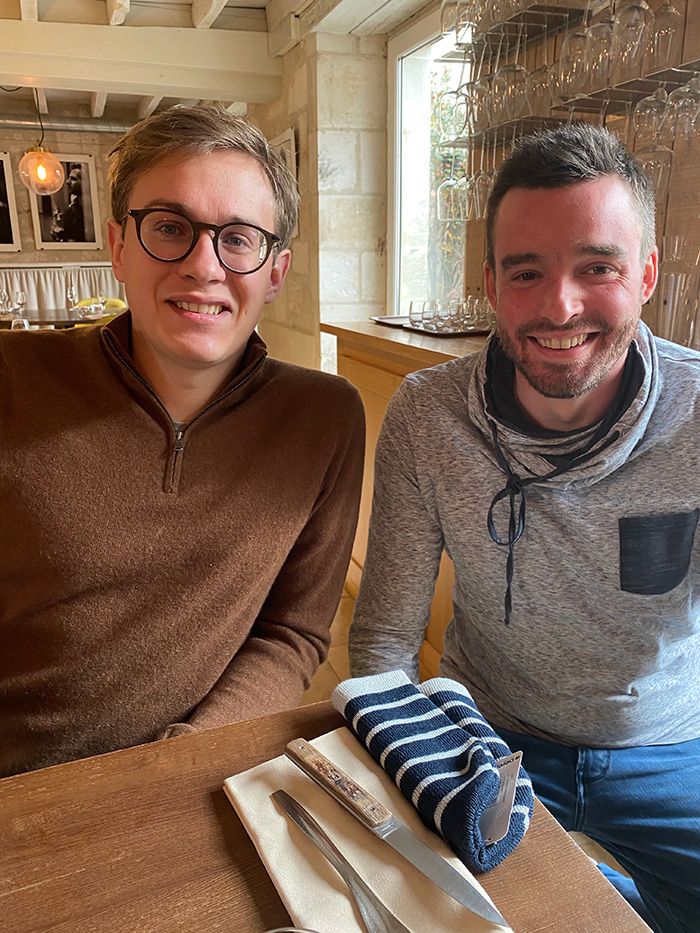 Arnaud of Lavantureux and the restaurant owner, Fabien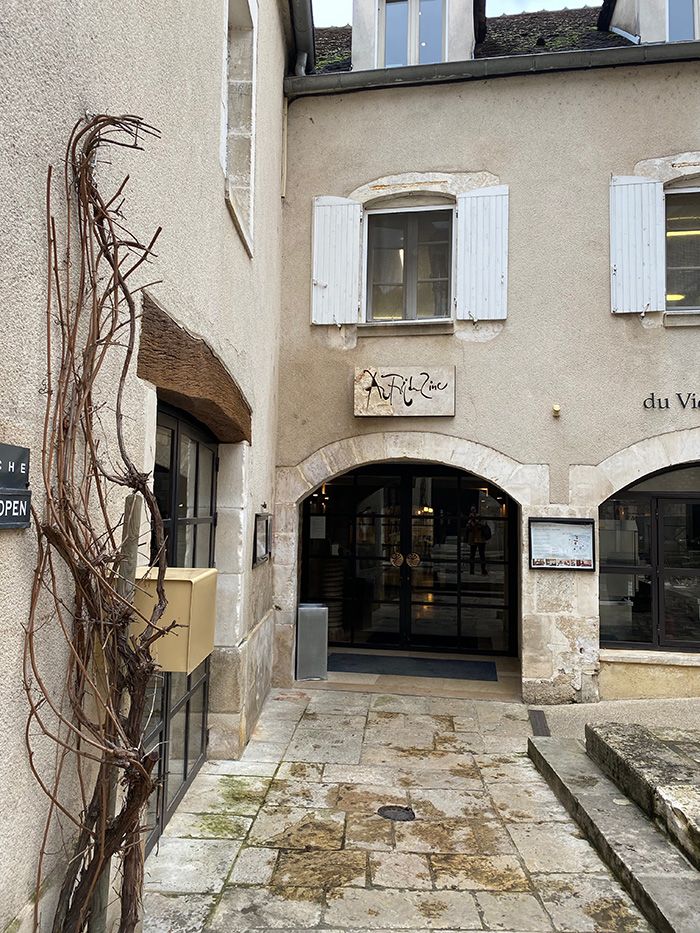 Au Fil Du Zinc
Entrée Saint-Jacques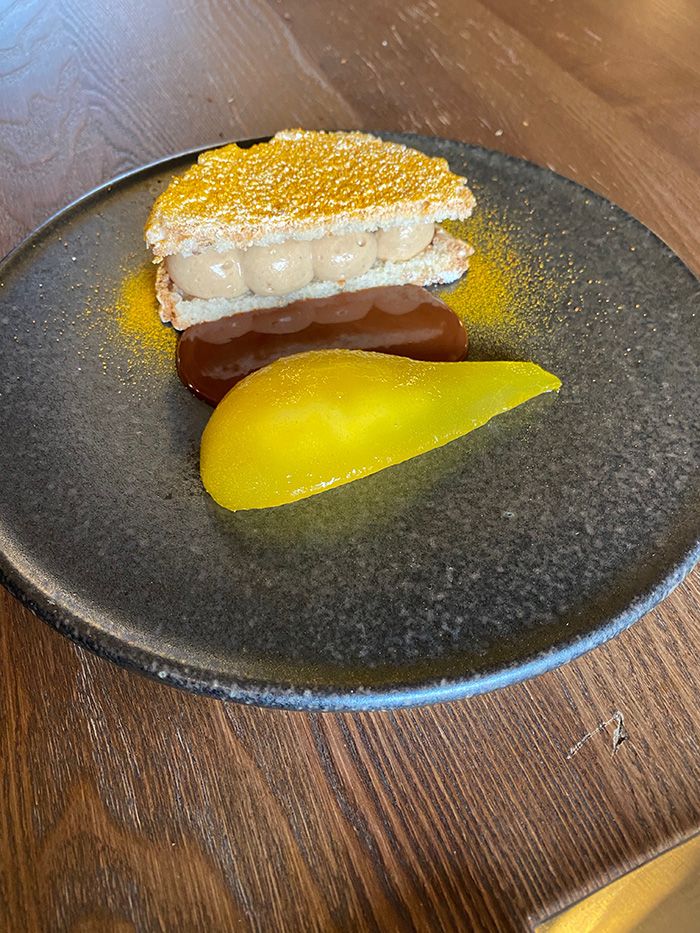 Poire Dessert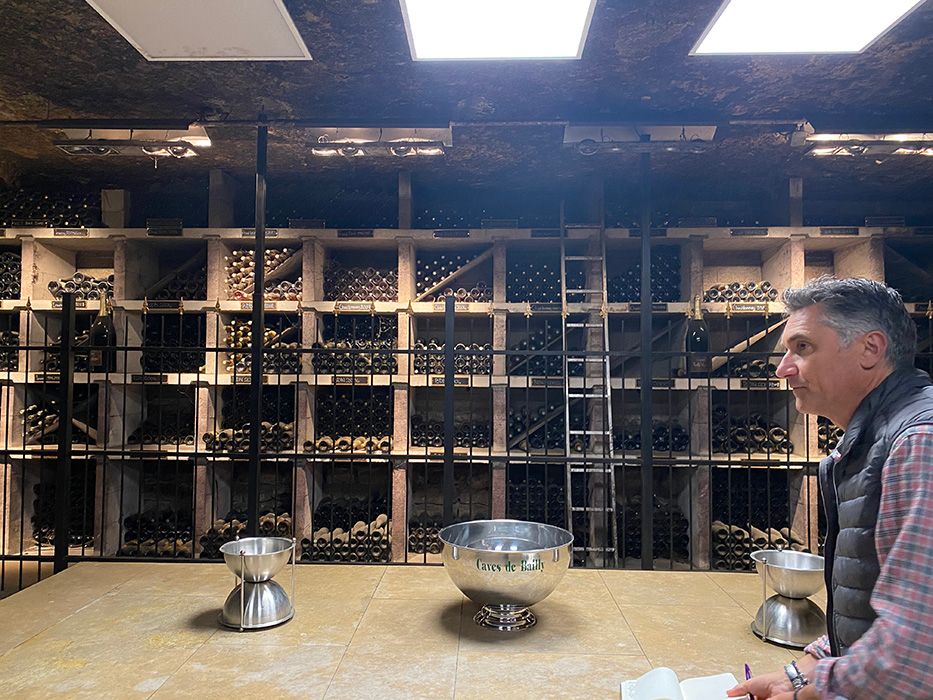 Tasting at Cave Bailly Lapierre
Date: 09-02-2020

Clive Stone

Yes we enjoyed the Cremant when we visited from our boat on the Yvonne 2018 and 2017 the quarried stone was used to build Notre Dame