JC in France January 2020 | Day 7
Day seven
We are still in the Jura wine region for the day after the most amazing day yesterday in the village of 'Les Rousses'.
Back to work this morning and direction Arbois (home of Louis Pasteur, 1822-1895).
Domaine Rolet, recently bought by the Devillard family of Chateau de Chamirey (Mercurey – Burgundy), was expecting us. They have an impressive site - humongous! A huge amount of barrels (no less than 2000 on site) are needed to age, some of the wines, for more than six years (particularly for the production of the 'Vin jaune') and on the top of that they have a rather large number of cuvees. You do then understand why the building is so large! We had a very good presentation of the Domaine, the region and the wines produced at this Domaine before a full on tasting - We went back to the 1989 vintage via the 1999 (Emilie's birth year)! The Rolet wines have now arrived in NZ – You must try them to have an intro of the wines of this wonderful region. We had a great lunch with them at 'Les Arcades' in the village of Arbois. Of course we were late to our next meeting!
And our next meeting was a pretty stunning one as it always is! Stephane Tissot is one of the most enthusiast winemakers I know – He always says 'la vie est belle!'. He is also one of the leader and most talented producers in the Jura – Wines providing huge emotions! He does work with all the major grape varieties of the region: Savagnin and Chardonnay for the whites and Trousseau, Poulsard and Pinot Noir for the reds. His wines have a kind of complexity and precision hard to find elsewhere. He's of course one of the master producer of the 'Vin Jaune'. To make a bottle of 'Vin Jaune' the barrels of Savagnin are not topped up, so they become lightly and deliberately oxidised, though the wine is saved from spoilage by the formation of a film of yeast known as 'flor' on top of the wine, as also happens with fino sherry. Unusual but exciting wine. They must age in barrels for a minimum of 6 years and three months (this is the law!) before being released. Never tried a bottle of 'Vin Jaune'? A must with a 'batonnet' (stick) of Marcel Petite Comté 'Reserve'.
We were supposed to visit another producer of ours (Peggy and Jean-Pascal Buronfosse) in the Southern part of the Jura region but due to technical reasons we had to cancel it. I will be back!
We arrived in our hotel in Beaune (Hotel de la Paix) rather late and had dinner close by in a nice brasserie in Place Madeleine.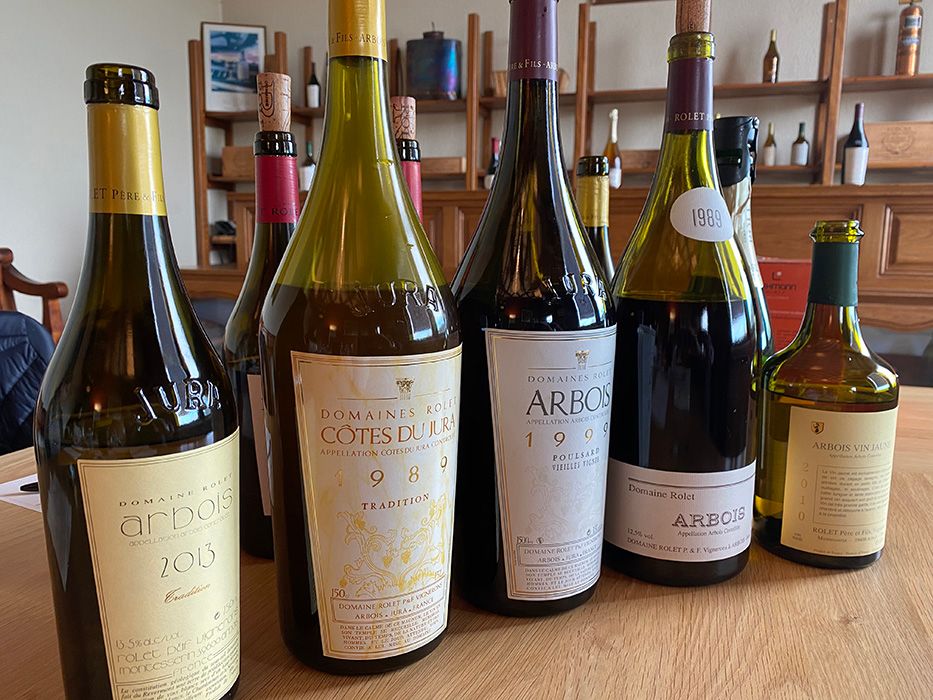 Rolet Wines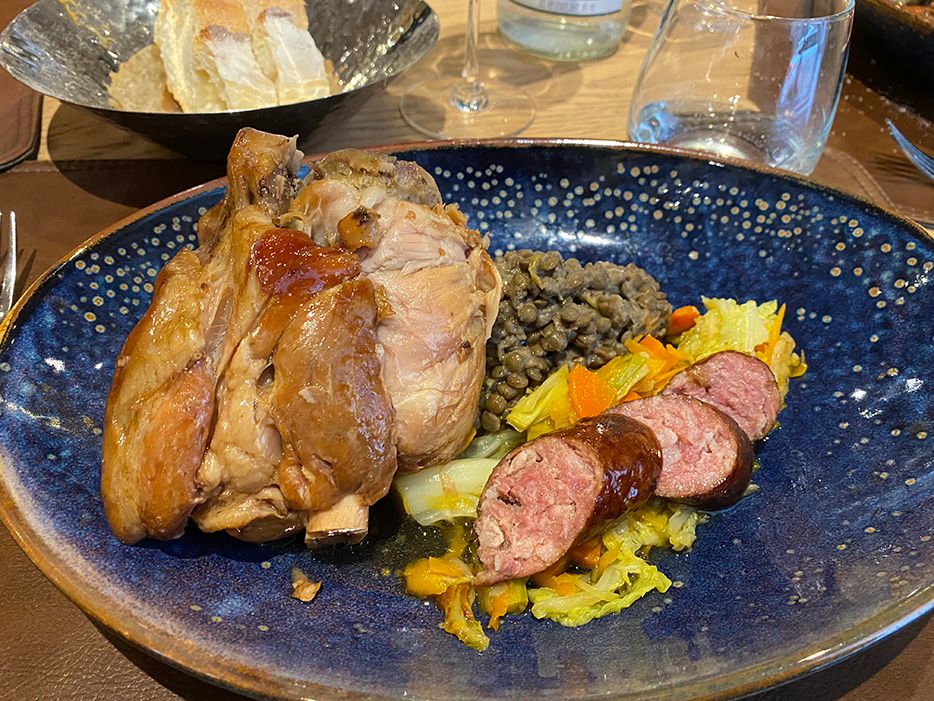 Plat du Jour At Les Arcade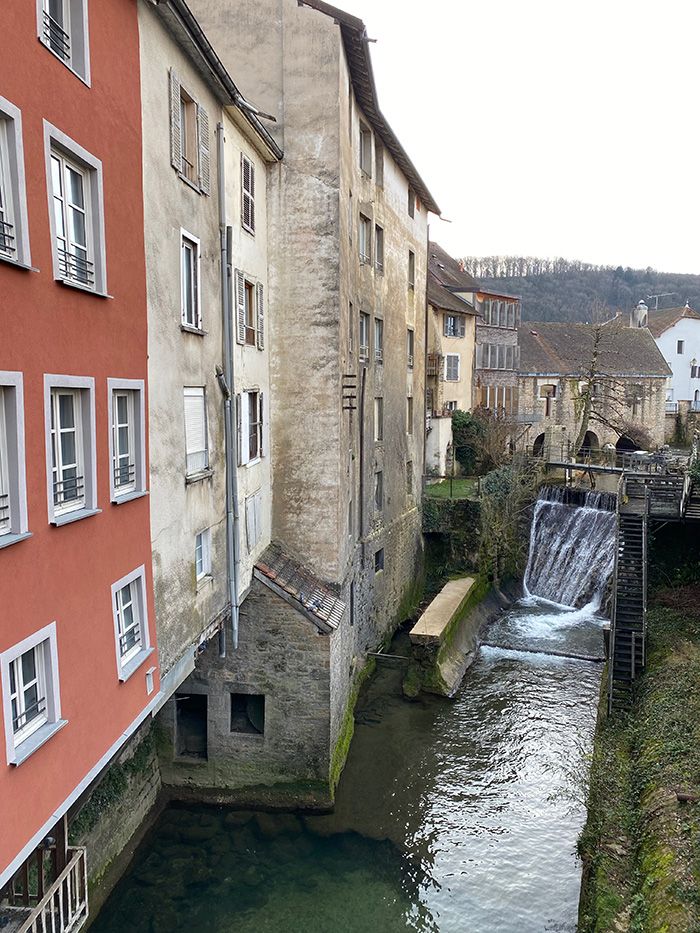 Village of Arbois
JC and Stephane Tissot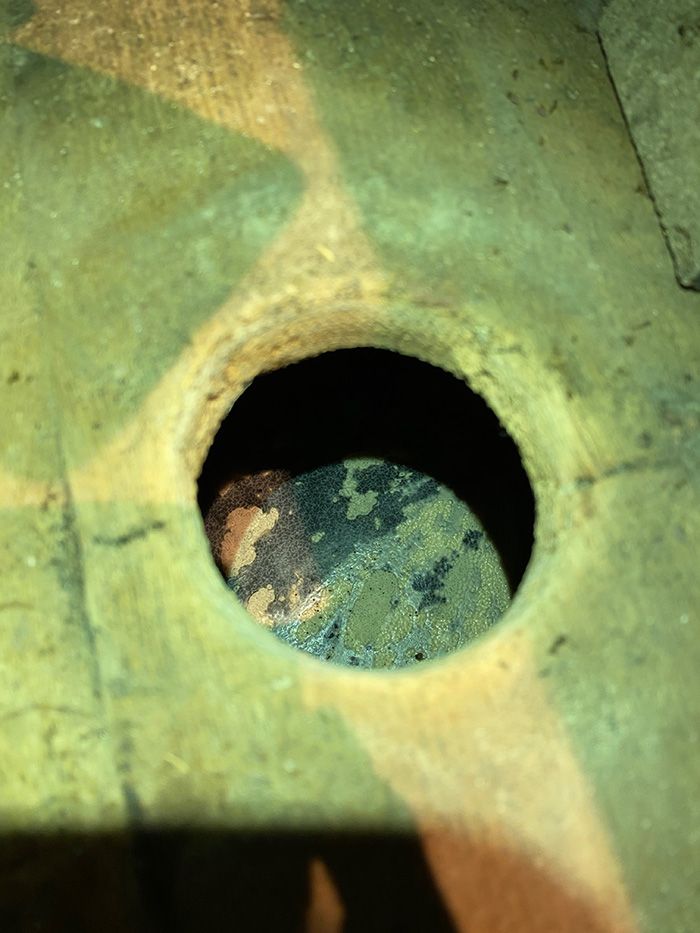 La Flore to make Vin Jaune