JC in France January 2020 | Day 11
Day eleven
SAD NEWS! Michel Lafarge, a leading vigneron in Burgundy, died a few days ago at the age of 91. His Domaine Michel Lafarge, is amongst Volnay's exceptional estate and has been for many years. I was one of the lucky ones to have met him some 20+ years ago – I will always remember his kindness, wonderful stories and dry humour. He will be greatly missed!
Our first meeting this morning took us north of Beaune in the town of Nuits St Georges at Domaine Chantal Lescure. François Chaveriat, the 'Maitre de Chai' and wonderful personage showed us his 2018s with great excitement although he found the vintage quite complicated in the making. First, of course due to the 'suddiste' (southern France) side of it and secondly during the vinification when some vats had huge issues to finish their alcoholic fermentation. Despite that I found the wines wonderfully easy access and even with a good freshness at the end. They certainly have the hallmarks of 2018 but in François good hands the results are really good.
We did not have to drive very far to our next appointment which was in Morey St Denis. Domaine Arlaud, with Cyprien Arlaud, in charge is getting better and better. I personally love the style of his Pinot Noirs – Extremely pure, delicately fruity, medium weight and with tension. His 2018s are stunning as he has managed to controlled the warmth of the vintage by being reactive at harvesting time. He took us to a lovely restaurant in Gevrey Chambertin (Bistro Lucien) where we had probably the best 'Sole Meuniere' (Dover sole) I ever had in my time.
Early afternoon we had meeting at a very new Domaine for us and one of the most exciting one too – Domaine Jean-Marc Bouley (Now Thomas Bouley, the son)! It was recommended to me few years ago by my friend Roland Chanliaud. (owner of La Maison du Colombier in Beaune www.maisonducolombier.com). "With Thomas Bouley's arrival to help his father Jean-Marc in 2002, this Domaine has rocketed into a rarefied quality zone occupied by Volnay's greatest estates" says Anthony Hanson. I could not agree more!
Thomas Bouley's Domaine, which has been in his family for four generations, now consists of 12 hectares in Volnay, Pommard and Beaune. His 2018s have exceptional energy, freshness and brightness, coupled with beautiful ripeness helped by the warmth and richness of the vintage. Lovers of very top Burgundies…. this is for you!
Before departing 'la Cote d'Or' I had to show Emilie the famous Château Clos de Vougeot - Home of the Confrérie des Chevaliers du Tastevin. New Zealand has its own Commanderie since 2009.
Our next stop and where we will be spending the next couple of days is the Mâconnais (close to the town of Mâcon). We had an hour and a bit to drive to arrive in our little hotel (La Courtine) in the village of Solutré-Pouilly. The hotel is very simple but they have the most wonderful restaurant. One single menu with no more than three options for entrées/ plats principaux/ cheese-desserts - All very fresh and cooked at the minute. We loved it!
We have noticed today a big drop in temperature. Tomorrow long johns might be in order!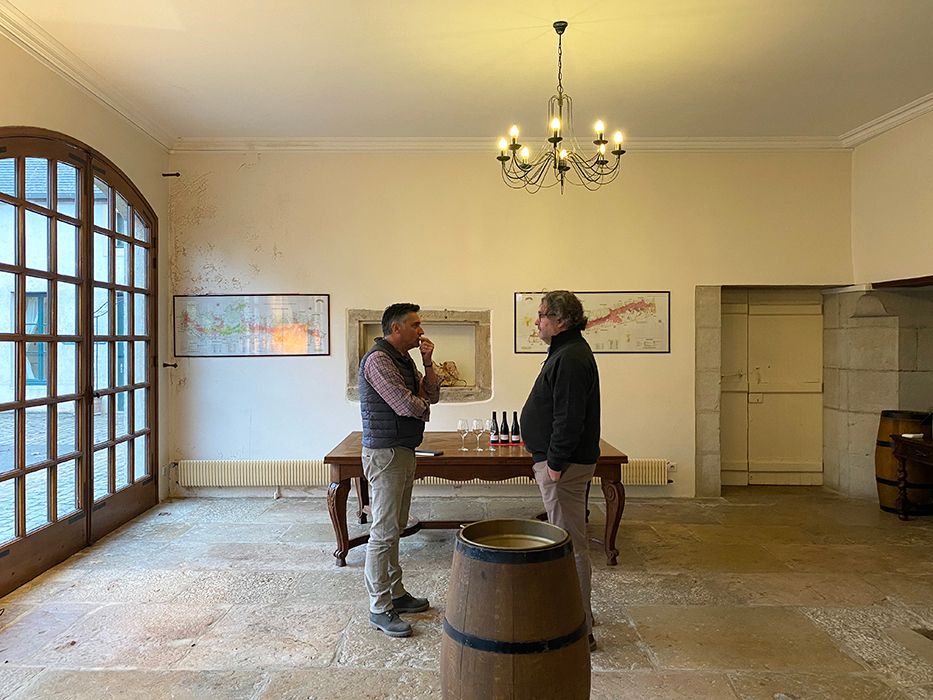 JC and François, Domaine Chantal Lescure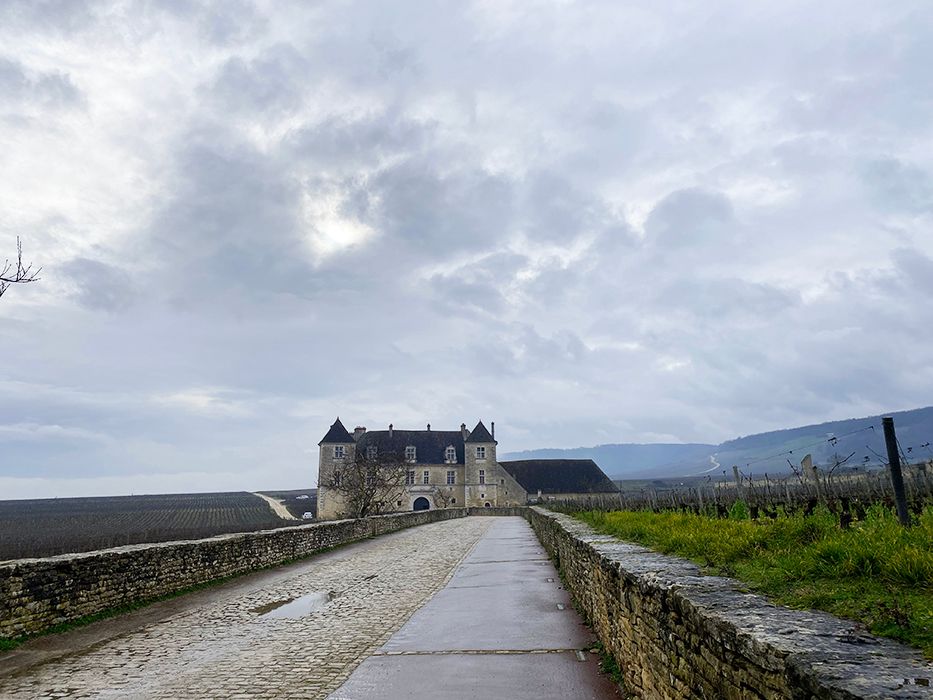 Clos Vougeot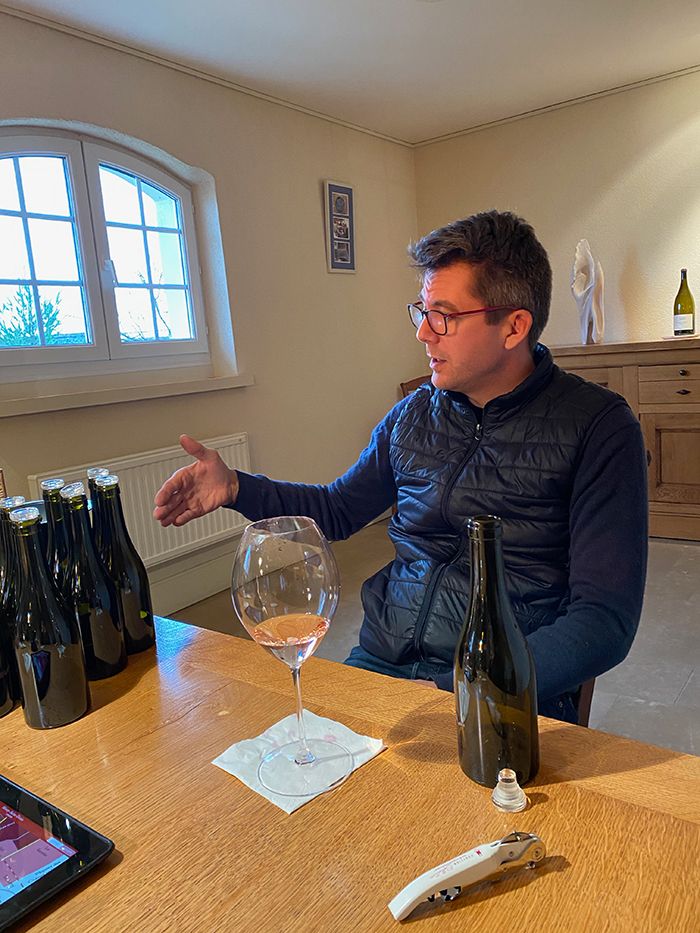 Cyprien from Domaine Arlaud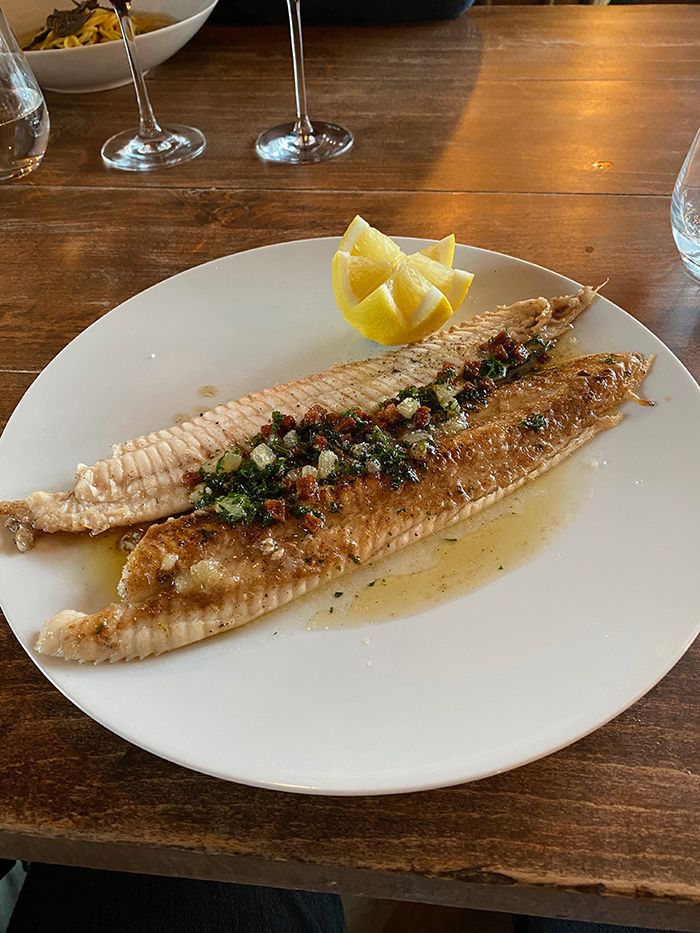 Sole Meunière - Fish for Lunch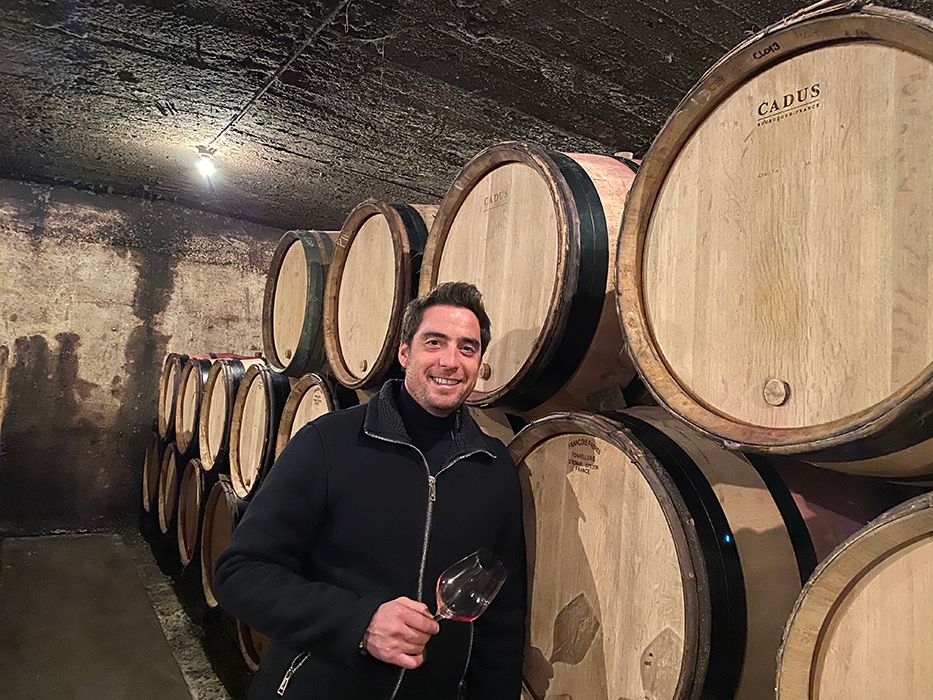 Thomas of Domaine Thomas Bouley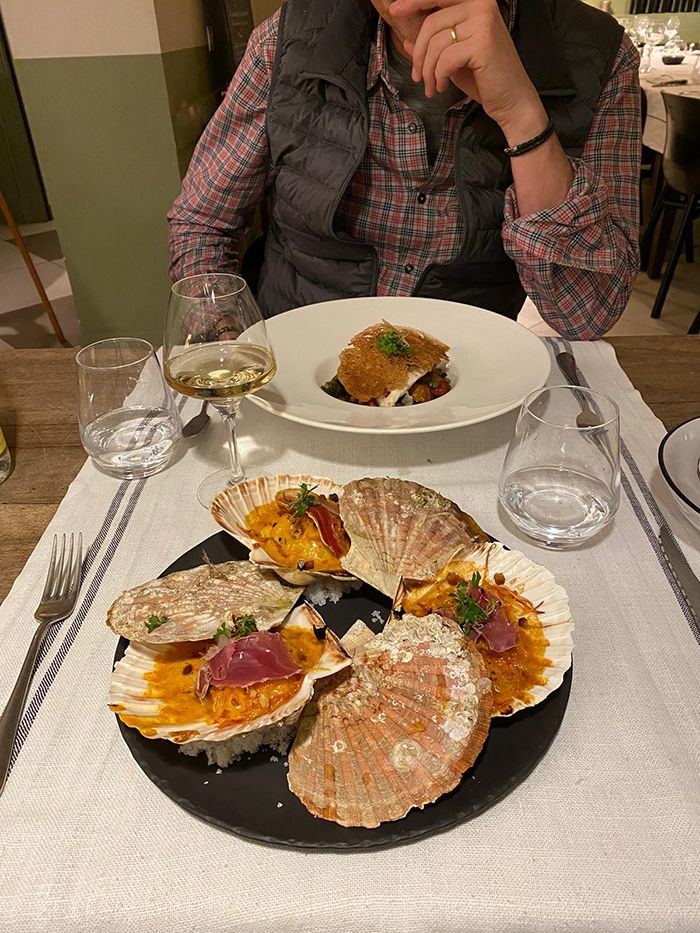 Dinner at Courtille de Solutre