JC in France January 2020 | Day 13
Day thirteen
Oulala! Much colder this morning – A nasty Northern wind going down the Rhone Valley! I got the good news overnight that my TGV has been confirmed (the one that will take me from Lyon to Paris to catch up my plane back home) despite the strikes.
We spent last night in an hotel in Tain l'Hermitage and had dinner in the brasserie by the main square.
First thing this morning we had meeting with Jean Gonon of Domaine Pierre Gonon. This estate is considered today as one of the best of the Appellation St Joseph. Jean and his brother produce wine with delicate fruit characters, elegance and a considerable freshness on the finish. They are never forceful or considered as big wines. Unfortunately the volume produced every year are minuscule and our allocation is no more than a dozen of cases per vintage! At the end, Jean opened for our pleasure of bottle of St Joseph rouge 2010 – It was so good but still too young!
We did not have to drive far to get to our next meeting in the village of Chateaubourg to see the Courbis Family. Domaine Courbis dates from the 16th century and has been handed down from father to son. If you have been a client of Maison Vauron for a while you might remember Laurent Courbis when he came with his bride to NZ in 2006 and did a couple of tastings for us. He's a real character and the Maire of the village for several years now – In fact his family has been in the position since 1880 straight! They are holding the record in France! Laurent and his brother Dominique produce wines from the St Joseph and Cornas Appellations and are of extremely high quality, terrific examples of both wine regions and consistently meet with worldwide acclaim. I loved the 2018s!
Laurent took us to the local and vibrant restaurant which is also the 'rendez-vous' of winemakers. Eric and his wife Catherine owners of 'Auberge Monet' are wine fanatics and also the parents of the young Etienne who did work for us few years ago. The atmosphere and the company are greater than the quality of the food but I love going there!
Straight after lunch we had to cross the Rhone river to get to Domaine Yann Chave. Yann did some considerable work around his 'chais' (wine cellar) – the place looks immaculate. Before we start the tasting of the 2018s we had to talk rugby – It is a ritual! Yann is a fanatic of the sport, ex-player, ex-coach and now a fervent follower. He has promised me many times that he will come to New Zealand to watch a couple of matches but also to do few tastings for us. His wines have always a fruit richness, a juicy texture and velvety tannins – His 2018s are the epitome of that!
After that we had to drive (only 10 minutes) and still staying in the Appellation Crozes-Hermitage. This is by the way the fastest growing Appellation in an already crazy sought-after wine region of France – The Northern Rhone.
The Belle family are based in the village of Larnage, situated just above the Hermitage hill. The village of Larnage is famous for its often steeply sloping vineyards on the unique kaolin-rich clay (used for making porcelain, roof tiles, cosmetic products, 'Le Panyol' wood-fired ovens as well as for growing vines) in the Appellation of Crozes-Hermitage. The lovely Belle family run this 25ha (hectare) domaine. Very dependable wines are led by the cuvée 'Les Pierrelles' - Always full of fruit, the 2018 version promises a stylish future with ripe red fruits. The Louis Belle Hermitage centred on 20–100-year-old Syrah vines, has rich, berry fruits at its heart, its oak lining demanding it be left for few years. This is only our third vintage with them but they have already a warm spot in our heart!
We stayed the night further North, near the town of Vienne, and had dinner at our hotel. The hotel 'Le Cottage de Clairefontaine' is owned and run by Chef Philippe Girardon and it houses his Michelin starred restaurant. A great address.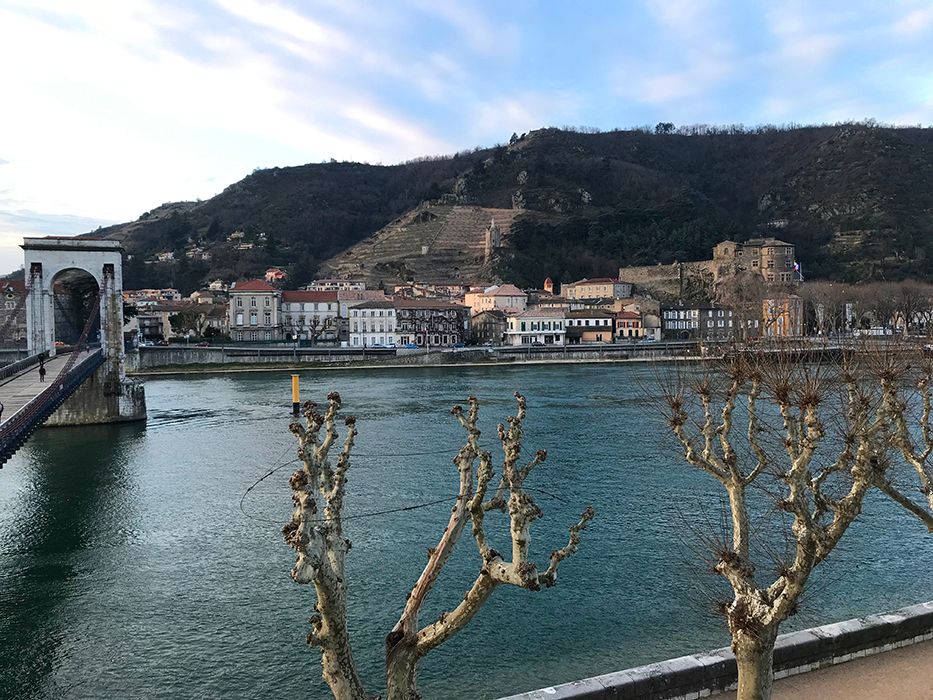 View from hotel room in Tain l'Hermitage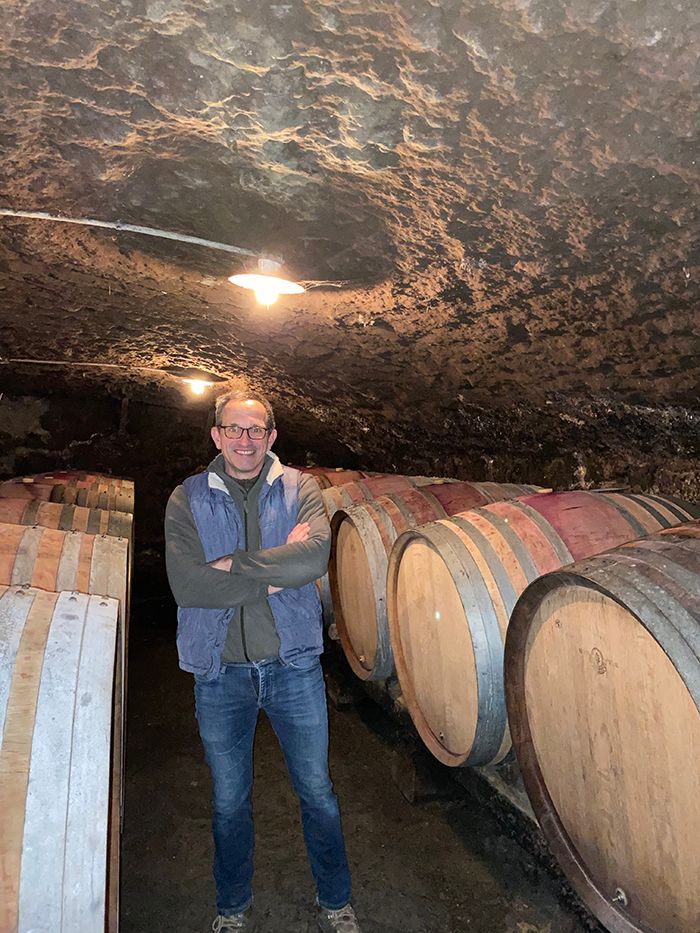 Jean from Pierre Gonon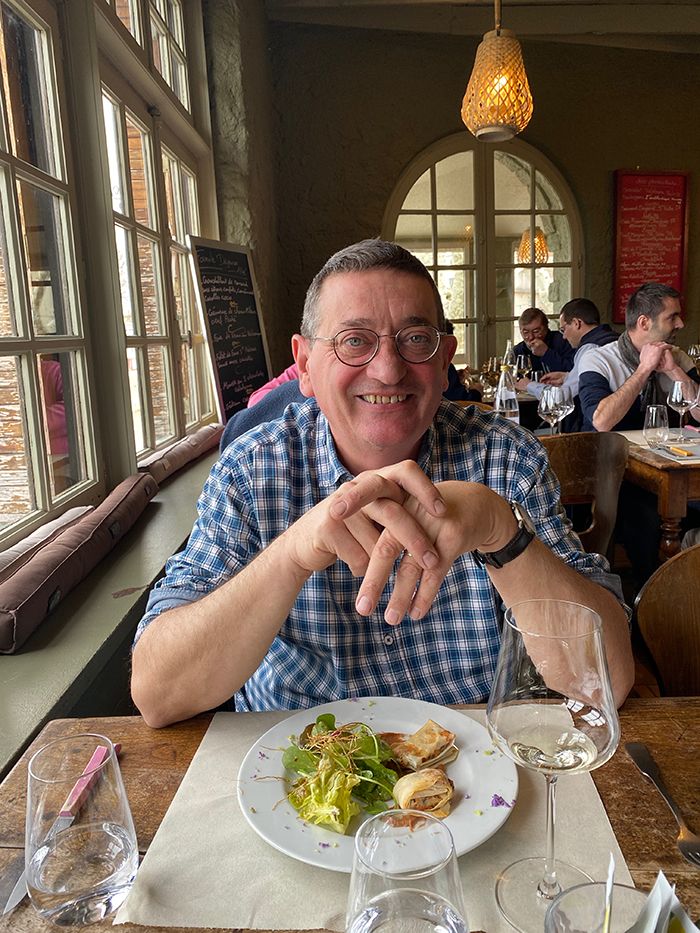 Laurent Courbis from Courbis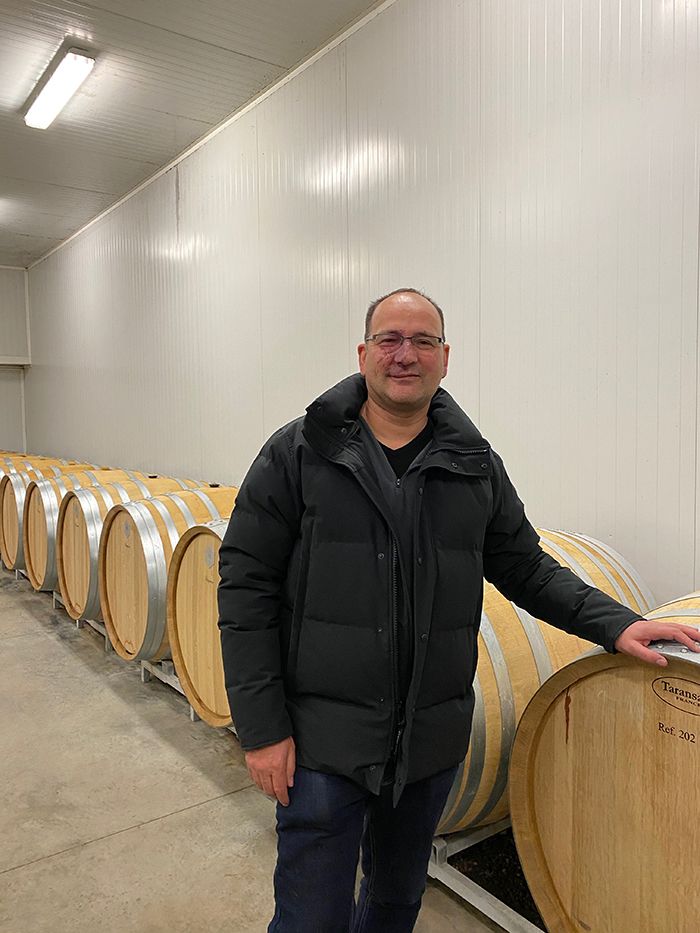 Yann Chave
Tasting at Domaine Belle