JC in France January 2020 | Day 14
Day fourteen
We are coming to an end of our tour! We won't be going further South than Valence on this trip. I reserve the Southern part of the Rhone Valley for my trip in May. Actually I will be joined by two couples from Kerikeri – I am looking forward to it.
Very early start this morning as we have nearly one hour drive to meet Nelly De Boel-France. This is a brand new Domaine in the Northern Rhone. We did meet Nelly and her husband Arnaud many years ago when they were both working for the wonderful organic and biodynamic, Clos Henri in Marlborough (NZ). They are young, dynamic, talented and driven. We were very pleased to support them with our '20 YEARS' special bottle last September. Today we tasted the new vintage and cuvées in their new location on the other side of the Rhone of Tain l'Hermitage. Every wines and every label has a meaning and a story! Watch out for these new kids on the block! Their 2018s are superb!
Next meeting was down the road to meet the new generation at Domaine du Colombier. An estate that we started working with nearly 20 years ago. The Vial family planted their first vines at the foot of the Hermitage hills in 1929. Florent son's Axel (23 years old) is just about to join full time the family business but not before coming to NZ next year to do a harvest. I am completely besotted with the style of their wines! Their terroir in Crozes-Hermitage has granite, along with clay, limestone, chalk, rocks and stones in the soils which give their two Crozes cuvées huge complexity. They are rich in both fruit and terroir (without the baby fat!), with ample but integrated structure. Florent and Axel took us to, I believe the best restaurant in Tain l'Hermitage – Le Mangevins. A must if you are in the area!
With lunch we drank a bottle of Domaine du Colombier Hermitage 2008 – it was truly superb and that was not even a great vintage for the region!
Of course we were late for the next meeting!! Fortunately we did not have much driving to do as we were expected in the southern part of the Crozes-Hermitage. Domaine Gilles Robin is doing good, even better than good! Since Fabienne (Gilles new partner/wife) joined the estate the sales have grown significantly and that leaves more time to Gilles to make even better wines. Their range has extended to neighbouring Appellations such as St Joseph, Cornas and even a Cotes du Rhone from the Southern Part of the Rhone Valley. However we are keeping to the Crozes Appellations and their different Cuvées. The 2018s are excellent and they have of course with the hallmarks of this rich, ripe and generous vintage.
We had to rush a bit to be in time for our last tasting of the day about one hour drive North in the Condrieu wine region. Our meeting was at a Domaine which we used to work with some years ago and stop importing their wines for two or three years. We found at one stage the wines of François Villard too 'wicked/funky' for our market! François is an artist and an extremely well-known one too, he makes superb wines with huge personality and the cuvée's each have quirky names! We have decided this year to revisit them so it was a very important meeting for me. We tried the full range – No less than 22 wines! I have earmarked some of them which we will eventually be sharing with you. Watch this space!
This was a big day and we are both pretty tired. Again I am so proud of my 'little' girl as she followed up and tasted every single wine without a word of complaint. A great lesson of life – persistance, and perseverance!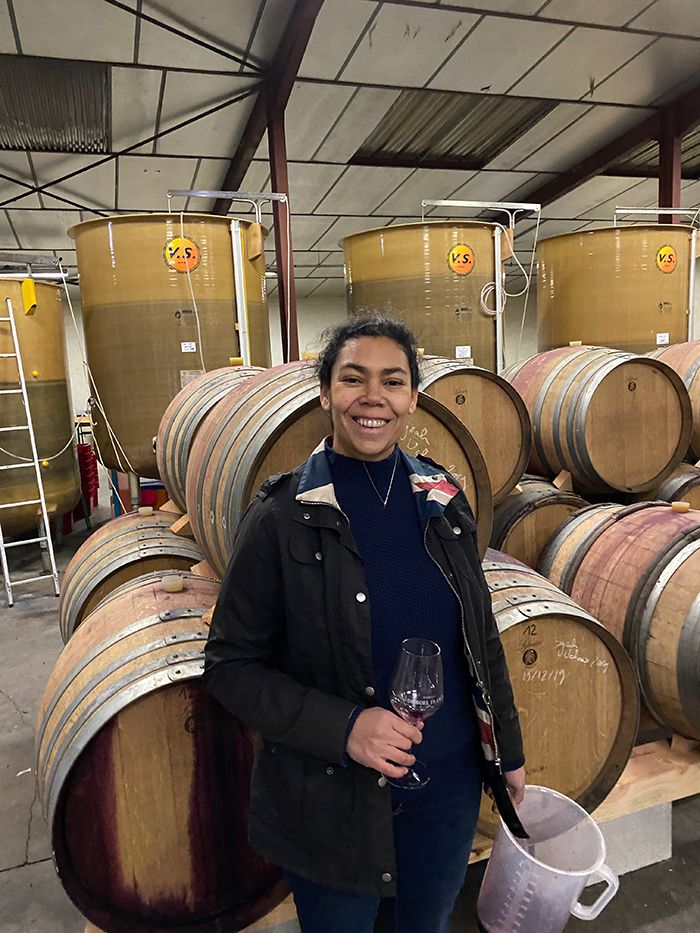 Nelly from Domaine de Boel France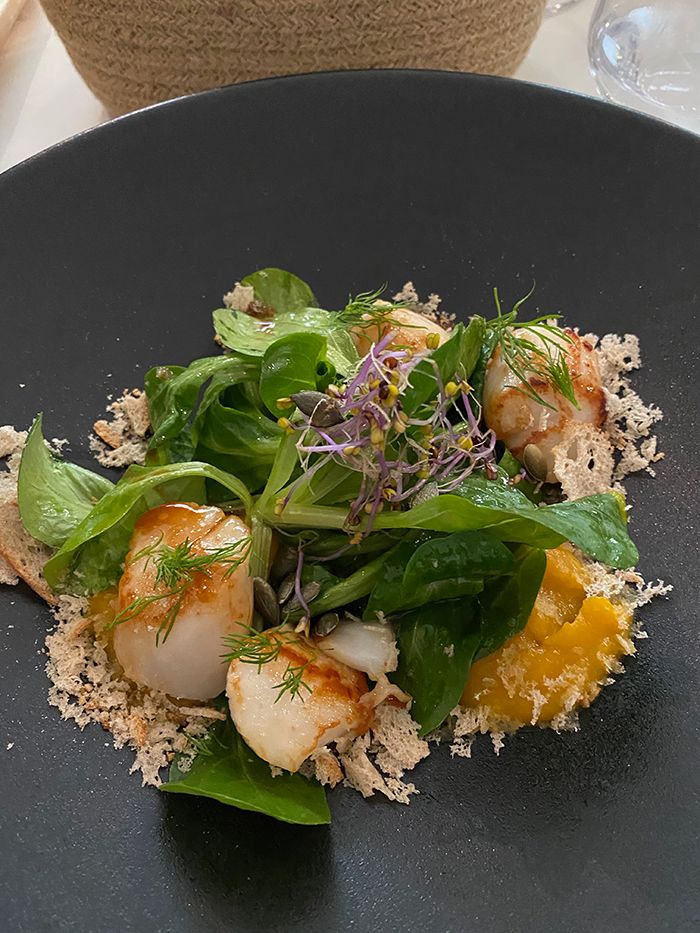 Lunch at Le Mangevins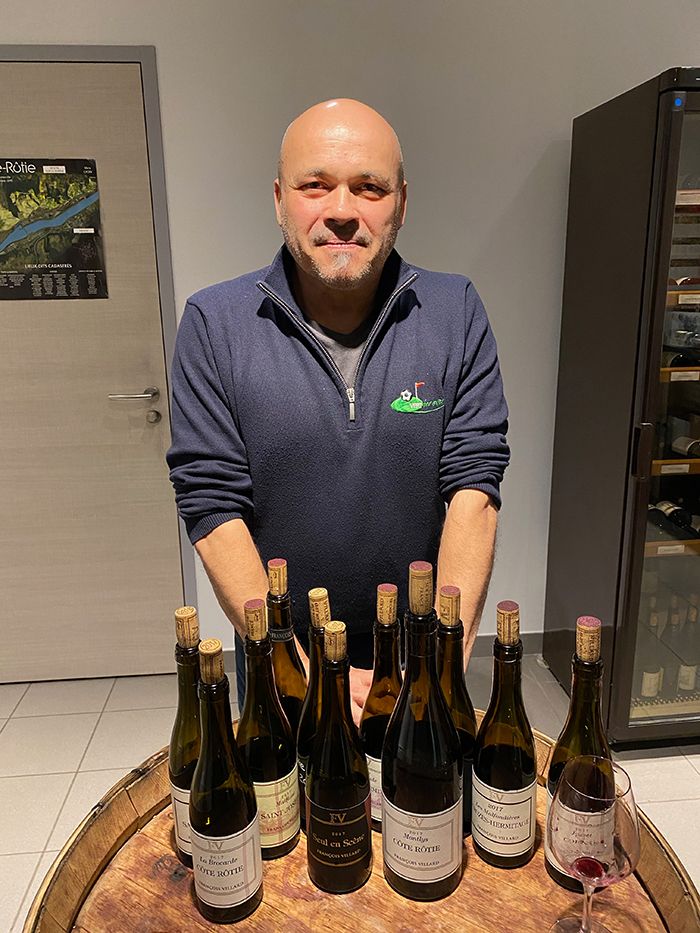 François Villard
Fabienne & Gilles from Gilles Robin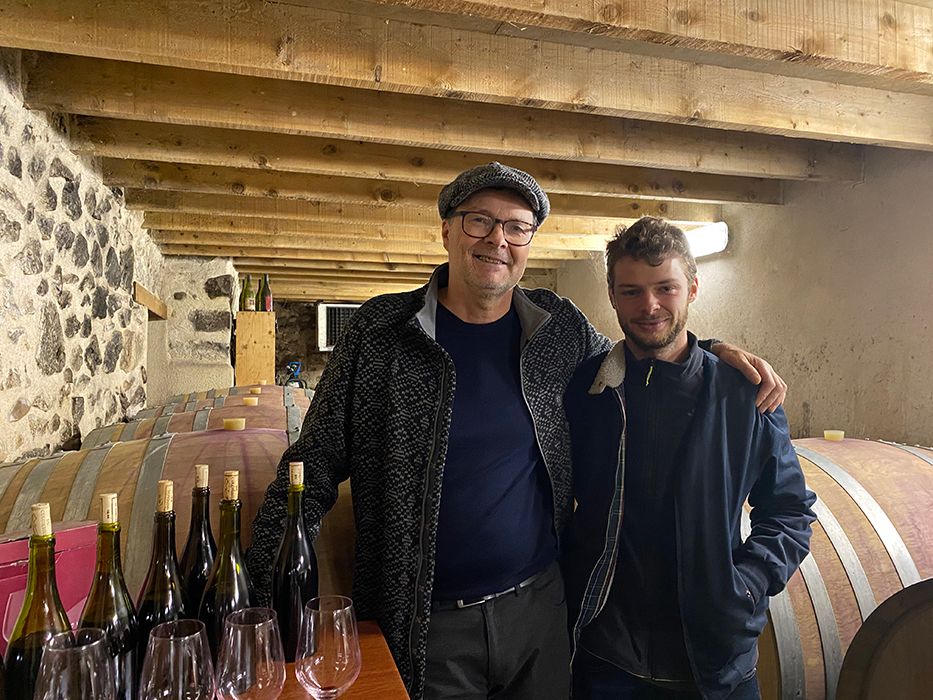 Florent and Axel from Colombier