JC is back in France! Day 13 & 14
We were up bright and early Saturday as we had a very long drive in front of us from Ampuis, through St Etienne, my home town (sadly we didn't have the time to stop and give my two sisters a' bise'), over the Massif Central to Bordeaux. What a magnificent drive on a nearly deserted motorway.
We had a 3pm visit arranged with Jackie, the owner of Chateau Carbonneau - as well as providing us with fresh and bright wines from the 1ere Cotes de Bordeaux- she also runs with her daughter Margot their lovely Chateau as a bed and breakfast. They are about 45 minutes out of Bordeaux, so keep her in mind if you don't want to stay in the city centre.
Afterwards we were very spoilt to be looked after by the lovely Krajewski family- Martin, Nicolette and Charlotte from the houses of Chateau Seraphine (Pomerol) and Clos Cantenac (St Emilion) - near Libourne. They very generously welcomed us into their beautiful newly built Chateau for the night. We pottered into the very touristic (and rightly so) little medieval village of St Emilion and shared a bottle of Krug 1996 overlooking this heritage village before heading to their local for a great dinner. Di and I could not help to have another 'Cote de veau'!
We were up very early on the Sunday morning as we had been advised of possible traffic jams for all the day trippers heading towards the Bassin.
d'Arcachon on the coast south west of Bordeaux. Needless to say we were so early- there was practically no other car on the road!!! As a child I spent all my summer holidays here, and wanted to show Di around! Also I still have family here - so we joined them for lunch at the seaside village of Petit Piquey. My favourites- oysters from the bay were in the menu, followed by barbecued magret (duck breast) - it was great to spend a few hours with them all and reminisce of the summers we all spent together. We stayed the night in a great hotel-restaurant in à nothing town of Le Barp. www.leresinier.com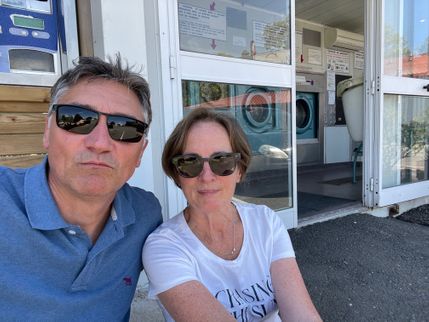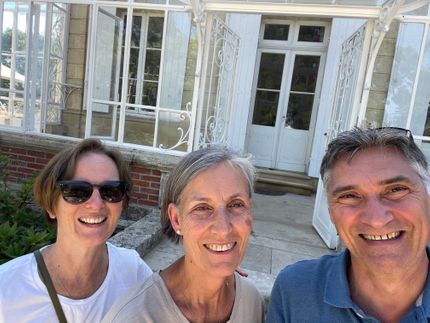 1.Laundry day on the way to Bordeaux! Needs to be done!! 2.A quick selfie with Jackie
3.The beautiful 'verrière' at Chateau Carbonneau 4.Vines (in the 1eres Cotes de Bordeaux) not touched by the hail storm early this month
5.Vines decimated by the hail storm!!! Devastating! 6.Medieval village of St Emilion
7.Family Krajewski (Chateau Seraphine and Clis Cantenac) and Di with a glass of Krug 1996 in St Emilion 8.Chateau Seraphine- a brand new property in Pomerol created practically from scratch by the Krajewski family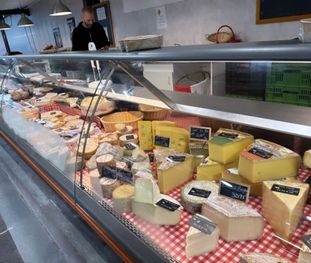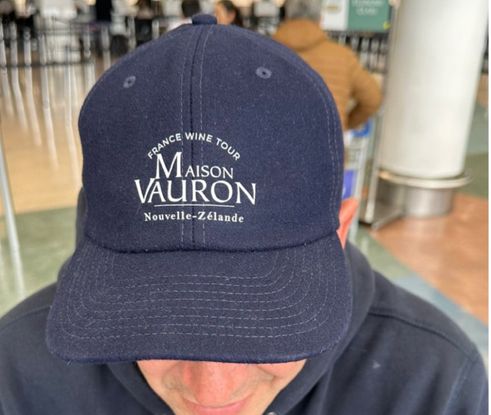 9.Yet another Cote de veau for the 'Poizes'! 10.The 'Bassin d'Arcachon' and it's famous 'pinasse' boat
11.Serious duck breasts cooked on the open fire for the family lunch 12.A great place to stay - hotel-restaurant'Le Resinier' in the village of Le Barp