JC is back in France! Day 15 & 16
Prior to heading towards the Armagnac region, we had a meeting in one of the prettiest properties in the Graves (Bordeaux) region – Chateau Smith Haut Lafitte. As Di has never been here before, we had the full visit before the tasting with Yann – the chief winemaker, who incidentally in the past has done a couple of vintages in NZ. This is also the Chateau where our own Scott Hurrell worked for some time before joining Maison Vauron's sales team late last year! As usual it was a wonderful tasting and a great opportunity to try some older wines as well as the 'Les Hauts de Smith 2020' which is due to arrive in NZ very soon.
We grabbed a sandwich and ate it in the car whilst heading South East where we were meeting up with clients and friends Greg and Janie - Greg is a huge fan of Armagnac and Bordeaux wines, and we're lucky to have them with us for the next few days.
We were meeting mid-afternoon at Chateau Tariquet in the village of Eauzes. We were excited to see again our friend and ex-colleague Simon (some of you might remember him working for us in our showroom for a time prior to Covid), who is now in charge of the NZ market (amongst others). This is a large family owned Domaine, which has been producing Armagnac since 1912, and more recently producing a wide range of well-priced, crisp dry white wines – most of which are available instore. But the focus of this visit was their very fine Armagnacs – we had a full on tasting of their range. I learned that on top of planting more Folle Blanche, Tariquet is increasing the planting of the traditional/local grape variety 'Plant de Graisse' which seems to produce high quality spirits. My very favourite Armagnac from here was 'Le Montreur d'Ours' – 70% Graisse + baco + ugni blanc and aged for 20-30 years. The team took us to the spa town of Cazaubon, where we stayed and had dinner and plenty of after-dinner Tariquet Armagnacs at the very nice hotel of La Bastide. www.bastide-gasconne.com.
Tuesday morning we had a short drive to the village of Lannepax, to our other Armagnac and much smaller producer - Delord. Jerome Delord gave us the full tour, including seeing some of their vineyards, and like at Tariquet, the Delord family is planting more the 'Plant de Graisse' and also 'Baco' grape variety. These guys also have an impressive reserve of older vintages, stored in large demijohns and hidden away in a secret cellar! The oldest we saw was from 1900, and most vintages are available upon request. The cheerful team were busy labelling and waxing a range of Armagnac for an export order, and our girls were invited to give the waxing a try on a couple of bottles of 25 year old Armagnac – which were then presented to them with a special personalised label! (it is harder than it looks). Jerome and his assistant Joelle, took us to a local restaurant 'Le Pardaillan' located in the village of Gondrin – where they served classic tasty French fare. My main was 'coeurs de canard grillés' (grilled duck hearts). As an aperitif we tried the Delord Blanche d'Armagnac – very impressive, with fruity notes (and would also make a great base for many cocktails) …. more Armagnac was consumed as a digestif at the end of the meal!
Straight after lunch we headed back to Bordeaux, in time for a quick stroll around the city before a bistro dinner. The heat was extreme!
1.Chateau Smith Haut Lafitte - Bordeaux, Graves 2.They are making their own barrels at Ch Smith Haut Lafitte!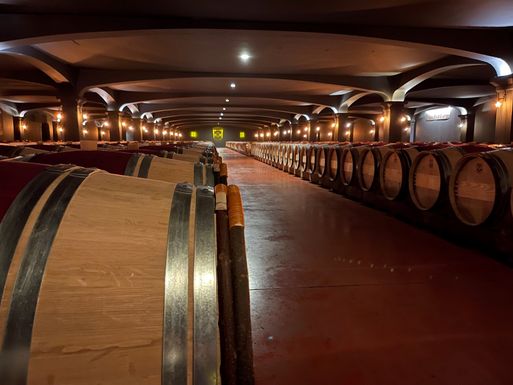 3.The barrel room at Ch Smith Haut Lafitte 4.Yann Laudeho - Winemaker at Ch Smith Haut Lafitte
5.The private collection of VERY old Chateau Smith Haut Lafitte. Oldest bottle here - 1878 6.The classic terroir of 'Graves'
7.Alambic at Domaine Tariquet - Armagnac 8.Our wonderful host at Domaine Tariquet - Simon
9.Ready to taste some Tariquet Armagnac 10.The beautiful hôtel and restaurant 'La Bastide' in the village of Cazaubon where Tariquet invited us
11.The whole team at dinner. Opposite me - Armin Grassa owner of Domaine Tariquet 12.Really…. More Armagnac???
13.Graffiti in Delord's newly planted vineyard 14.More graffitis at Delord!
15.Jerome Delord next to his massive blending vats 16.Tasting of the different components of Delord Armagnac XO
17.The waxing station at Delord! 18.The special reserve of demijohns Armagnac at Delord. Spot the 1900 vintage….
19.Le voilà! 20.On our way to dinner in Bordeaux- Over 35 degrees at 9.00pm!