Home

/

An evening with Château Angélus
An evening with Château Angélus
"Our thoroughness makes us want to achieve excellence. That's why our label is a symbol of dreams and trust." - Hubert de Boüard de Laforest.
On Wednesday 6th June we welcomed Hubert de Boüard de Laforest, proprietor of Château Angélus and viticulture pioneer. This is indeed a rare occurrence here at Maison Vauron, it's not often we have the owner of one of the most famous Bordeaux Chateau in NZ and it's not often we get to try the incredible wines from this 1er Grand Cru Classé 'A' producer. So, you can imagine the excitement we had for his arrival. The vineyard gained 1er Grand Cru Classé status in 1996, then to Cru Classé 'A' in 2012 thanks to the efforts of the family.
Hubert de Boüards knowledge, experience and passion for wine is evident, with his hard work and dedication to the Chateau from a very young age. He quickly followed the footsteps of the 6 generations who preceded him, gaining experiences in Burgundy and Bordeaux and participating in all aspects of winemaking. Co-owner of the Chateau and Huberts cousin, Jean-Bernard Grenié joined Angelus in 1987 where he became a member of the Management Board.
The story of Château Angélus is one that pays homage to the generations that have gone by. The vineyard was acquired in 1795 by Catherine Sophie de Boüard de Laforest and her husband. Each generation that has taken over management since then is aware of the importance of the tasks entrusted to them, striving to follow the values and standards that Angélus has established.
The vineyard itself is located in the heart of a natural amphitheatre, overlooked by the three churches of Saint-Emilion. The bells ring the angelus in the morning, at noon and in the evening, this punctuated the day's work in the vineyards and villages, women and men then stopped their work for a few moments.
The terroir of the vineyard is a very unique one – south-facing slopes from the "foot of the hill" to the top, where the lower slopes are ideally suited to Cabernet Franc and the chalky limestone upper slopes and plateau are best for Merlot. These differences in terroir contribute to the Angélus style: lush, dense and creamy.
It was a great tasting, highlighted by the phenomenal 100 point 2005. EXTRAORDINARY!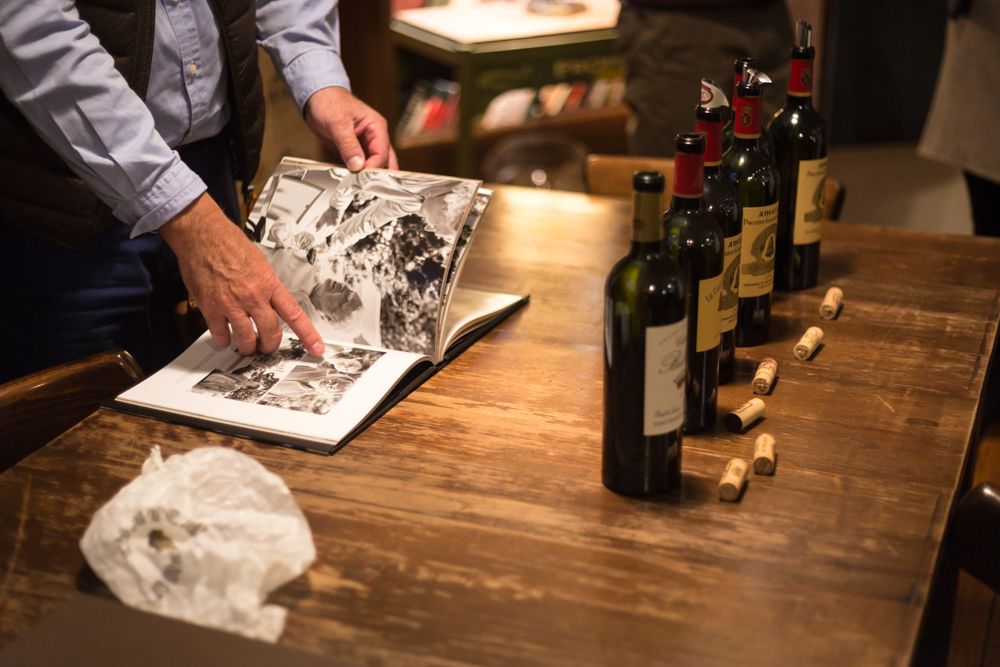 Hubert and Scott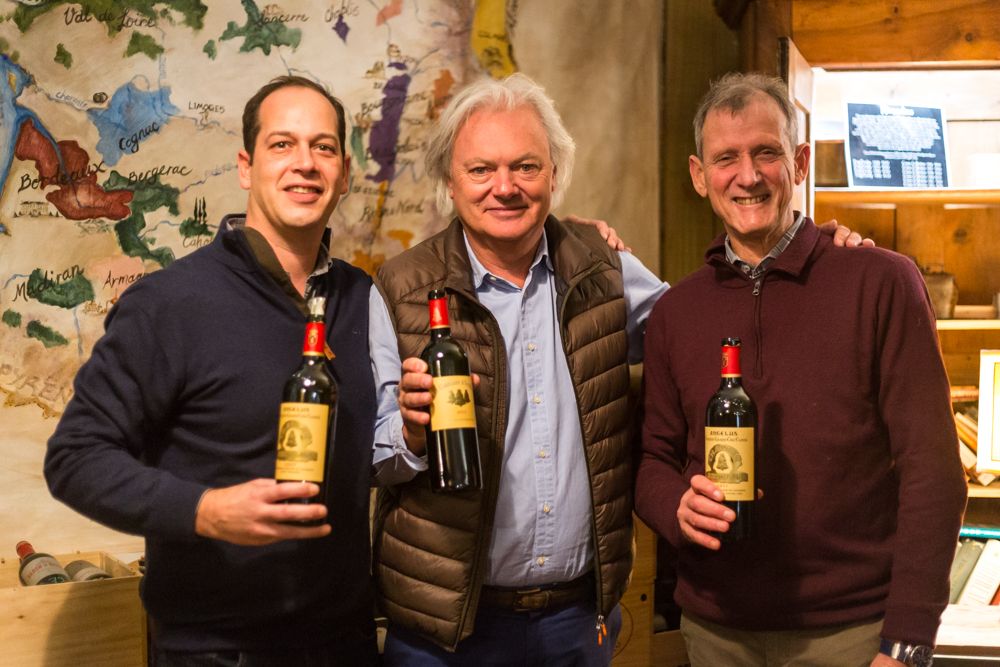 Will, Hubert and Scott