Home

/

Press release: mystery bottle of Central Otago Pinot noir revealed.
Press release: mystery bottle of Central Otago Pinot noir revealed.
Prominent Central Otago winery Domaine Thomson is celebrating the choice of gift Prime Minister Jacinda Ardern gave to her Australian counterpart Scott Morrison at the recent East Asia Summit in Singapore.
Jacinda Ardern and Scott Morrison exchanged presents, apparently along with friendly "onion" banter. While Ms Ardern received a silver tray made by a Melbourne artist, Mr Morrison was given a bottle of Central Otago Pinot Noir, but the brand was kept under wraps in its New Zealand themed bag.
Domaine Thomson owner David Hall-Jones says it has now been revealed, the selected wine was their distinctive Surveyor Thomson 2014 vintage. "Ms Ardern was introduced to the wine and its brand history while attending a Women in Wine event with members of the Domaine Thomson team in April this year," he says.
The Office of the Prime Minister has confirmed a bottle of the Surveyor was gifted to Prime Minister Morrison when the pair met in Singapore. The gift was chosen knowing that Mr Morrison had previously worked as the Director of New Zealand Tourism and had a keen appreciation for Central Otago and its wine.
David says he and his wife are particularly delighted with the Singapore connection. "My great-great grandfather, John Turnbull "Surveyor" Thomson, for whom the wine was named was a British civil engineer and artist who played an instrumental role in the development of the early infrastructure of nineteenth century Singapore and New Zealand. He was appointed Government Surveyor at Singapore 1841 and in 1844 became Superintendent of Roads and Public Works until his return to England in 1853. Thereafter, he moved to New Zealand and in 1856 and 1857, explored and mapped the new provinces of Southland and Otago. Many of the south's most prominent landmarks were named by Thomson, including Mt Aspiring, Mt Earnslaw and the Lindis Pass."
The Prime Minister's Office confirmed that John Turnbull Thomson's strong connection to both Otago and Singapore was the inspiration behind the selection of the wine as a gift, given Prime Minister Morrison's love of the region and that the Prime Ministers were meeting in Singapore. 2019 will mark 200 years of history for Singapore, and a slew of events are planned to commemorate the nation's bicentennial milestone. Domaine Thomson Wines will be involved on numerous levels, including showcasing their wines and Thomson's paintings, etchings and writings which were produced during his time in Singapore.
Find Domaine Thomson Surveyor Pinot Noir 2014 here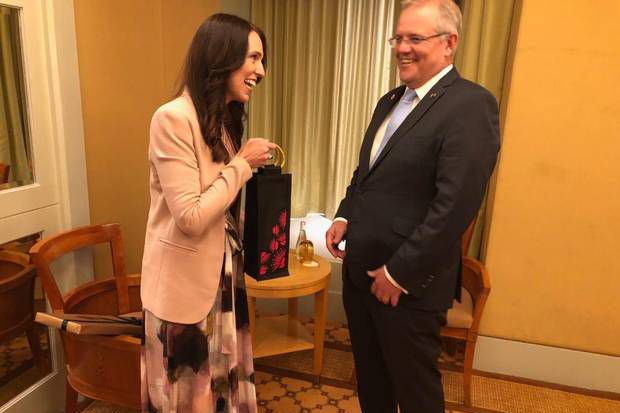 Related Articles: Domaine Thomson, NZ Herald, 14th November 2018 "Onions on Top"