JC in France January 2019 | Day 3
After a quick breakfast with Jean-Pierre and Brigitte Fayard (Ch Sainte-Marguerite), we drove early morning to Domaine Hermitage St-Martin, owned and run by Enzo, the middle son of the Fayard family. It is based near the Provençal village of Cuers, which is situated a little more inland and slightly more elevated. He has about 25 hectares of vines planted here (clay and limestone soil and very different to Château Sainte-Marguerite which is planted on schist), with the ideal south facing aspect, and a brand new winery! Things are looking good here with plenty more projects on the way!
Next stop is to Vins Breban in Brignoles where they have been negociants for the past 70 years. They offer a wide range of mid-priced quality rosés from Provence and Corsica (Fazi, Mimi, Domaine de Paris to name a few). We tasted a big range of their 2018s and they all show classic provençal styles with pale colour, lovely light red berry fruits, round texture and mouthfeel, and most importantly a dry finish. Jean-Pierre Breban - the CEO of this family business - took us to lunch at a local restaurant (L'Auberge des Tuileries in Forcalqueiret) where we all had fantastic local fish dishes to match a wonderful white Provençal wine (in this region, whites are made predominantly from Vermentino also called Rolle in Provence – these are lesser known than the rosés but quite delicious!).
We leave Provence and head towards the Southern Rhone, where a howling 100kph plus Mistral greets us (although still sunny, it is bitterly cold!). Both our tastings this afternoon are in Chateauneuf-du-Pape. First stop was at Pierre Usseglio - one of the rockstars from this Appellation. Their 2017s (Lirac, Chateauneuf-du-Pape) were outstandingly rich, powerful, yet with a wonderful freshness, despite a high alcohol level! Thierry Usseglio was excited to show us the new Cuvee replacing 'Panorama' which will be called 'L'Unique'. It's a step up with a similar blend: Grenache, Syrah, Marsellan and a tiny bit of Mourvèdre and Merlot. Again volumes in this region have been affected by the 'coulure' (flowers don't produce fruit due to fluctuations in temperature and a wet spring) which doesn't affect quality at all, but does affect yields.
Late afternoon our final stop for the day was Domaine de la Charbonniere, although we have been buying wines from Michel and Mireille Maret for over 20 years, this estate is now run (since 2009) by daughters Veronique and Caroline. These girls are doing fantastic things here and have a great following worldwide, and NZ is no exception. Like elsewhere in this region, volumes were down 40%. We loved their 2017s, they are somewhat less forward and a bit more savoury than the last visit but have an undeniable elegance about them, perhaps the feminine touch!
The four of us went to dinner in the nearby village of Sorgues to the restaurant of "La Table de Sorgues', a very pretty building enjoyed largely by locals. We were very lucky to open a bottle of Veronique's first vintage: a special Chateauneuf-du-Pape Cuvee from 2009. These two young girls are showing unbelievable commitment, drive and passion about their region and wines, and we have no reservation that their future is bright.
While in CNDP I always stay in the beautiful and impeccably run B&B owned by Maria and Andreas, situated in vineyards just outside the village where we will be based for the next 3 days.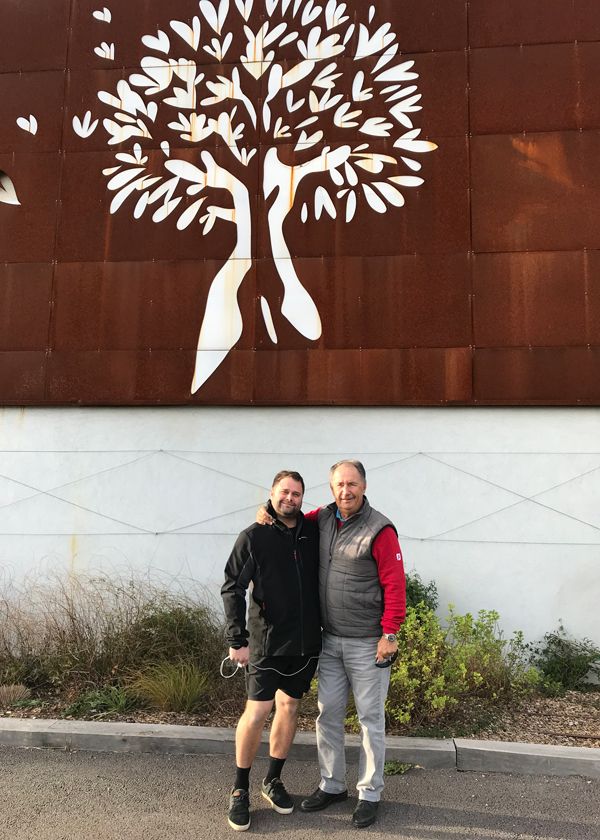 Hermitage St-Martin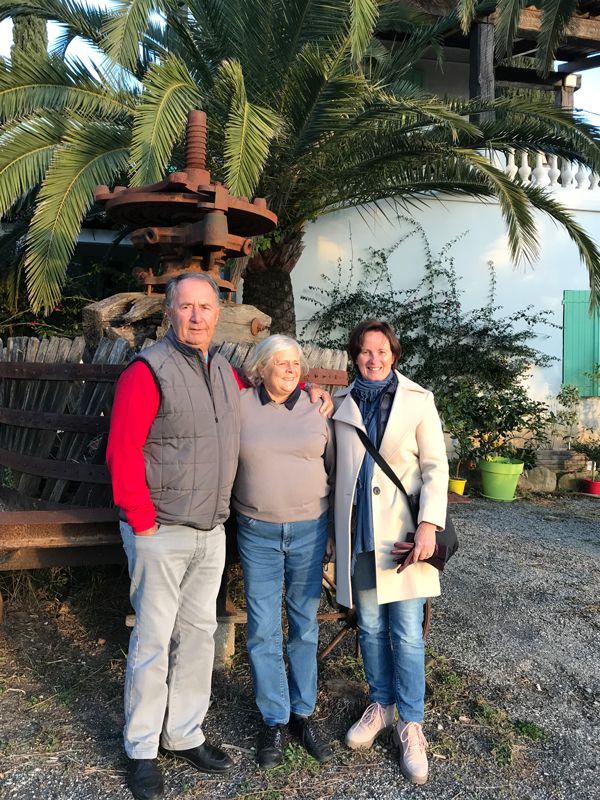 The Fayard and Di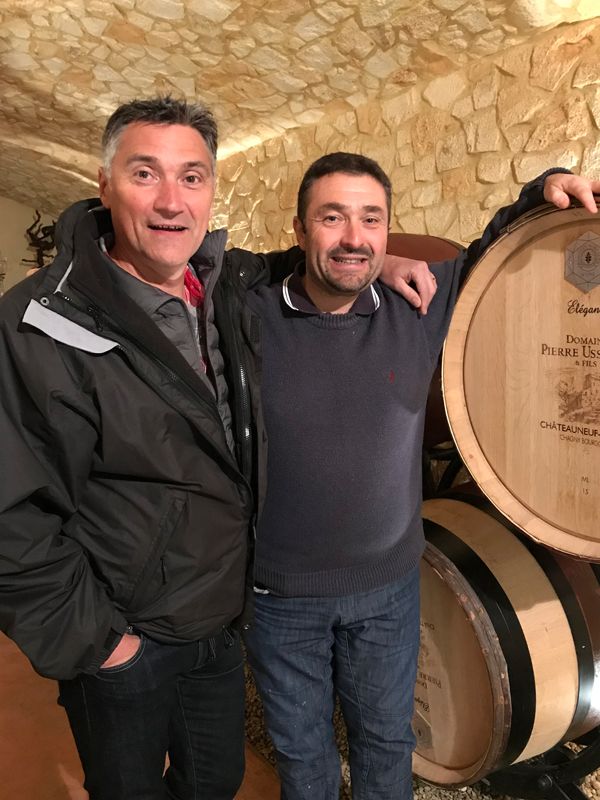 JC and Thierry Usseglio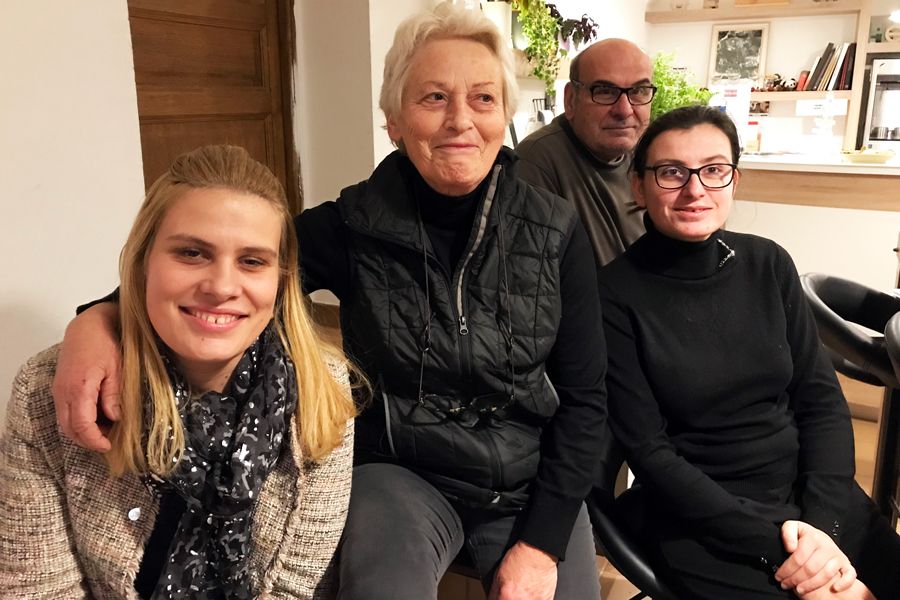 The Maret family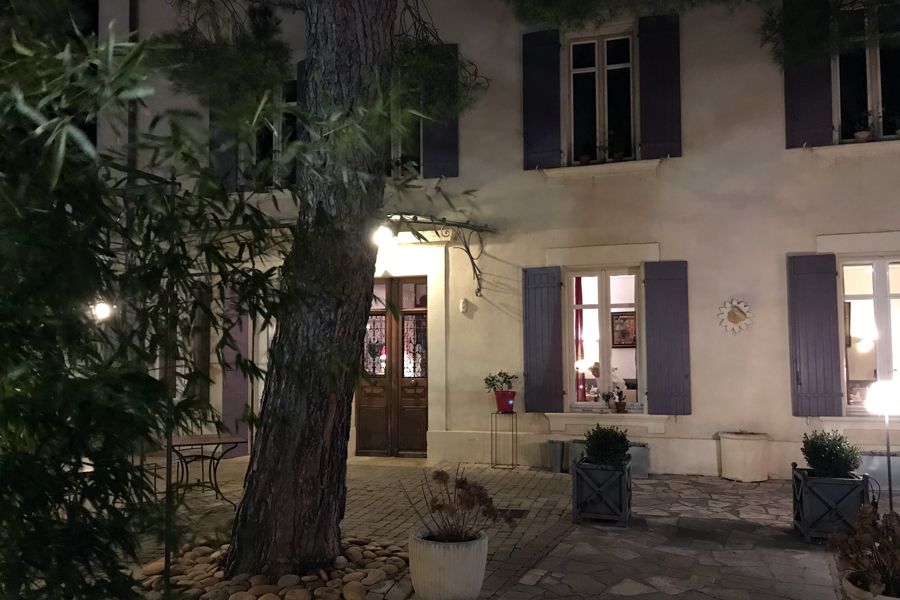 La Table de Sorgues' courtyard