Home

/

JC in France January 2019 | Day 5
JC in France January 2019 | Day 5
The Mistral, the Mistral and still the Mistral… You can easily appreciate why this wind can drive people nuts!
We have our first meeting with a negociant in Chateauneuf-du-Pape where we buy our supermarket brand Leon Perdigal. The 2017 Cotes du Rhone red was tasting red fruits with a nice round finish, so we're very happy with this vintage. They also produce this label across all appellations (Lirac, Vacqueyras, Gigondas, etc.) so we may well look to add one or two of these to the portfolio.
Next visit we travelled across the Rhone to the village of Tavel where one of our most long standing Southern Rhone producers reside, Domaine Lafond. It's easy to see why we go back to this family estate each year, Pascal and two of his young sons, Jean-Baptiste and François look after things here. For these guys, which seems to be the exception, they were not affected by mildew in 2018. They did some preventative spraying at an early stage which saved their entire crop, they are extremely happy with this vintage. The Tavel 2018 that we tried was a knockout, with its nose of lovely fruit characters. The palate is not weak, but balanced, clean and fresh (interestingly, by law the colour of this rose is much deeper in this appellation than further South). We tasted the full range around a large table where we were joined by some of their team. They had organised a light lunch to accompany the wines. They were kind enough to open many older vintages right back to 2002! Some of you might remember the terrible weather in September of 2002, where some of these vineyards were 1 metre deep in water (550mm rain fell overnight where usual annual rainfall is 570mm). We will be seeing François briefly in NZ later this year after he finishes a harvest in Australia.
A quick stop to buy some delicious clementines on the side of the road to keep our vitamin C up.
Early afternoon saw us back in CNDP where we visited the estate run by the Coulon family, Domaine de Beaurenard. Like many other producers we represent in NZ, these guys are certified organic and biodynamic and have been for the past decade. We started the tasting with a CNDP blanc 2017 which so far has been the star wine. My notes read: Stunning nose! Burgundian-like, delicate wine stone fruits and floral characters, the palate is extremely refined, long and complex – this is exceptional. The reds were not far behind and if you are a lover of elegant and precise Chateauneuf-du-Pape, these are for you!
Last but no means not least, we visited Laurence Feraud of the famous Domaine Pegau. Some of you may remember the exuberant and hot-blooded Laurence when she visited us in NZ a couple of years ago. I have been dealing with Laurence for over 20 years and she always surprises me with her energy and passion for what she does. We had a good tasting prior to a meal that she had prepared at home for us. She cooked a delicious dish from Senegal for us, it seems to be the flavour of the moment (don't ask!). We had a great evening with her, with lots of laughs, especially when I pulled out a photo I had taken of her some 20 years ago!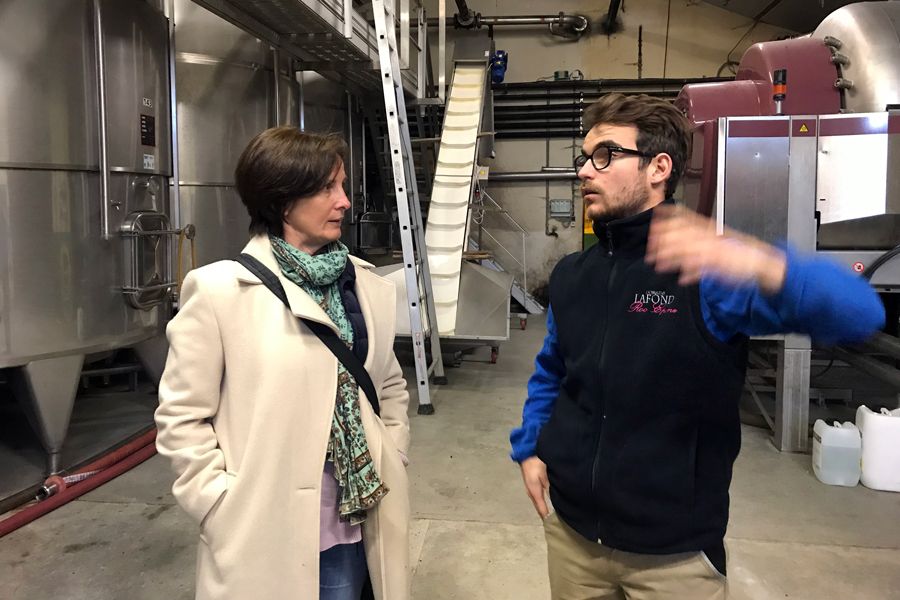 François Lafond and Di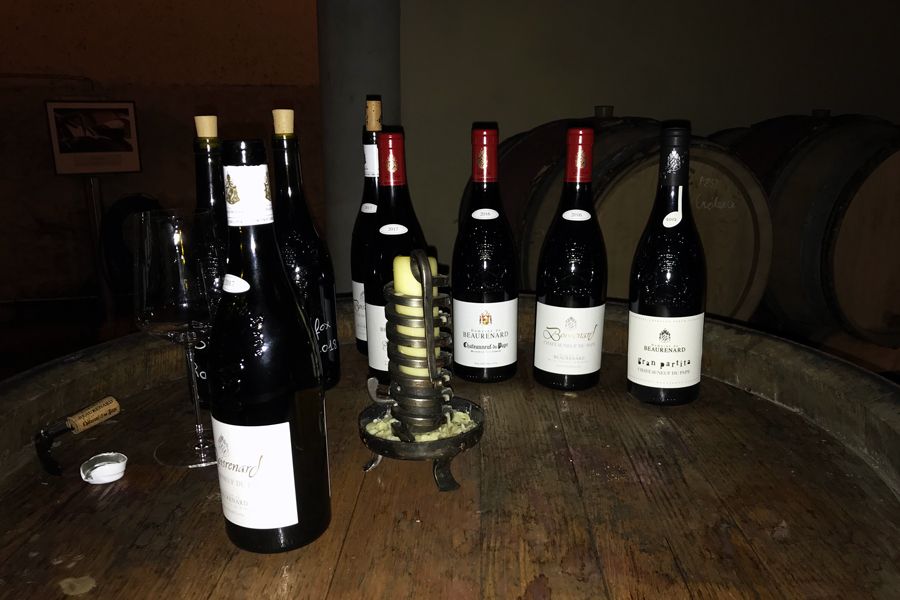 Flight of wines at Beaurenard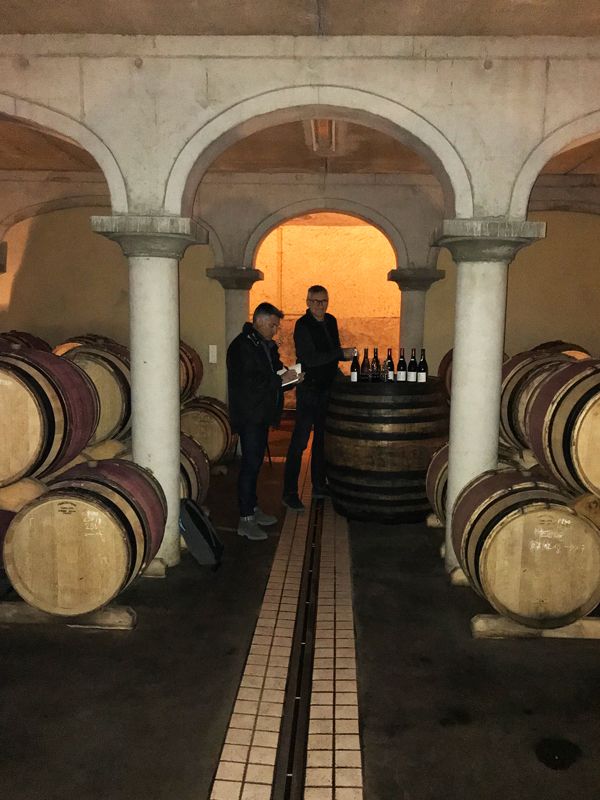 Cellars at Beaurenard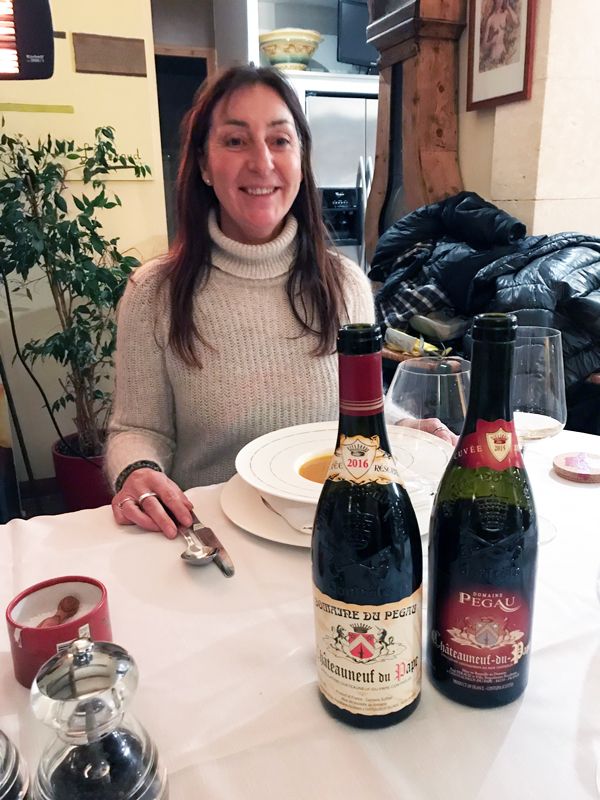 Laurence Feraud from Pegau
The Lafond family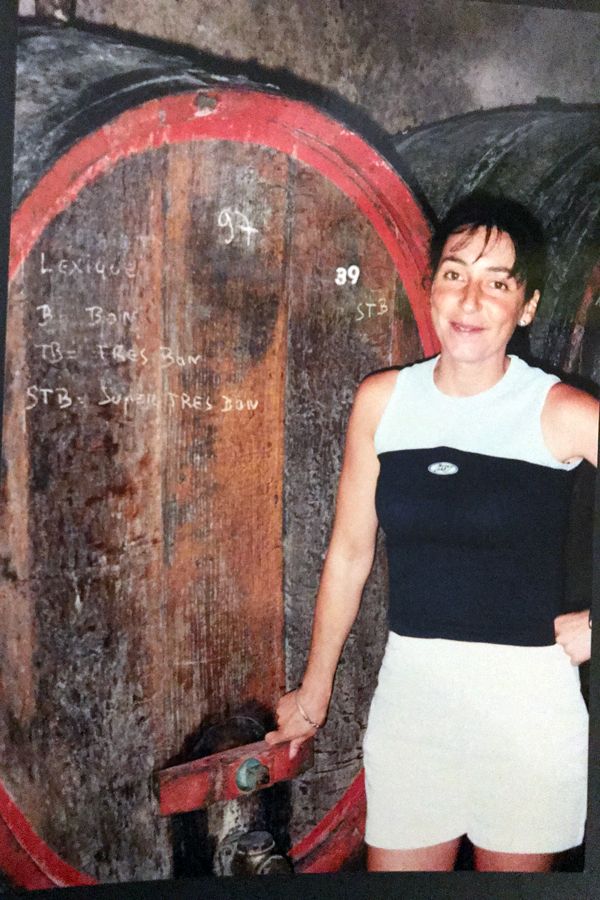 Laurence from Pegau some years ago!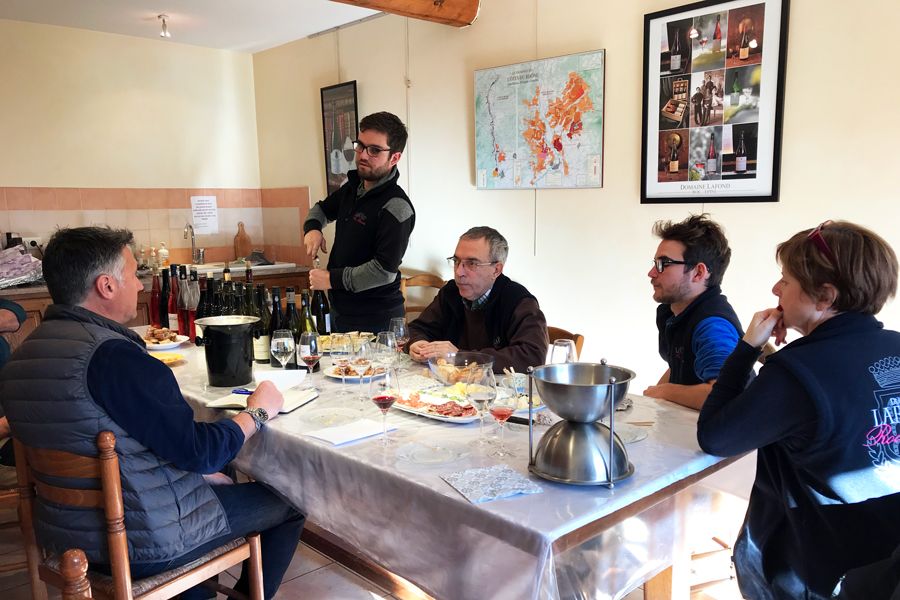 Tasting and lunch at Lafond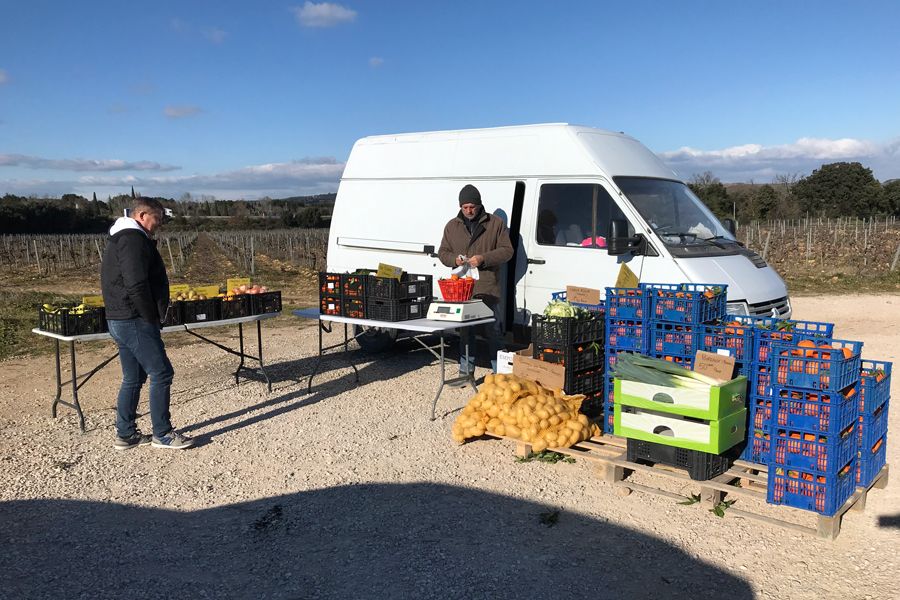 Fresh fruit merchant near Tavel