JC in France January 2019 | Day 13
It's Saturday today. The national news is not great, expecting more protests by the 'gilets jaunes' in all the major cities of France. After more than two months, the movement continues to rage and we have experienced first-hand, along our trip, some of the damages - especially on the motorway tolls (closed because they have been completely destroyed and burned down) and a large number of speed cameras (either covered up, tagged or burned down). Nothing to stop us tasting some good wines though! We have only three visits - but all goodies!
First up we head to the village of St-Jus-sur-Dive which is a good drive from where we are staying - pretty much following the Loire River, and a catch up with Romain from Domaine Guiberteau. We love this guy, he is completely passionate about his vineyards, the different terroirs that produce these kick-arse wines! He has become - in only few years - one of the super star producers of Chenin Blanc and Cabernet Franc with only 17 hectares of vines. I was reading not long ago an article about him saying: 'he makes dry Chenins of punk rock violence, yet of Bach-like logic and profoundness'. It was 9am by the time we started the full range of his delicious wines. It was clear that the 2017 vintage is a lot stricter than the 2018. Guess which one I prefer? Every single barrel and stainless still tank has something special and unique to offer! My notes are just full of 'great stuff', 'awesome wine', 'absolutely stunning', 'can we get some more?!'. We are so lucky to get few bottles for NZ. If you are keen to experience some please let us know.
Next and still in the Saumur Appellation, we visited the other very top estate of the region: the talented, brilliant and dynamic Thierry Germain from Domaine des Roches Neuves. Thierry is a bit older than Romain and although the approach of vine growing is very similar, the winemaking is different: Thierry's are more classic maybe. There is not much to it and both being the very best at their game.
Thierry took us down into his cellars (nearly 1 km of it that he has extended over time, can you believe it? by hand!). A true labyrinth of tunnels and storage areas cut into the chalk below his home, winery and vineyards. It would be super easy to get lost down there. This is the kind of stuff that you see very rarely outside of the Champagne area. We tried mainly the 2017 wines (ready to be shipped) with few 2018 still in barrels/tanks. All of them are pure, delicate and hugely complex. My pick will have to be 'Memoires' 2017, a Cabernet Franc coming from the highest point of the appellation and on a silex/limestone soil. My notes read: 'Dark berry fruit, very dense on the nose. The palate is surprisingly austere and tight up front then it does open up towards the end. It will need some time. Will become a great bottle'
Lunch was rushed as not untypically we were late leaving! We rushed into Saumur with the hopes of grabbing something at the weekly market (one of the most famous in the region). Mais mon dieu, we were too late, all the stalls were closing, so we grabbed a not-so-bad pizza and headed for our last visit, a Domaine we have not dealt with before. We turned up at our duly appointed time, not a moment after 2pm to find the place all closed up! We eventually got hold of the gentleman who was at a family gathering - no harm done, we will come back!
Whew! Work over for the week and time to stop at Angers on our way back to Savennières to pick up some cheese & charcuterie for the weekend. Angers was riddled with the Gilets Jaunes and riot police. We're not so keen to tackle either of these so back into the car and onward to our lovely riverside cottage.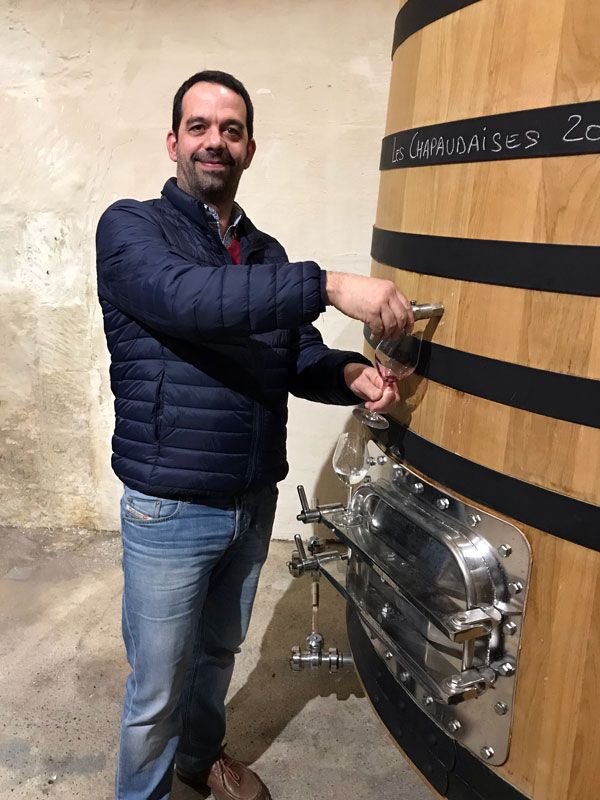 Romain Guiberteau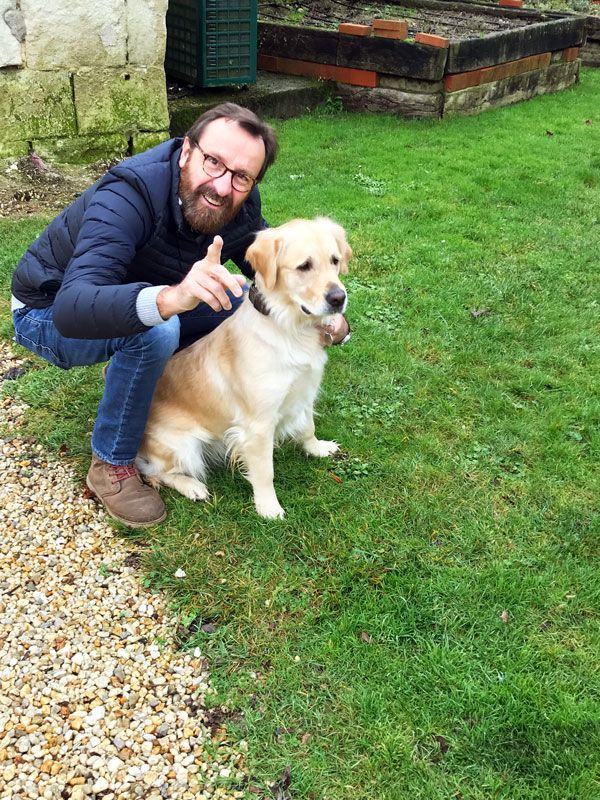 Thierry Germain
Domaine Arnaud Lambert