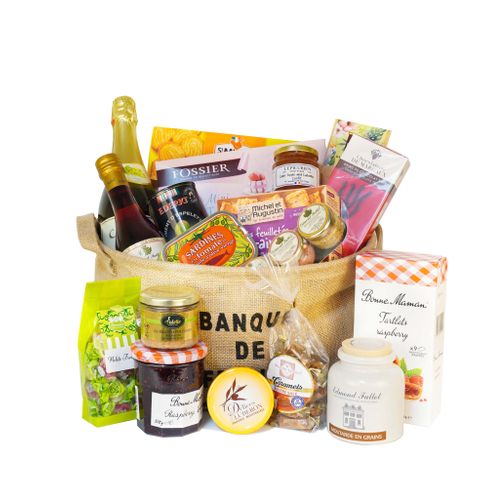 Le Rustique 200
Description
A selection of specially selected artisan products from France that will delight anyone.

This Hamper includes:
Delaunay Biscuits Assortment Box 180g
Crackers 125gm
La Trinitaine Galettes Mini Box 130g
Bonne Maman Tartle Box 175g
St Michel Madeleines Choco Chips 175g
Fossier Mini Box Pink Biscuit 13.5g
St Michel Galettes Chocolat 120g
Bovetti Chocolate 100g
Sarments Chocolate 80g
L'Epicurien Confit 125g
BM Blueberry 370g
Fallot Mustard Orsio Jar 305g
Barnier Sachet 100g
Flavigny 50g
DL vegetable dip 90g
Fallot Small Onions190g
Rosé – Billette
Tea towel branded L'Atelier du fromage
Sack Banque de France

Add some glam to your basket with some French wine. View our range!
Let us know at checkout if you would like a note included in your basket.
Products may slightly vary depending on stock.
Stock Level:
Out of Stock