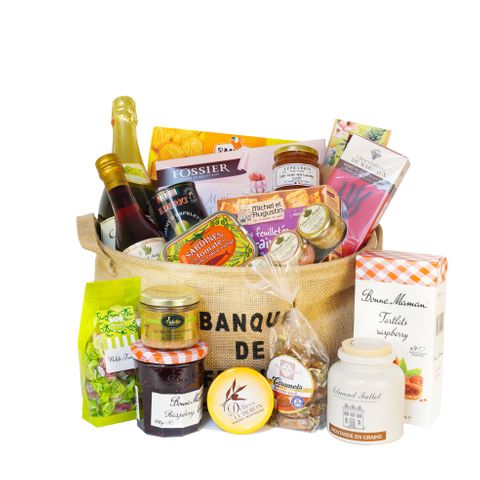 Le Versailles Hamper 200
Description
A selection of specially selected artisan products from France that will delight anyone.

This Hamper includes:
Bonbon Palets Fruités Barnier - 100g
Caramels Beurre Sel Guerande - 100g
Palmiers St Michel - 87g
Tartelettes Bonne Maman - 125g
Biscuits Roses de Reims Fossier - 110g
Chocolate Bar Bovetti - 50g
Chocolates Sarments De Medoc- 80g
Gift Set Fallot - 4x25g mini mustard pots
Mustard Stoneware Fallot - 250g
Spread Délices du Luberon - 90g
Petits Feuilletés Michel & Augustin - 90g
Vinaigre Fallot - 250ml
Sardines Belle Iloise - 115g
Rillettes Confit de Canard (Foie Gras 23%) - 90g
Olives Espelette Pepper Etorri - 130g
Confiture Bonne Maman - 370g
Confit L'Epicurien - 125g
Challand Sparkling grape juice - 750ml


Add some glam to your basket with some French wine. View our range!
Let us know at checkout if you would like a note included in your basket.
Products may slightly vary depending on stock.