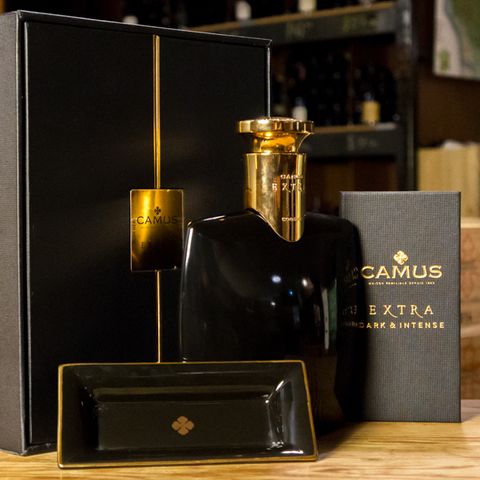 Cognac Extra Dark & Intense 700ml
Description
Starting with a simple idea in mind - to create a BOLD and INTENSE expression of Extra – Cyril CAMUS asked the Cellar Master Patrick Léger to select the best barrels of Extra Cognac to follow a special ageing process.

The chosen barrels are emptied of their precious Cognac and returned to the Master Cooper to be opened and toasted again, one by one, to boost their full aromatic potential. This re-toasting process is tailor-made, barrel by barrel.

The Extra Cognac is then returned to these casks for a special finishing phase that has been named "Dark & Intense". Gradually, the structure of the eaux-de-vie and the enhanced flavors of the cask merge together harmoniously.

Eye: bright, tinted with mahogany and topaz.
Nose: sturdy and powerful offering crème brûlée, gingerbread and roasted macadamia nut aromas.
Palate: intense with creamy, buttery notes, robust and lingering finish characterized by subtly spicy dark chocolate notes.