Provence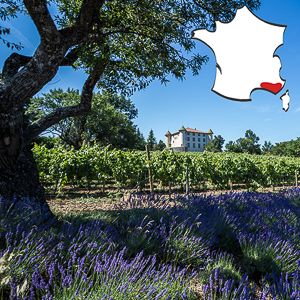 Mix the chirping of cicadas, the fragrance of lavender fields, the dull clunk of petanque balls as they bump delicately into one another, the shade of a pine, and of course, a bottle of rosé, and… Voila, you are in Provence; the region of the charm, warmth, colours and perfumes.
Wine has been made here for over 2600 years, making Provence the oldest vineyards of France, producing not only the famous Provencal rosés but also some renowned reds and whites. Stretching from Les Alpilles to the hills of Nice, the vineyard offers different faces at every turn. The vineyards run from west to east over around 200 km, from the Alpilles as far as the Esterel range, producing some great appellations such as Coteaux d'Aix-en-Provence, Coteaux Varois and Cotes de Provence.
With almost 3000 hours of sunshine a year, warm days, cool evenings and very little rain, Provence is blessed by the Gods. Also, the Mediterranean moderates the temperatures and the caress of the famous Mistral wind keeps the vines dry and free of pests. In Provence there are as many grape varietals as there are landscapes. Among 36 varietals, more than a dozen are used regularly to produce the Provence AOC wines, and a select few form the basis for the majority of the vineyards in the region. Others, however, are more site-specific and only used in certain appellations.