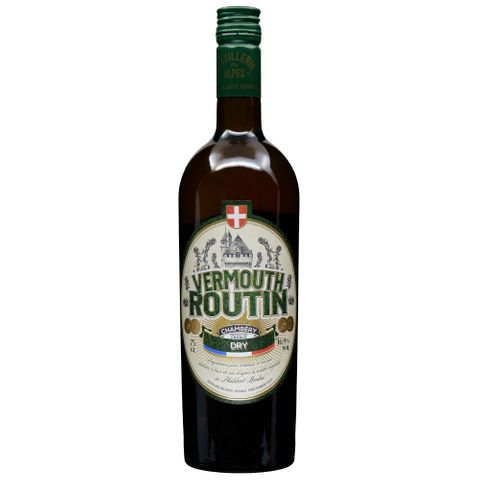 Vermouth Dry 750ml
Description
Aromas of pineapple and tropical fruit are accented by a hint of vanilla. The bone-dry palate opens with tart green apple, though any hint of fruit sweetness disappears in a flash, winding up crisp and bracing overall. Martini material.

Vermouth Routin Dry bears the name of its inventor, Philibert Routin. For more than a century, our liqueur distillers have been inspired by his original recipe, made up of a blend of plants, flowers and spices and French white wine.

Vermouth Routin Dry is made from 17 plants, flowers and spices, inclduing wormwood, junpier berries, rosemary, bitter almond and rose petals. They are then macerated in a blend of French white wine and local Jacquère wine. Its unique bouquet, barely sweetened taste, and light golden colour lend it a distinctive character.

Vermouth Routin Dry is excellent in cocktails, simply served with syrup or fruit juice. It is also used in cooking, especially for deglazing meat and fish.

Distillery tip: used to deglaze diots (pork sausages), Vermouth Routin Dry will enhance this typical Savoyard dish by introducing hints of plants and spices.

Storage advice: Unopened bottles of Vermouth should be kept upright, like spirits. Once opened, keep chilled. Like any fortified wine, Vermouth is sensitive to oxygen, which impairs its aromatic bouquet and its flavour. The cold slows oxidation of its aromas.