Loire Valley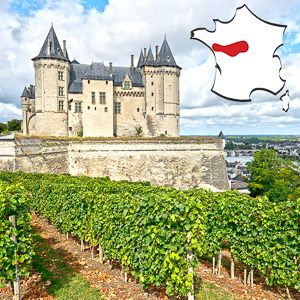 Welcome to the vines of the Loire Valley of France! From Muscadet to Sancerre, figure out where to look to your next bottle of Loire. Listed as a UNESCO World Heritage site for its landscapes and Chateaux, the Loire Valley has a unique lifestyle and world-famous vineyards. Its 1,000-km wine route reveals its two thousand years of history and prestigious wine districts.
From Nantes to Sancerre, the Loire Valley vineyards thrive between the famous Loire Chateaux and the majestic river of the same name. Planted on a rich wide range of soils with a plethora of grape varietals, at the crossroads of oceanic and semi-continental climates, the vines offer France's widest range of wines. Red, white, sparkling, sweet as well as rosés, Loire Valley has everything you want. As a result of this terroir and climate variety, Loire Valley is divided into 3 primary growing areas:
• Lower Loire: Pays Nantais
• Middle Loire: Anjou, Saumur and Touraine
• Upper Loire: Centre
Of all French wine regions, the Loire produces the greatest diversity of wine styles, from still through to all types of sparkling, including the generic Cremant de Loire.