Tomato and Goat's cheese salad
In recognition of the Soignon range, we have created a goat's cheese salad that highlights a few of these incredible cheeses. Soignon is France's number one maker of goat's cheese and with 120 years behind them, the brand is steeped in tradition.
"Soignon knows every step of the product's journey - from farmer to consumer"
Tomato and goat's cheese salad | serves 4
This one is for the goat's cheese lovers. We've packed this dish with four different goat's cheeses, all with their own unique textures and flavours. This is so easy to pull together and a great salad to accompany barbecued meats and rosé. Did we mention goat's cheese is good for you?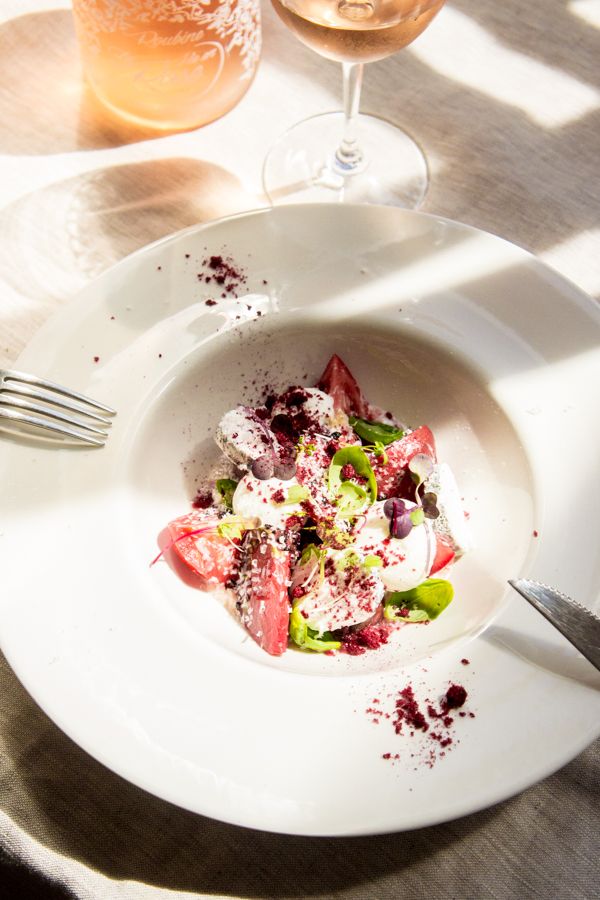 Ingredients:
Goat's Mousse (optional)
375g Trim Milk
250g fresh goat cheese
185g cream
160g goat curd
2 tbsp salt
Salad
100ml Raspberry Vinaigrette
1 tsp Blackcurrant mustard
300ml grape seed oil
8-10 Heirloom tomatoes – quartered
Salt and pepper
200g Goat's curd
A handful of Kalamata olives - finely chopped
Basil leaves
1 Soignon Ash Log - sliced into 1cm rounds
Micro-greens
Freeze dried cherries
Method:
Prepare the goat mousse, blend all the ingredients in a mixing bowl with a whisk.
Pour the mixture into a canister, add a cartridge of gas and leave in the fridge for 2 hours. Shake well before use.
Pour the raspberry vinegar in a mixing bowl, add the Cassis mustard and grape seed oil while whisking vigorously.
Season the tomatoes with the raspberry dressing and salt and pepper to your taste.
Place a few generous spoonful of goat curd on the serving plate, top with the seasoned tomatoes.
Sprinkle over the olives and a few basil leaves.
Place the ash log on top and grate over a little of the Crottin de Chavignol. If using, add a few dollops of goat mousse.
Finish with micro-greens and crush the freeze-dried cherries between your fingers and sprinkle over.
Pour a generous glass of rosé to accompany.
Bon appétit !
This pairs beautifully with:
Roubine Vie en Rose Côtes de Provence 17