Scott in France June 2019 | Final Day
A couple more visits this morning before we hop on the train back to Paris.
First up a new one (under wraps), great wines and not just the fizzy stuff, some Coteaux de Champenois blanc that would rival some very good white burgs.
Then it was off to a real soft spot for us the still family owned Boizel, Florent (who worked at MV eons ago) is now the big boss. We were wowed by their recently renovated premises on the Avenue de Champagne in Epernay, you may even get a glimpse of these as the Tour de France will be going right by their front door this year. A tour of the cellars, again recently renovated to bring it up to health and safety standards, bureaucracy in France is worse than NZ, followed by a tasting that really showed the consistent value here the last three being showstopper Joyau de France cuvees. To finish Florent opened a sensational 1995 Joyau de France from the cellar that was in pristine condition, which we finished at lunch. A great way to finish our tour.
In Paris we had drinks at Freddys, a fabulous wine bar in ther Rue de Seine and very good dinner at Semilla, both owned by Kiwi now Parisien, Drew Harre.
Summary
We visited 43 domaines, 13 of them new to us. We visited regions and parts of regions we had never been to before. We tasted extensively the 2017 and 2018 vintages, and confirmed the quality of both particularly at the domaines we are already dealing with. A resounding success!
Boizel
At Semilla with Drew Harre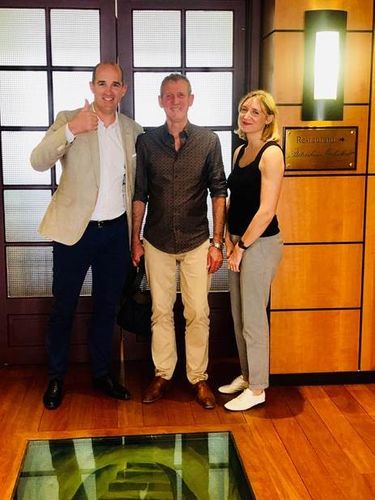 Florent, Scott and Marine