JC in France January 2020 | Day 9
Day nine
Our third day in Burgundy and the weather forecast is for beautiful blue sky. I must admit it makes a huge difference to go through the full day of tastings and travelling when the weather is good.
First meeting this morning (9.30am is normally the time of our first one of the day to have enough time to do a couple of visits before lunch) is at Domaine Arnoux in Chorey les Beaune. There is also here the new generation taking place and it is so good to see. Audrey, the daughter, has made a quick stint in NZ three years ago. The Domaine covers more than 20 hectares, divided between the villages of Chorey les Beaune, Savigny les Beaune, Aloxe-Corton, Beaune and Pernand Vergelesses. This is a 'valeur sure' domaine producing well-made and well-priced Chardonnay and Pinot Noir. We tasted the 2018 whites and 2017 reds - The whites have ripe white flesh fruit characters and enough freshness to hold them. The 2017 reds are tender, light to medium weight, fruity and easy approach.
The second tasting was in the famous village of Volnay at Domaine Pascal Bouley where the young son Pierrick is now fully in charge. Pierrick was awarded by the magazine 'Bourgogne Aujourd'hui', "Meilleur Jeune Vigneron 2018 " producing authentic and fresh wines. His 2018 shows exactly that with the wonderful nuances of each individual terroirs. They are not flashy wines but very true to their origins.
We had lunch on the run as our next visit was at Domaine Drouhin-Larose in Gevrey Chambertin (Cotes de Nuits). On the way we made a quick stop at Domaine Cecile Tremblay (the superstar of Burgundy!) to drop off some little pressies for her children. I will taste her 2018s at my next trip in May.
The team at Drouhin-Larose was expecting us with an array of 2018 wines including no less than six Grands Crus! I found the wines here very ripe, juicy yet with a nice focus at the end. With the arrival of the new generation the wines are evolving . It was good to see again the young Camille whom we met few months ago in NZ while she was travelling to learn more about New Zealand wines.
The highlight of the day was our next meeting. When you visit these guys, it is not one but in fact three Domaines that you taste at one single place. They are some of the biggest names in Burgundy – Ghislaine Barthod, Louis Boillot and Clement Boillot. They are as well wonderful and generous people. The tasting never last less than three hours and we are lucky to try some of the most wonderful Burgundy that you can get. We tasted most of their 2018s from Appellation Bourgogne to Chambolle Musigny via Gevrey Chambertin, Pommard, Volnay, Nuits St Georges and all again with their 1ers Crus. You always finish the tasting by their super smart Moulin a Vents. It is always an enormous pleasure to stop here!
We finished the day very late and my Emilie was pretty tired! You have to say that it is very intense even more so if you don't have the practice. It is tastings after tastings, days after days and after days. I am a very proud father as she's holding herself exceptionally well.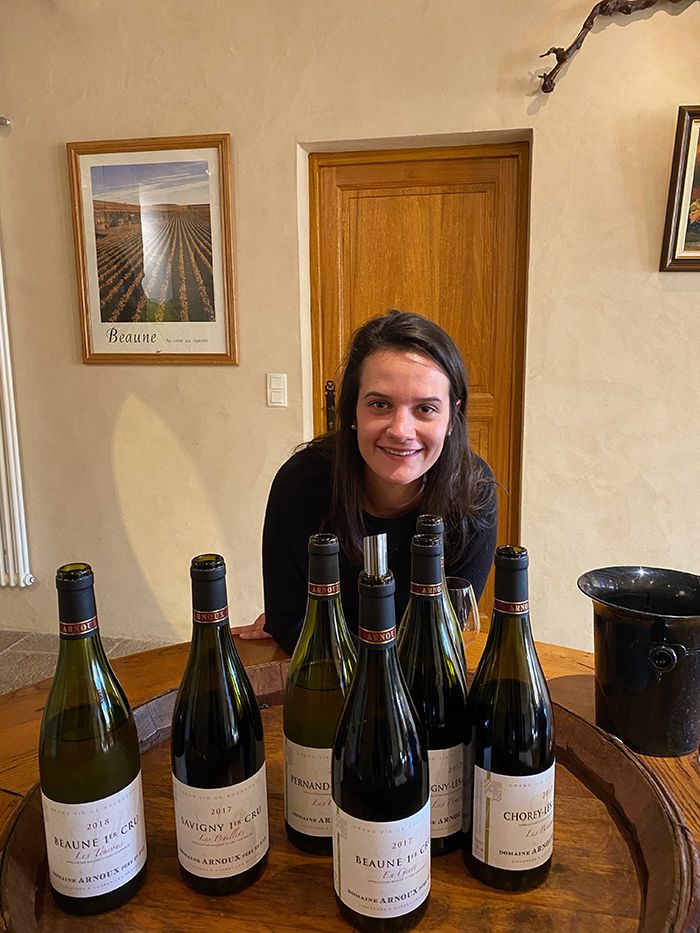 Audrey from Domaine Arnoux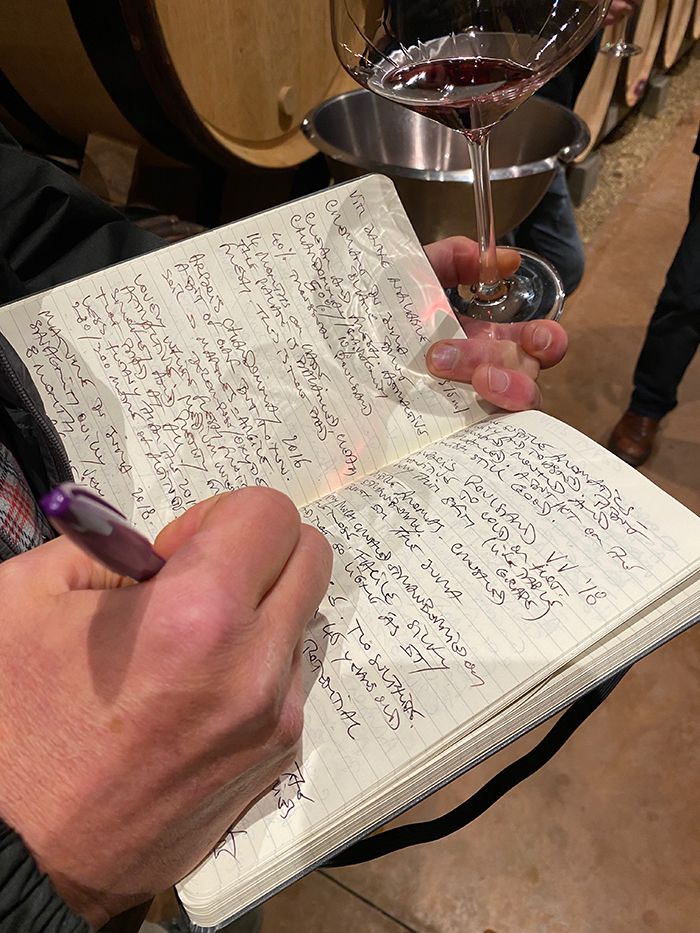 Tasting Notes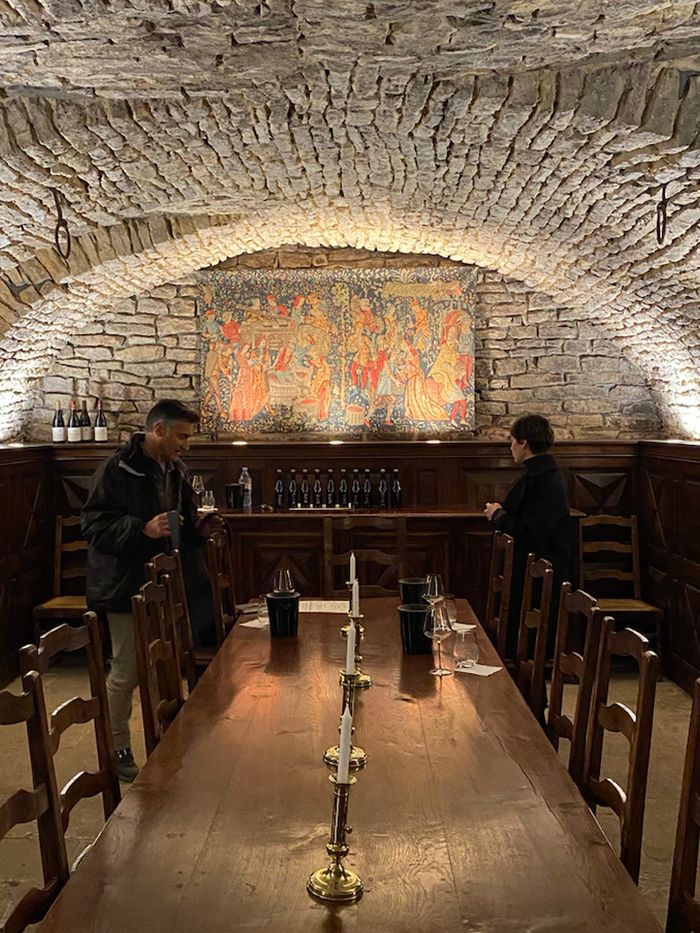 Tasting room of Douhin-Larose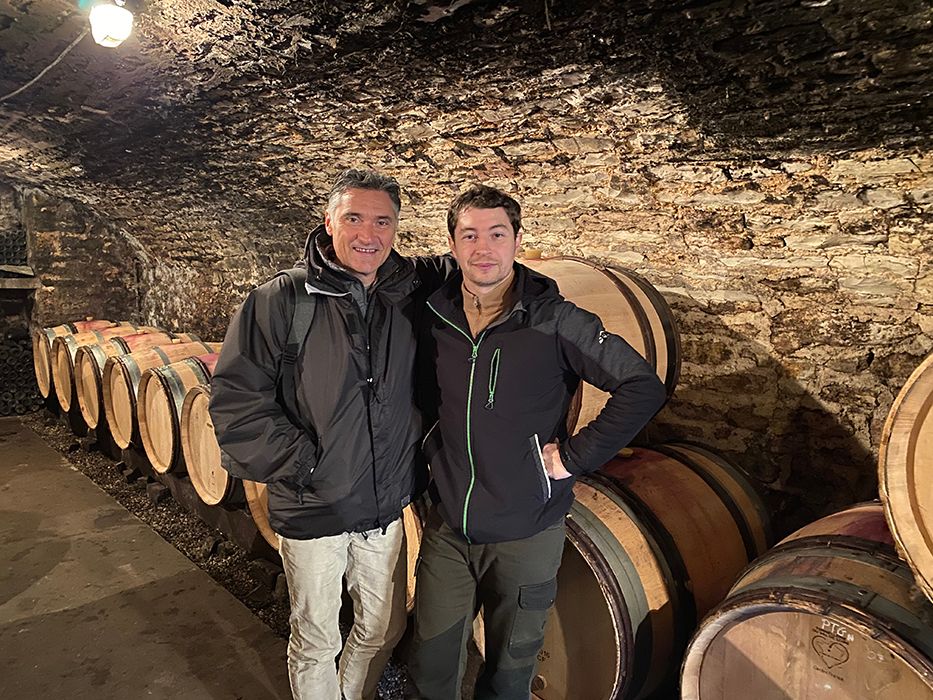 JC and Pierrick from Domaine Pascal Bouley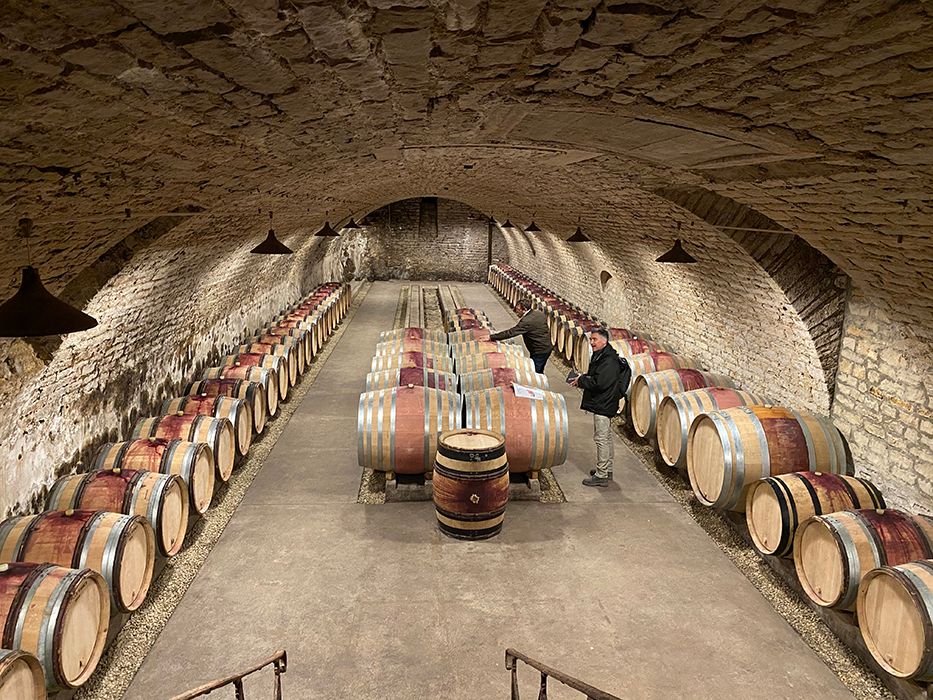 One of Barthod Baillot impressive cellars
JC with Ghislaine Barthod and Louis Boillot