Gilles in France February 2020 | Auvergne part 2
In the Middle Ages monks settled in Auvergne which was a huge forest (south of Clermont Ferrand, north of Rodez and west of St Etienne). With time and hard labour the monks cleared the forest and established luscious grazing plains which attracted the transhumance herds from the surrounding valleys. The Domerie d'Aubrac quickly became a vital stop over place for the travelling pilgrims on the route of St Jean de Compostel in Spain. The monks offering a plate of inexpensive local ingredients (homemade bread and cheese): Aligot was born.
Nowadays, Aligot is made of 4 ingredients: Tomme Fraiche, potatoes, salt and cream. It is impossible to go through this region of France without having seen or tasted Aligot. The famous dish is served hot and mixed with the local Tomme Fraiche, it has stringy elasticity. I saw a lot of people at Le Salon D'Agriculture in Paris also enjoying this dish!
At 7.30am, I met Jean Baptiste from the Jeune Montagne Dairy Cooperative at the local square by the Aubrac Bull. And of course... I was easy to spot as I was the only person standing out in the cold. We drove off to the famous Laguiole cheese production site, we all needed to be dressed in an overall, special boots and a hair net. After getting dressed, I found myself in a magical world of cheese making.
Laguiole is an AOP cheese made from unpasteurised, whole milk of Simmental and Aubrac cows. The Aubrac race was nearly extinct and got re-introduced in the early 1970. Both breeds of cows are well adapted to the climate and altitude of the Aubrac volcanic plain. Laguiole cheese is a pressed uncooked cheese with a minimum of 4 months affinage before being released to the market. The texture is fresh, melt in the mouth typical of a raw whole milk cheese. With time the flavours evolve from fresh lactic, to fruity, hint of hay, fresh herbs, hazelnut to slightly peppery on the 12 to 14 months aged wheels .
My visit today included meeting the fromagers, the affineurs de caves, the boutique sales and export team and a farm visit to meet the actual stars of the show: Ms Aubrac and Ms Simmental (inside the barn as the two cows refused to go outside in snowy conditions).
As for me, back in the snowy weather, fog and wet roads down the valley to Ambert where my next cheesy adventure will take place A bientot!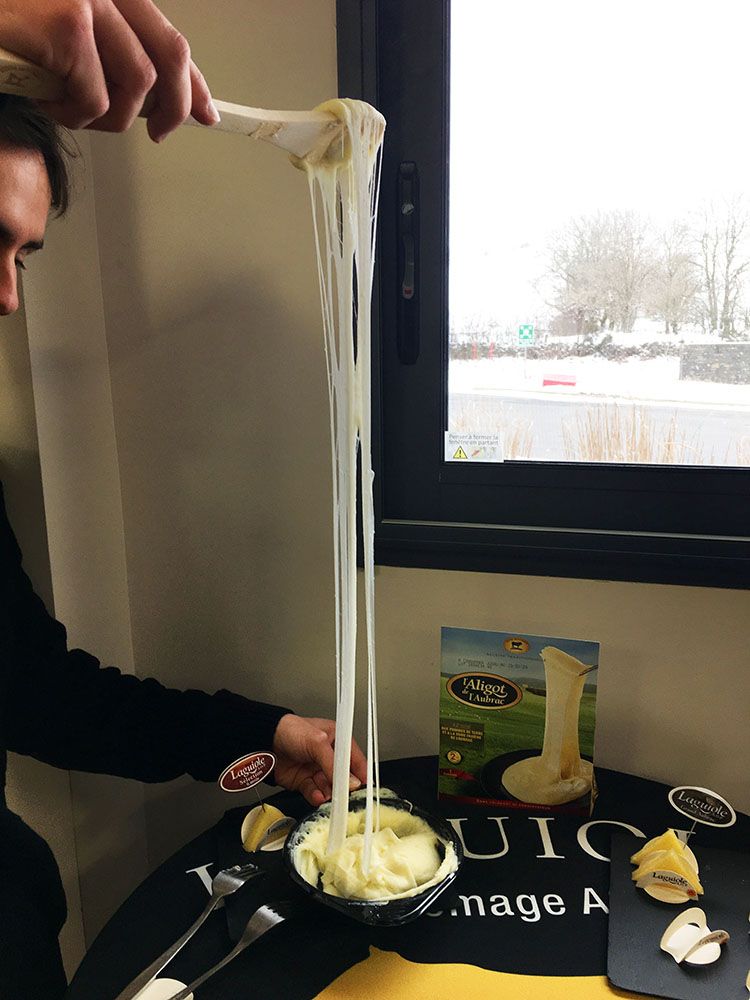 Aligot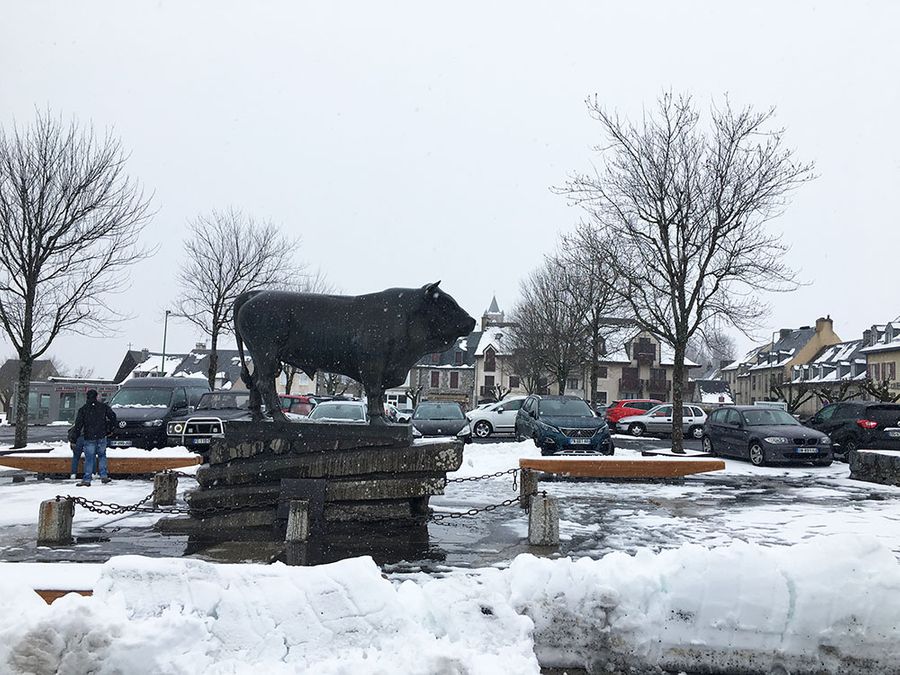 The local square by the Aubrac Bull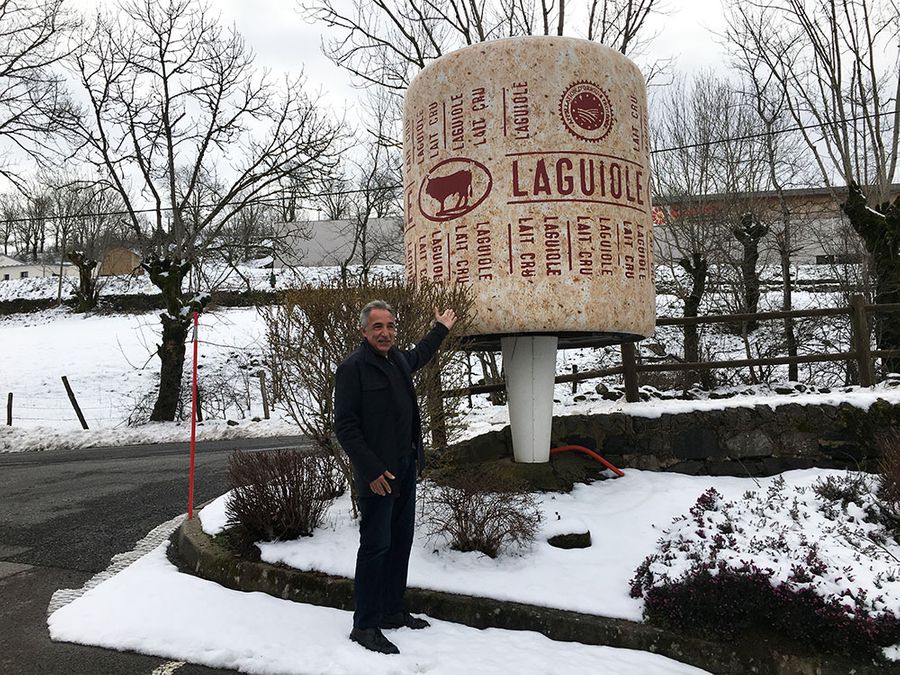 Gilles ouside Laguiole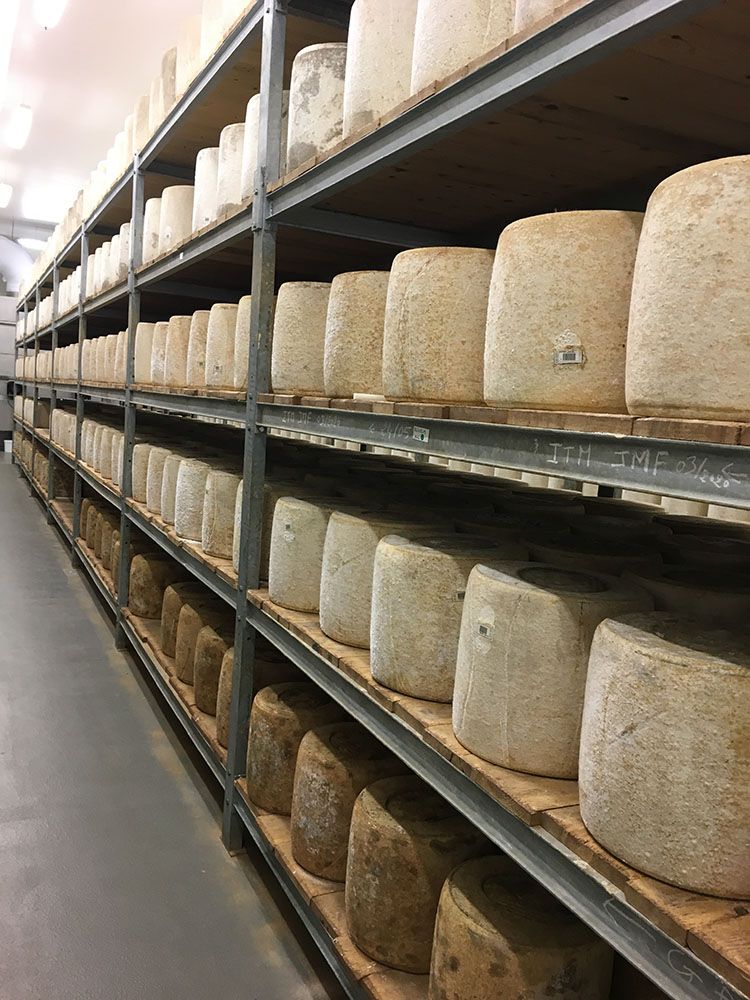 Laguiole shelves