Demystifying Cognac and Armagnac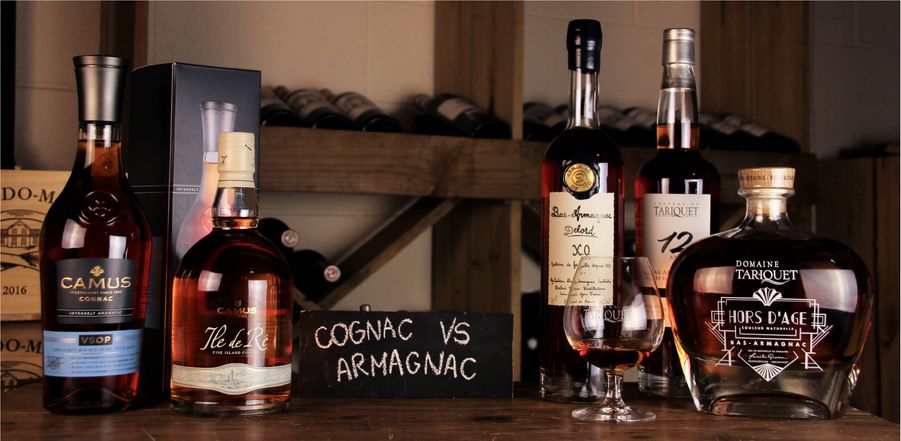 In the wine world there are few spirits as highly revered as Cognac and Armagnac. Even though they are often confused, these two regions are very different. The barrel aging is very important for both regions as it smooths down the brandy giving richness and a deep amber colour. Despite its lesser fame, Armagnac is the older of the two regions, and one of the oldest spirits produced in Europe.
Cognac is in the Charentes region to the north of Bordeaux, with a much more maritime climate and Armagnac is South of Bordeaux in Gascony, right next to the Pyrenees. These differences in terroir have led to greatly contrasted growing conditions, and flavour profile.
They primarily use the same grape varieties, Ugni Blanc, Folle Blanche, and Colombard, chosen for their delicate aromatics that are captured during distillation, and their high acidity which negates the need for sulphuring.
Cognac is double distilled in copper stills which gives a lighter and softer spirit, while Armagnac goes through just a single distillation in a column still creating a richer spirit.
The spirts both have strict criteria for their labelling corresponding directly to the time aged in barrel. VS must be aged from 1-3 years, VSOP has a minimum of 4-9 years of aging, XO is a minimum of 10 years of age, and Hors d'Age is "beyond age" with the potential to have Eaux du Vie aged over 100 years in the blend.
Cognac and Armagnac can both be used in classic cocktails, such as a Sidecar or a French Negroni, but are traditionally enjoyed neat at room temperature.
The following producers have been instrumental in the development of the regions in recent years:
Camus is certainly one of the best producers of Cognac in the region. A member of the "Big 5", but the only one who are still family owned and operated. They are now on their fifth generation of managers of the house. Over the years they have purchased more land in the premium appellations, raising the profile of all their products. Their Cognacs often focus on single terroir sites, showing the expressive differences throughout the numerous appellations.
Delord began in 1893 as a man with an alembic still traveling around the various farms of Gascony transforming white wine into Armagnac. Since then, four generations of progeny have been managing the house and vineyards where they now have more than 1000 barrels in use, dating back to the 20th century.
Tariquet began in 1912 with a bear training father and bar tender son falling in love with the land. Since then, the estate has been passed down through a family who love to challenge the rules and traditions of the region. They not only produce Armagnac but also table wine, ranging from Chardonnay and Sauvignon Blanc to Gros Manseng and Rosé.