JC is back in France! Day 10
A cool and rainy day - much like what the Auckland forecast has been !!
As the rain steadily worsened we met with the entire family at Domaine Chantemerle - we are lucky to have secured good volumes of both the 2020 and 2021 vintages which is very welcome news! The wines classic Chablis.
Afterwards we visited the team at Domaine Billaud Simon in their newly renovated and lovely 18th century style bourgeoise house (the winery has also had an extensive makeover, since they have been purchased by the Faiveley family). The tasting was short and sweet and as expected the 2020 wines were as good as ever.
We had a quick bite to eat in a little bistro in the village before heading to Domaine Vincent Dauvissat. Wow what a treat - there were a number of French and Italian sommeliers with us - Vincent had us all captivated and we were amazed by his generosity. After tasting the 2021's out of the barrel Vincent opened a 2004 Grand Cru Les Preuses. Vincent Dauvissat is an artist and his wines reflect this.
Next we drove to the village of St Bris Le Vineux for our last meeting of the day before heading South. Marie Goisot of Domaine Goisot looks after us. Here they specialise in making wonderful Chardonnay and Pinot Noir in the Appellation of Cotes d'Auxerre - the white wines similar to a Chablis but with a little more stuffing, while their Pinots are wonderfully delicate and refined. They are without doubt the superstars of this Appellation.
We left a little after 5pm and had a long drive to Tournon in the Northern Rhône. The weather was atrocious for most of the journey - spectacular lightening, very heavy rain and masses of surface water on the motorway. We arrived a little after 9pm and had a quick meal in Tournon before retiring for the night! I was exhausted.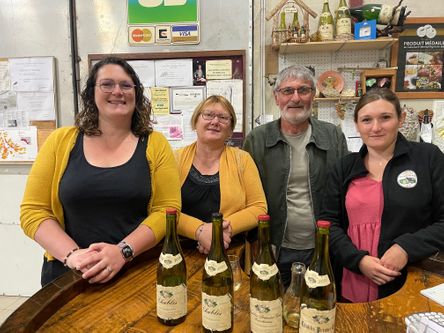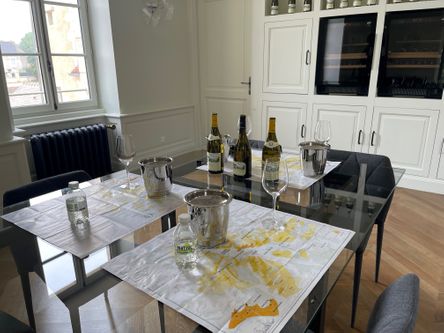 1.The Boudin family of Domaine Chantemerle. Awesome people! 2.Tasting in the newly renovated tasting room at Domaine Billaud Simon
3.Domaine Billaud Simon 4.The artist of Chablis - Vincent Dauvissat in his cellars
5.On our way to St Bris Le Vineux. The storm is yet again not far away! 6.On our way to St Bris le Vineux, the village of Chorey. Tower built by the Italians
7.After the rain in the Chablis countryside 8.Tasting of the wonderful 2020 wines of Domaine Goisot
9.Dinner in Tournon (Norhern Rhone) with the speciality of the region - Ravioles du Dauphine (with the filling of fromage blanc, Comté cheese and parsley)