Home

/

JC in France January 2019 | Day 9
JC in France January 2019 | Day 9
Remarkably the weather today is reasonably mild (4°C) and the sun is shining (usually at this time of year you can expect sub zero temperatures with grey and very low cloud cover). We have a big day ahead with five winery visits, all on the Cote d'Or. It is pruning season here at the moment and dotted all over the vineyards you see little curls of smoke rising into the sky: many of them still use the old method of burning their prunings in a metal drum on wheels moving it up and down the rows where required. This practice however is about to be forbidden due to the air pollution it creates and some have already converted to shredding prunings that are able to be recycled.
Our first visit for this morning takes us to the village of Morey-St-Denis where we meet with Sebastien at Odoul–Coquard. The most gorgeous family producing some amazing wines from their village but also from the neighbouring ones like Gevrey Chambertin and Chambolle Musigny. We tasted the full monty from the Bourgogne Appellation to the Grand Cru 'Charmes Chambertin' and 'Clos de Vougeot'. We were extremely impressed with the quality of their 2017s.
Next up, a quick 10 min drive to Nuits-St-Georges to Domaine Marchand-Tawse where we met with Lorenzo, a young Italian who joined Pascal Marchand a few years ago now, who has a true passion for Burgundy wines. He took us down into their cellars which extend under the town, some dating back to the 16th century. We tasted all the 2017s out of the barrels. And like most top producers they are extremely precise, fresh and fruity. We are now convinced that this is a wonderful vintage. Watch this space!
We stopped for a quick lunch in Nuits-St-Georges at a little bistro that serves classic wholesome Burgundian fare (Boeuf Bourguignon, etc).
First trip for the afternoon takes us to the village of Gevrey-Chambertin to Domaine des Tilleuls (the Livera family). Here we met the brother/sister team who have taken over from their parents a few years ago. They are extremely kind and true Burgundians (people of the land). Unfortunately we were unable to try the full range of their 2017s as Damian and one of his young workers were racking the barrels at the time (before bottling the wines are moved from the barrels in the cellar to the stainless steel tanks to allow the wines to settle with any light sediment dropping to the bottom of the tank prior to bottling). Like many top producers in Burgundy their wines are unfiltered. This Domaine is making a big name for itself in a very discreet way.
Still in the Cotes de Nuits our next stop was with the fun and slightly eccentric Damien at Domaine Gachot-Monot. This 40 (ish) year old gentleman fashions wines with dark berry fruit characters, with a structure typical of the Nuits-St-Georges Appellation. His 2017 offers medium weight, dark fruits, and slightly rustic tannins.
Our final visit of the day was a biggie – with people who are today considered one of the super stars of the Cote d'Or – we're talking about Louis Boillot and Ghislaine Barthod along with their son Clement. We were both so impressed with the attitude of this young man, we have no reservation that when he eventually takes over the reins of his parent's domaines, they will continue to shine. In fact we believe that this young generation of Burgundian producers are a lot more aware, connected and attentive of their land. We feel it is true that some of the past generations particularly in the 70s and 80s have forgotten the power of their terroir. It is so exciting to see this happening, but not just in Burgundy as everywhere we have been we see that these practices towards the land and vines have been the same. Like elsewhere in Burgundy these wines are tremendous, they have so much finesse and purity and the team here have a little 'je ne sais quoi' extra!
After a tasting lasting well over two hours we returned to Beaune and head to our friends' (Roland and Françoise) groovy little restaurant 'Maison du Colombier'. A wonderful wine list and a tiny tapas style menu with a great buzz, very happy we were indeed! That will be our last night in our hotel in Beaune (Hotel de la Paix).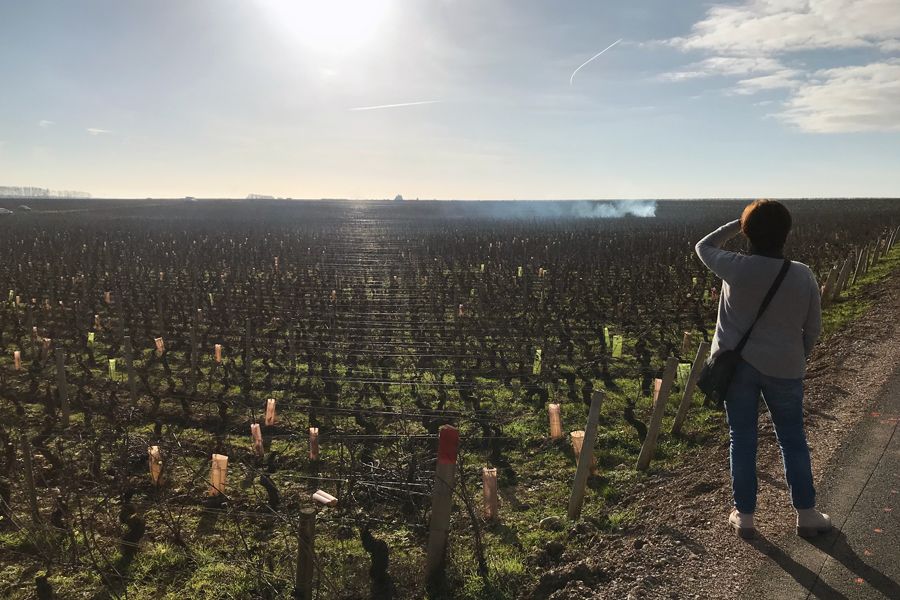 Winter in Cotes de Nuits on a good day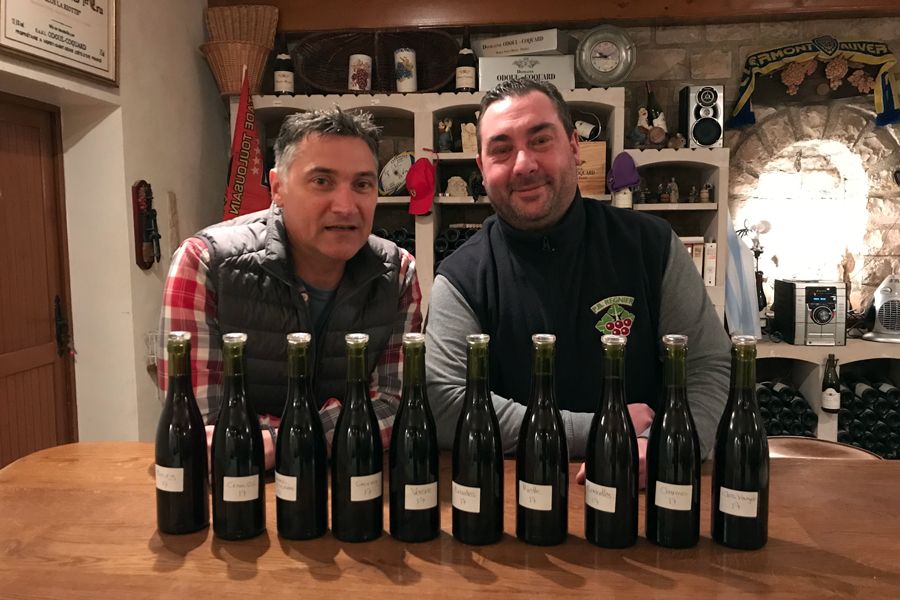 JC & Sebastien at Domaine Odoul-Coquard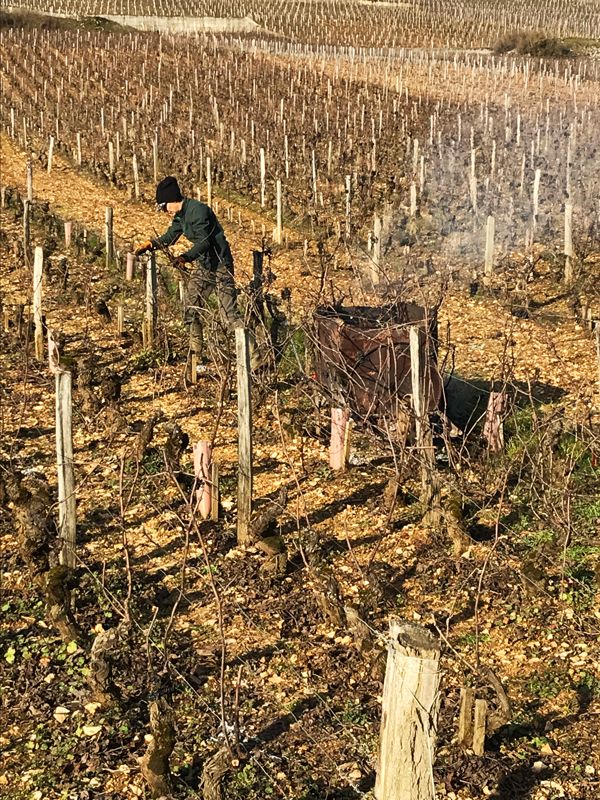 Pruning and burning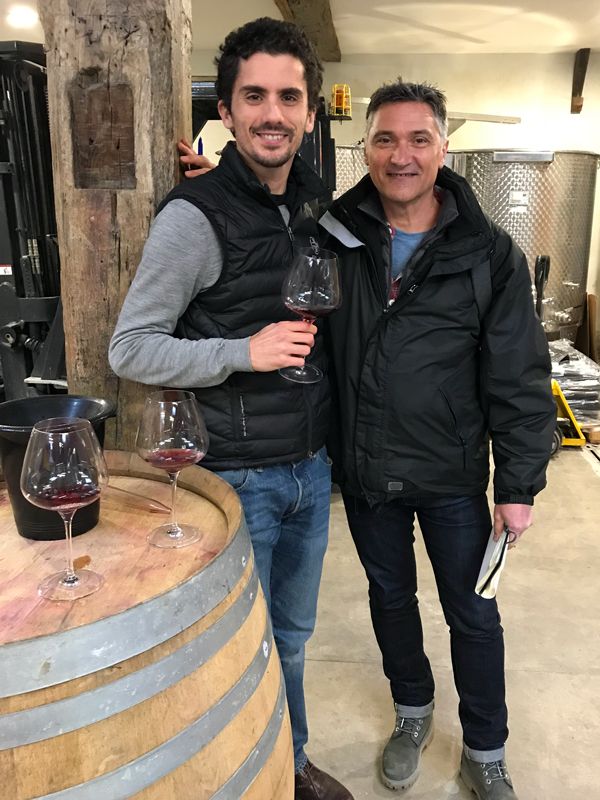 Lorenzo & JC at Domaine Marchand Tawse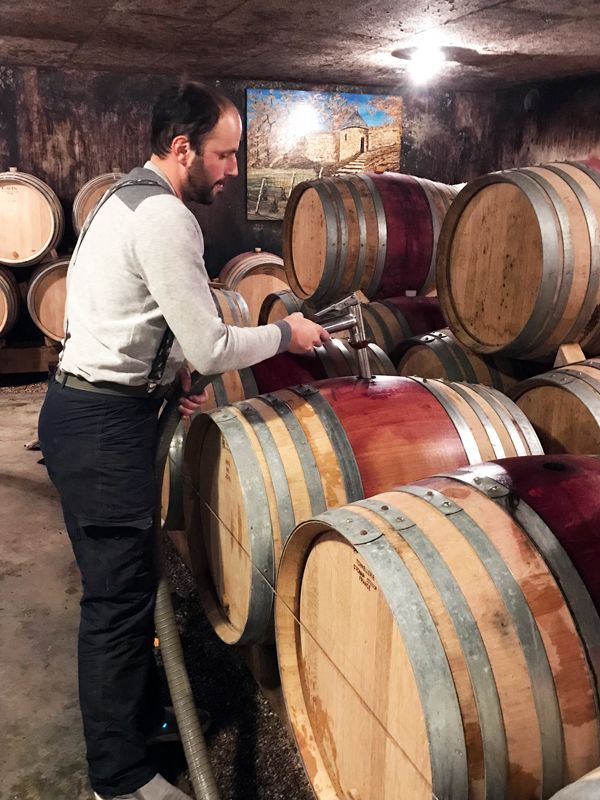 Damien Livera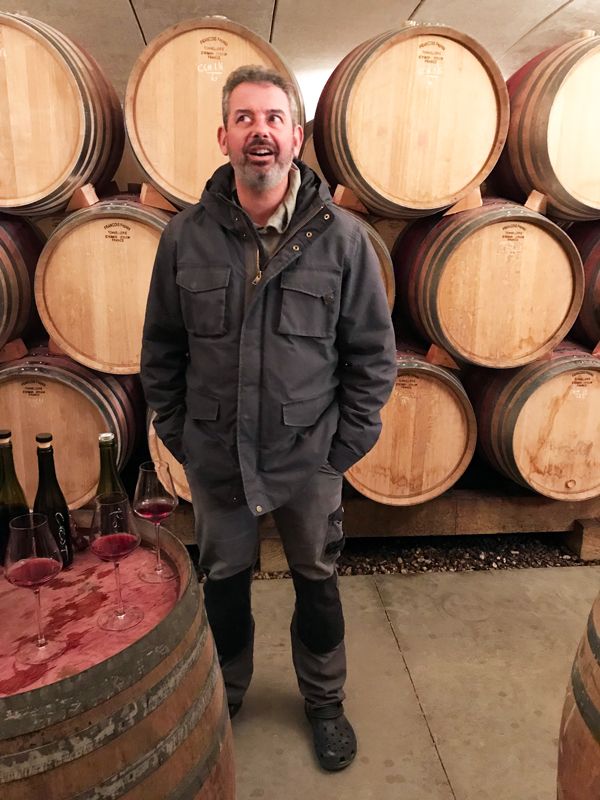 Damien Gachot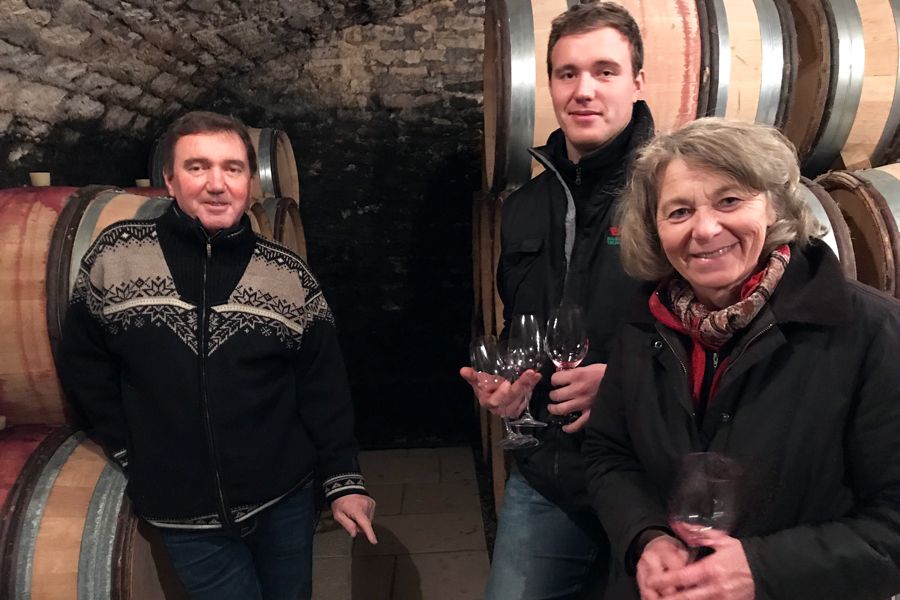 Boillot-Barthod family