Ch Yquem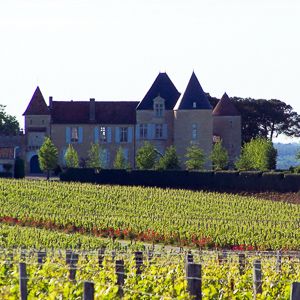 Located on the highest hill in Sauternes, Chateau d'Yquem is often described as the world's greatest sweet. In 1855, the domain was ranked as Superior First Growth of Bordeaux, the only one to be so. The Lur Saluces family ran the estate for more than two centuries, with special mention for Alexandre Lur Saluces who even furthered the reputation of the wine.
In May 2004, Pierre Lurton - manager for 10 years of the prestigious Chateau Cheval Blanc - took over the helm from Lur Saluces at the instigation of the luxury group LVMH / Moët Henessy.
The vineyard of Yquem covers 113 hectares of which only 100 produce grapes in a given vintage. The grape mix is made from a blend of Semillon for 80% and Sauvignon for 20%. By combining finesse and freshness with intense flavour, Yquem embodies a form of perfection that can only be attained through rigorous grape-growing and wine-making. Yquem became certified organic in 2019 and have begun conversion to biodynamic farming.